It is the glaring truth that we are facing today; the natural skin care industry is one of the fastest-growing markets in beauty. With more people opting to start a natural skin care routine, the market is growing in leaps and bounds. The best part of a natural skin care routine is that you get to ditch the chemical options available and choose products that are not just good for your skin, but also good for earth. So if you are thinking about how to start a natural skin care routine, bookmark this post and I promise you, it will be the start of a beautiful journey for natural skin care.
Why should you choose to start a natural skin care routine?
Honestly, the list is long and there are plenty of reasons to use natural skin care products. One good point, as I mentioned earlier is that you can choose to avoid the potentially harmful synthetic chemicals that show just short-term results. Choosing natural skin care products is not a fad, you are choosing an eco-friendly option and also ensuring that what you apply on your skin and hair is devoid of any chemicals.
Benefits of natural skin care
There are many benefits using natural skin care products. Close to 60% of what you apply on the skin and hair gets absorbed by it. So, would you choose absorbing chemicals or natural and chemical-free products? By and large natural and chemical-free products are made with safe to use ingredients. So look for brands that are Eco Certified to ensure that what you are using is 100% chemical-free and good for your skin. Most natural products can be a combination of plant extracts, therapeutic essential oils and naturally sourced products that are produced in a chemical-free environment. It means that no chemicals or pesticides were used when growing the ingredients that make a large portion of the product that you use.
MUST READ: How do I ensure a product is organic?
How to Start a Natural Skin Care Routine
As I usher in my mid 40's, I am super careful about the products I choose and what I use in AM/PM routine. This is the time when your hormone levels start to decrease, and the rate of collagen and elastin production goes down. At the start, let me tell you that I have a combination skin with an oily T Zone, so products that suit me may not necessarily suit someone with a different skin type.
Your AM Schedule
No matter what your skin type is, it is important to follow a generic natural skin care routine that can work for all skin types. Here are some easy steps to get you started on how to start a natural skin care routine.
Let's start with the basics, shall we?
1. Cleansing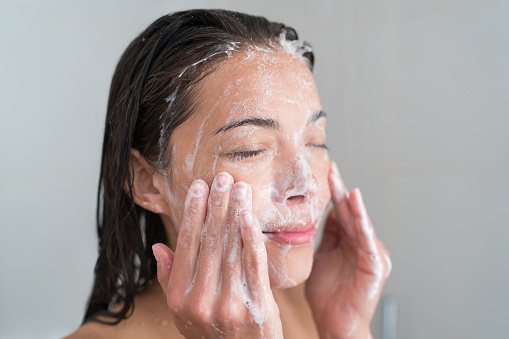 Cleansing is the most important part of your AM and PM routine. Opt for a chemical-free face wash that will cleanse your skin while maintaining its pH balance and leave your skin looking soft, clean and nourished.
Some face-washes I recommend are the Hydrate Face Wash by Omved, Saffron, Marula and Ylang Ylang Face wash by Juicy Chemistry, the AHA BHA PHA Exfoliating Cleanser by Daughter Earth, and the Mamaearth Vit C foaming face wash to kick-start your day.
2. Exfoliating
While the CTM (Cleansing, Toning and Moisturizing) regime is the holy grail in a skin care routine, exfoliating your skin to slough away the dead cells to make way for new skin should not be ignored. But keep in mind that exfoliants shouldn't be used daily. Use them not more than twice a week depending on your skin type. Exfoliating your skin daily can lead to dry skin, often sapping the skin of normal oils and in some severe cases it can cause irritation and inflammation of the skin.
3. Toning
Did you know that toners are most often left out of the skin care regime? Using a toner daily can help to tighten pores, eliminate skin impurities caused by daily environmental stressors and help to rebalance your skin tone. It is best to opt for toners that are based on your skin type. The Bulgarian Rose Toner is suitable for normal skin, while the Australian Tea Tree and Basil toner is apt for people for oily skin. The Lavender skin toner is apt for almost all skin types and it has the most soothing and calming properties for irritated skin.
The above links contain products from Juicy Chemistry. Use the discount code Pratibha when you shop from them to get a flat 15% on your purchases. Coupon code is not valid when they have sales or other promos on the website.
4. Moisturizing
There is a variety of moisturizers available in the market. Right from gel-based that are more suitable for oily skin to highly hydrating and moisturizing ones that are more apt for dry to normal skin. Moisturizers are also available in the form of skin or face oils and serums. Contrary to the myth, skin oils do not make your skin look oily. If you choose the right one, it can work miracles on your skin.
5. Using a sun screen
A sunscreen is apt for any age and every skin type. Especially if you are stepping outdoors after a cleansing routine, do not forget to use a sunscreen to protect your skin from the harmful UV rays and the harsh environmental pollutants.
For best results, use the lightest fluid first (it be either your moisturizer, serum or a facial oil), follow it up with natural sunscreen like the one from Mamaearth that has been specifically made for the Indian skin.
Must Read: Skin Care Tips for beginners
Your PM Schedule
1. Repeat the a.m. routine
Repeat the steps from 1-4 listed in the AM routine, omit the sunscreen here.
2. Use an under eye cream
An eye cream helps to reduce the intensity of puffiness and dark circles that may be caused due to increased exposure to blue rays by gadgets or just fatigue. The skin around your eyes is the most sensitive part of your face and trust me, this is one of the first areas that show the tell-tale signs of aging. In my night care regime, three products that I am constantly using is the Juicy Chemistry Prickly Pear roll-on, Daughter Earth Ceramide Probiotic Microemulsion under eye serum and the Soap Square Rosehip and Lavender under – eye cream.
These are safe enough for daily use and keep the under eye are nourished as you sleep through the night. Gently dab the eye cream or serum around your eyes and massage gently to let all the goodness soak in. Since your skin around the eyes is sensitive, you need to use gentle massage strokes so that you don't end up hurting the sensitive skin around the eyes.
3. Night moisturizer
Rather than a night cream, I opt for a facial oil or a serum that works its miracles on my skin as I try to clock in my 6 hours of sleep. A serum/night cream/moisturizer or a facial oil helps in the regeneration process while you sleep.
4. Using a facial tool
Using a face tool like a gua sha (I swear by the one I have from YBB Cosmetics) or a face roller works wonders to let the serums or moisturizers seep into your skin giving it the maximum benefits. Plus using a facial tool like a gua sha helps to tighten your skin muscles and to a very great extent helps to drain out excess fluids and help reduce the day long fatigue that you may have gone through. Watch this video on Instagram where I have explained the benefits of using a gua sha in my night care regime.
Bonus
A bonus step that I love to include in my skin care regime is to use a detox mask at east once a week to give my skin the extra pampering it needs. Some staples in my skin care regime include the Ubtan Face Mask by Mamaearth, the Kakadu Plum Match and Blood Orange Face Mask by Juicy Chemistry, the Nagarmotha Skin Mask by Omved and the set of face and hair masks by Daughter Earth.
The above links contain products from Juicy Chemistry and Daughter Earth. Use the discount code Pratibha when you shop from Juicy Chemistry to get a flat 15% on your purchases. Use the Code Pratibha15off when you shop from Daughter Earth. Coupon code is not valid when they have sales or other promos on the website.
These are some easy steps that teach you on how to start a natural skin care routine. Once you make this a habit, it'll stay to be a part of your skin care routine and your skin will thank you not slathering it with unwanted chemicals!
I'm participating in #BlogchatterA2Z in collaboration with Blogchatter.