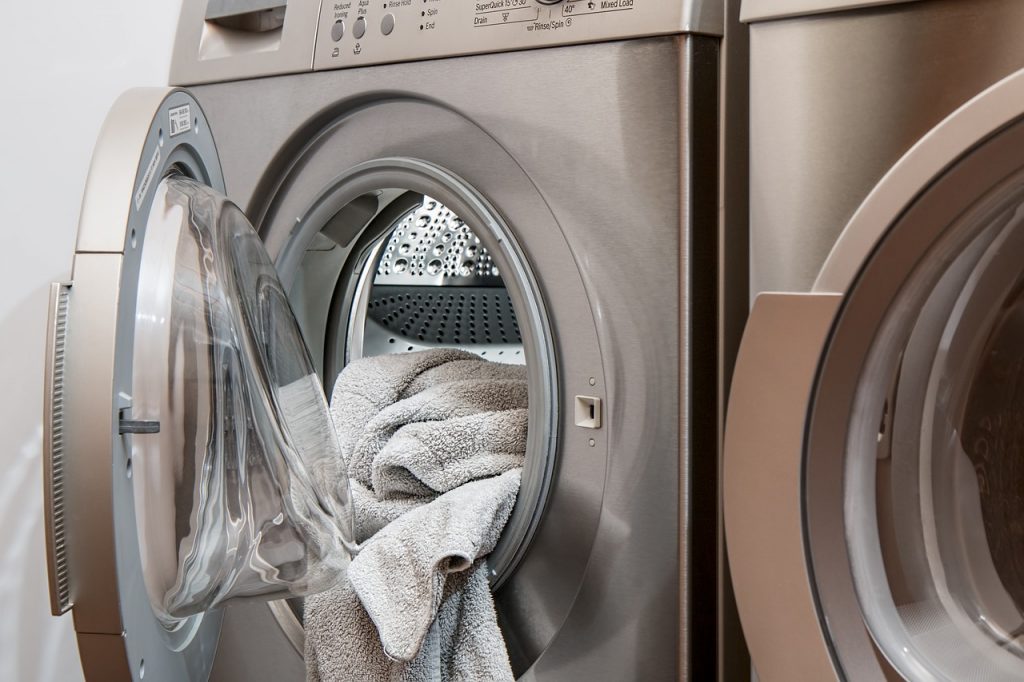 Did you know that there are loads of chemical-free laundry detergents in India? Yes, you can opt for an anti-bacterial and natural laundry detergents that are made with natural ingredients and help to keep your clothes not just clean but germ and bacteria free.
I have been wanting to write this post for a while, but the procrastination bug hit me! Nevertheless, they say, better late than never! So here is my take on natural laundry detergents that are available in India.

Why do you need chemical-free laundry detergents?
Most of the detergents that we use (read: the commercial detergents) are filled with chemicals and tend to make our clothes rough and lessen its shelf life because we are dunking it in chemicals.
Chemical-free laundry detergents are safe to use for all household clothes. Right from the linen, towels and if you have a baby, the baby clothes.
The chemical-free detergents are also safe for the environment. Brands like Krya, Mitti Se and Rustic Art ensure that you can also re-use the water for other things like watering the plants or cleaning surfaces like a balcony! Isn't that something that can help you not just save water and reuse it?
Best chemical-free laundry detergents in India.
Since this is a compilation post, I will be adding to this post as and when I find a new brand/product that meets the criteria. For now, these are brands that I have researched on and I 100% recommend them. So, here it is; a list of the best chemical-free laundry detergents in India.
MamaEarth Liquid Laundry Detergent
This is a newly launched product from MAMAEARTH and is exclusively available on Firstcry.com (company) for a limited duration till they also launch it in Amazon.com (product) (India). It is available in 200 ml and 1 L bottles.
Price – INR 185 for 200 ml, INR 599 for 1L. You can buy this from Amazon India.
Key Ingredients
Bio Enzymes – Bio enzymes are helpful as they help in the breakdown of dirt and oil by being gentle at the same time.
Neem Extracts – Neem extract inhibits the growth of bacteria. It's anti-inflammatory properties do not harm baby's skin or cause rashes.
Lime Citrus – Lime Citric acid helps to remove tough residue on clothes. It is a natural bleach and hence provides the same result without any harm.
Plant Based Surfactants – It removes dirt and germs from baby's clothes. It helps the process of stain removal by breaking down the stain enzymes
Key Features
Removes tough stains – It breaks down dirt and oil gently and removes all kinds of stains.
Eliminates odour – It eliminates odour and keeps the clothes smelling fresh.
Dermatologist Approved – Approved by dermatologists, the detergent is safe & gentle for baby's delicate skin.
The Better Home Laundry Detergent
Enzymatic action breaks down tough stains without causing any damage to the fabric. Made with naturally derived surfactants that reduce the hold of stains on fabrics. Retains the colour and texture of your clothes. Safe for machine and handwash and gentle on sensitive skin. The good part about buying from The Better Home is that they offer a subscription package. When you opt for it, the refills come in paper pouches. So it is only the first time that you get the product in a bio-degradable plastic can and after that all you have are paper pouches that do not even contribute to the landfill. I am yet to try this, but I have switched to their floor cleaner and the toilet cleaner and I am loving the products!
Mitti Se – Laundry Detergent
Made of completely Natural and Bio-degradable ingredients, this laundry detergent is non toxic and totally safe. It cleans clothes well and removes stains. Gentle on clothes, hands and the Earth, you can also use it to wash baby clothes. Since it doesn't contain any fillers and artificial foaming agents it conserves water. The drained water after washing clothes doesnt harm the soil, plants or the water. It is free from SLS, Phosphate, Chlorine, Bleach, Petrochemicals that are commonly used in detergents. It is completely biodegradable. The packaging is also natural and biodegradable.

Ingredients: Sodium Carbonate, Sodium Bicarbonate, Sodium Borate, Rock Salt, Soap Flakes, Essential Oil of Lime.

Since it is a powder, you will need to add the desired amount in a potli / cloth bag and add it to the laundry load. You can use the remnants to add to your flower pots if needed.

Price – INR 225, you can buy it from Amazon India.
Krya Laundry Detergent
The Krya All-Natural Citriodora scented Detergent powder is made from organic Soapberries & is scented with organic Citriodora essential oil. Every Krya detergent is hypoallergenic, safe, non-toxic, the elderly & those with sensitive skin. The detergent is compostable & biodegradable. All the wash water you generate can be safely used in your garden. Since it is a powder, you will need to add the desired amount in a potli / cloth bag and add it to the laundry load. You can use the remnants to add to your flower pots if needed.
Price – INR 180, you can buy it Amazon India.
Rustic Art Little Laundry
This laundry detergent is suitable for delicate fabrics and baby clothes an the detergent is double processed with lemon and neem. Its handmade and natural Products are used. Its organic, Vegan, and has packing. There are no artificial Brighteners, no fillers, no enzymes, no fabric softener, no foam boosters, no fragrance, no chemicals, no harsh fumes, no stain removers, no phosphates, no known carcinogens, etc. Its soft on skin, clothes and environment.
Price – INR 185. You can buy this from Amazon India.

Azafran Eco-friendly laundry detergent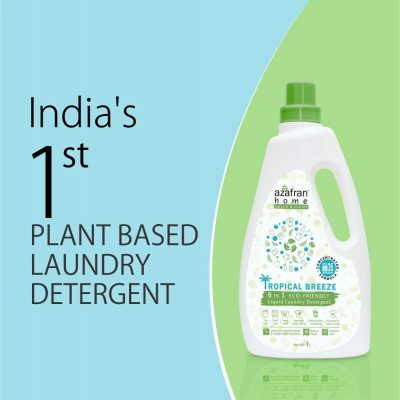 This natural laundry detergent doubles up as a fabric conditioner and while its best for baby clothes, you can use it for your regular load of laundry too.
It helps to remove tough stains and eliminate unpleasant odours. Since it is made from plant materials, it is also eco friendly and biodegradable. Gentle foam from coconut derived ingredients softens clothes without making them rough. Gentle on cloth diapers, dark colours, delicate fabrics and on the hands. Safe to use on baby clothes. For tough stains, pour some liquid on the stain, rub it and load the clothes in the machine. Does not contain any animal by-product and has never been tested on animals.
Price – INR 309 – 400 for 1L. You can buy this from Amazon India.
Except for the detergent from Azafran, I have used the other detergents, so yes, when it comes to vouching for the effectiveness, I do recommend them. So, this is my list of the best chemical-free laundry detergents available in India. If you have used something similar and you think it deserves a mention in the list, please leave a comment or drop me an e-mail. so that I can include it in this list of natural and organic laundry detergents that are available in India.