BEST JUICY CHEMISTRY PRODUCTS POST HAS BEEN UPDATED

Use Code PRATIBHA for additional discount. 

So if you have been on the fence wondering, "Which are the best Juicy Chemistry products?", then bookmark this post before you continue reading! To say that I have been hooked on to products from Juicy Chemistry is really an understatement. Juicy Chemistry has an excellent range of skin & hair care and essential oils that work wonders for you.
Listing my top 12 favorite and best Juicy Chemistry products was a task, but since I decided to share my really favorite products of Juicy Chemistry, here is my list of them.
My top 12 favorite and best Juicy Chemistry Products
What makes products my favorite and best? And why do I recommend them?
The reasons are very simple. They need to be certified organic, natural and good for the skin and hair. The very fact that the products from Juicy Chemistry contain no SLS, Parabens and Sulfates is a winner for me. Most of my hair care regime is from Juicy Chemistry. I'll park that for another post, but for now let me list my top 12 best juicy Chemistry products.
1. Juicy Chemistry Organic Deodorants
I am not a fan of those super strong smelling spray deos. But when I discovered the organic deos from Juicy Chemistry, there was no looking back! They have two variants priced at INR 750 each. You can buy the deo from Amazon India or their website. These deo sticks have a long lasting fragrance and it doesn't leave a layer like normal deos do.
2. Juicy Chemistry Pre Shampoo Hair Mask / Hair Masque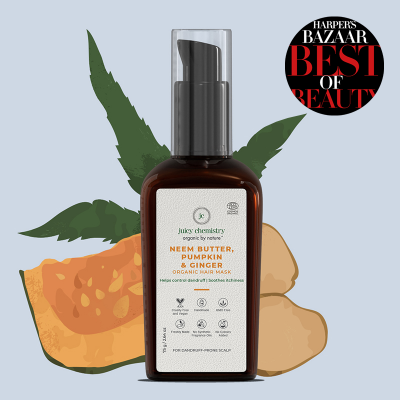 Use Code PRATIBHA for additional discount. 
Try the Sacha Inchi, Argan and Mango Butter organic hair mask that needs to be applied at least 30 mins to an hour before you shampoo your hair. I prefer leaving it overnight at times. Since you need really little of this mask to just massage on the scalp and from the roots to the tips of the hair, you can leave it for a longer time as it doesn't leave your hair looking oily like normal oils do. Priced at INR 900, this one last for a good 6 months ensuring you get the much needed nourishment. You can buy this from
3. Juicy Chemistry Shampoos (Bars + Liquid)
I'm always caught between their shampoo bars and the liquid shampoos. So I kind of oscillate between the shampoo bars and the liquid shampoos. My favourite shampoo bar is the Hibiscus, Onion and Bhringraj shampoo bar and I use the ACV, YLang Ylang and Argan shampoo. While the shampoo bar helps to prevent hair loss and premature greying , the shampoo helps to soothe scalp and volume to the hair.
You can buy these here:
4. Juicy Chemistry Helichrysum and Rosehip Facial Oil 
Facial oils have become a staple in my skin care today. I find it more hydrating than a simple moisturiser and the best part is that a facial oil can be used all year round. Some of the benefits of a facial oil is that you need just a drop or two to give a long-lasting hydration to your skin. I use the Helichrysum and Rosehip facial oil in the AM routine and the Saffron and Red Raspberry Facial Oil in the PM routine. 
5. Juicy Chemistry Prickly Pear, Chia and Tamanu Roll On
This one is for you if you look like Kung Fu Panda! Just kidding; actually not! I have perpetual panda eyes aka dark circles and this wonderful roll-on has reduced quite a bit of it. I have to add that I have a long way to go if I need to get rid of them completely. I am right now only on my second bottle, but the results are showing slowly but effectively.
6. Juicy Chemistry Saffron Saffron, Rose and Australian Sandalwood Face Scrub
One of the gentlest scrubs I have ever come across. Blended with the luxurious saffron, healing sandalwood and the heady fragrance of rose….it literally brightens up your day. Mix it with some of the Bulgarian Rose Water or Milk and you are ready to literally soak your skin into some goodness. You can also use it as a body scrub by mixing it with milk and making it into a thin paste. Apply and scrub to exfoliate the dead cells gently.
7. Juicy Chemistry Lip Balms
One of things that you will always find in my purse is a lip balm. It's a must and a life saver all year round, especially in the winters. I have used their Juicy Chemistry Blood Orange & Rosehip Organic Lip Balm – For Pigmented Lips and the Juicy Chemistry Tuscany Lemon & Green Tea Organic Lip Balm -For Tanned & chapped lips. Both of these live up to the name and keep your lips highly soft, supple and moisturized.  Honestly I have seen less effectiveness on the pigmented lips, but I have used only one tube of it.
Juicy Chemistry Blood Orange & Rosehip Organic Lip Balm – For Pigmented Lips
Juicy Chemistry Tuscany Lemon & Green Tea Organic Lip Balm -For Tanned & Chapped lips
8. Juicy Chemistry Body Washes
Body washes are brilliant. I cannot end my bath without a body wash. I prefer the ones that either foam on use or are super light on lather so it just cleanses your skin gently removing the sweat, grime and impurities. I mostly use a body wash after my walks.
The two body washes that we use consistently at home are the Blood Orange Body Wash. I am yet to try the Eucalyptus and Peppermint Body Wash.
Juicy Chemistry Blood Orange, Hazelnut & Vanilla Orange Organic Body Wash for Brighter Skin
Juicy Chemistry Eucalyptus and Peppermint Organic Body Wash to Soothe Skin
Juicy Chemistry Organic Avocado and Coconut Baby Shampoo and Body Wash
9. Juicy Chemistry Essential Oils
Enjoy the delightfully intoxicating scents of nature's most fragrant flora, with our range of unique steam- distilled, essential oils. Take the aromatic route to relax and rejuvenate your mind, body and spirit. The best part is that you can use more than just in a diffuser. Mix it with their carrier oils to make a whole load of awesome stuff that can contribute to your wellness.
10. Juicy Chemistry Carrier Oils / Cold-Pressed Oils
Use Code PRATIBHA for additional discount. 
Since essential oils cannot be applied directly either on skin or hair, you need carrier oils to mix them with to use it for your skin and hair care. For example tea tree oil, mixed with pure almond carrier oil can make an excellent head massage oil. Or add a few drops of rosemary, peppermint bad tea tree essential oil top your regular shampoo to combat dandruff and an itchy scalp. Give your skin the royal treatment with our luxuriously indulgent and completely organic, cold-pressed oils. Brimming with vital nutrients and vitamins essential for skin health, our cold-pressed oils are composed of the purest seed and nut oils, with nature's goodness intact. My favourite in these are the Argan Oil, and Marula Oil. 
11. Juicy Chemistry Vetiver and Clove Roll-on
Probably the one thing you will find in my purse, on my study table, next to the bedside table…get the gist? One of my ever favorite products that helps to reduce a headache naturally without allowing me to pop in meds. The calming vetiver soothes the mind while cloves deals with the headache.
12. Juicy Chemistry Body Butters
My must-have product in the winter from Juicy Chemistry is their body butter. This fig, vanilla and blood orange body butter is more used by my better half, but I do whack a bit of it once in a while! It leaves your skin hydrated and moisturized for at least 8 – 10 hours if you are indoors. The other two variants are Neroli, Rosehip and Tamanu Body Butter for Pigmentation and Jasmine, Lemon and Tea Body Butter for Non-irritated Skin.
So this was my list of top 12 favorite and best Juicy Chemistry products that I love to use. While you can buy these products on Amazon as well as Juicy Chemistry website, do use the code PRATIBHA to get a 10%* off when you buy it from their website. So leave a comment on which ones are your favorite products and participate in the giveaway to win some awesome goodies! Spread the love and start your 2020 with a whole lot of natural and organic goodness. * The code is not applicable when there are discounts on the website.
Entry Guidelines for the giveaway!
How can I not share some goodies with you? So this new year get ready to grab some awesome goodies from Juicy Chemistry. The rules are listed.
1. Follow @pratsmusings & @juicy_chemistry and keep engaging in our regular posts to increase your chances.
2. Like this post! Repost it if you like it! You can also share the post on your insta stories by tagging me and Juicy Chemistry so that we know you have tagged us. (The repost and insta stories is optional, but we could do with extra love! <3)
3. In the comments on Instagram tag 3 of your friends and let us know why you would like to win.
4. Leave a comment on my blog post to increase your chances of winning.
What you get:
4 lucky winners gets to win any one of the products from the list I have mentioned. We have zeroed into these products:
1. One Organic Deo (choose the one you want!)
2. One Rose and Australian sandalwood face mask scrub
3. One Face Mist (choose the one you want!)
4. One Blood Orange Body Wash
This giveaway is open until Jan 13th 2020 and the winners will be announced on Jan 14th, 2020 in our Instagram stories. 
Giveaway is open only for Indian Residents / anyone with a valid Indian address.