There is more to coconut oil than just cooking food in it. Coconut oil's uses extend far beyond the kitchen; it is a complete all rounder when it comes to home remedies! Ayurveda recommends using coconut oil for alleviate a lot issues – ranging from skin and hair care to healthy living. So it's but natural to opt for the best coconut oils for hair and cooking in India.
Benefits of using natural and organic coconut oil
Ayurveda has been using coconut oil for ages, but it got lost somewhere in between, although recent times have seen people waking up to its various benefits.
1. COCONUT OIL MASSAGE
A body massage with pure coconut oil is healing. Ayurveda recommends using coconut oil in its purest form so that it nourishes your body while relieving those tired muscles and knots in your body! You can use plain coconut oil, or mix it up with an essential oil for a smooth, relaxing massage.
2. NO MORE ECZEMA
Anyone who's suffered from eczema knows how helpful coconut oil can be for their skin. However, virgin coconut oil is what really helps, as regular coconut oil hasn't been found to be as effective.
3. AN EFFECTIVE MOISTURIZER
Coconut oil is great for moisturization, even for really dry areas like elbows, knees and feet. If you are looking for that extra nourishment, apply warm coconut oil all over your body, a self abhyanga. A warm massage will nourish your body and a massage is always beneficial to strengthen immunity and your bones. I add a drop of my favourite essential oil to add a variation to the fragrance.
4. HELPS IN YOUR DIY RECIPES!
Yes! You don't need an expensive tub of store bought scrub for good exfoliation; DIY solutions work just as well. Heat ½ cup of coconut oil in a double boiler till it gets warm and mix with 1 cup of brown sugar and a little vanilla extract for a delicious smelling and effective body scrub.
5. MAKEUP REMOVER
Ditch those chemical laden option to remove your make up. Dab some Merit VCO in the cotton ball and wipe on the face. You will see that the make up comes off more easily and the oil gives your skin the nourishment too. Was off with a mild soap free cleanser to get rid of the excess coconut oil.
6. USE AS A LIP BALM
Coconut oil has a natural SPF of about 4 to 6 and is highly moisturizing. This makes it the ideal thing to apply on your chapped lips for complete protection and nourishment. Another plus is that there's no harm if it gets ingested!
Best Coconut Oils For Hair and Cooking in India
Coconut oil has been used since millennia for skin care, hair care, cooking and wellness concerns. One thing to note here is that is coconut oil is highly comedogenic, so if you have super sensitive or acne prone skin, it is best advised not to use as a face care remedy. I have split my list of recommendations as skin and hair care oils and also multi-purpose oils that can be used for cooking to maintain a healthy lifestyle.
Best Coconut Oils For Hair and Face Care in India
Here is a list of best coconut oil that you can use for your hair and face concerns.
Omved Therapies
OMVED Extra Virgin Organic Coconut Oil is an all-purpose, therapeutic-grade oil that can be used for skin, hair and body care. Made using the highest quality ingredients, this coconut oil, Cocos nucifera, is known for being a powerhouse of antioxidants. Being unrefined in nature, it is also a rich source of vitamins and minerals.
Usage
Take a small amount of coconut oil in the palms and massage gently all over the face and body as required. Let your skin soak it in for half an hour after which cleanse it off with a mild natural soap or facial cleanser or body shower gel. Use the Omved Bronze Kansa Wand to give your facial muscles a boost and massage with the smaller tip of the band to boost blood circulation.
To apply on hair, take an amount of oil as per convenience and gently massage the hair from root to tip. Leave it for up to 30 minutes before cleansing it off with a mild natural hair cleanser and warm water.
Must Read: 25 uses of coconut oil you should know.
Forest Essentials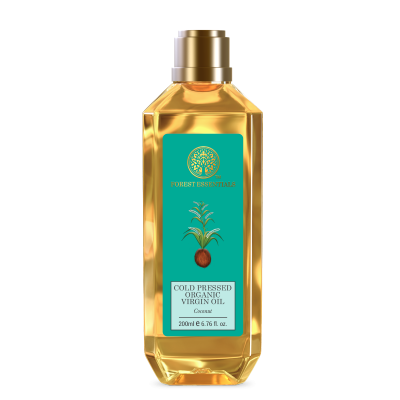 This Forest Essentials Organic Cold Pressed Virgin Coconut Oil is extracted from the fresh grated white flesh of strictly graded high quality Coconuts to procure the richest extract. The creamy flesh of the coconut is separated through a meticulous series of centrifuges at low temperatures.
Usage
Take a small amount of coconut oil in the palms and massage gently all over the face and body as required. Let your skin soak it in for half an hour after which cleanse it off with Wild Honey and Mashobra Body Wash.
To apply on hair, take an amount of oil as per convenience and gently massage the hair from root to tip. Leave it for up to 30 minutes before cleansing it off with a mild natural hair cleanser and warm water.
Coconut Milk, Lavender & Lemongrass Scalp Mask
I wouldn't term this as a coconut oil, but I must add that this is a brilliant hair mask. Packed with the goodness of coconut milk ,which is beneficial for restoring dry, damaged and brittle hair. It also helps to lessen split ends. It contains all the essential nutrients required for healthy hair, boosting circulation to your hair follicles. French Lavender essential oil is anti microbial and promotes hair growth. Lemongrass essential oil has astringent property. When applied to the scalp, it can help your hair remain clean and fresh between shampoos.
Usage
Using the coconut oi regularly promotes contraction hair follicles, thereby preventing hair shedding with regular use. Mix sufficient amount with Aloe Vera gel. Make a thin paste and apply on scalp. Keep it for 20-30 minutes. Rinse with a gentle cleanser. Can be used 2-3 times a week. I would highly recommend using their natural shampoo bars for better hair health. You can buy this mask here.
Rey Naturals Cold Pressed Best Coconut Oil For Hair and Skin
Rey Naturals coconut hair oil is made with the finest handpicked coconuts. With the goodness of pure coconut oil and vitamin e, it nourishes your hair from within to make them long, strong and gorgeous. Coconut oil benefits:
– Stimulates hair growth getting deep into its follicles.
– Promotes the scalp health.
– Moisturizes dry hair & dry skin.
– Adds lustre, shine and softness to the hair.
– Prevents hair breakage and split ends, contributing to hair length.
-Slows down hair loss.
Usage
Use its as a deep scalp conditioner, effective to eradicate lice, dandruff and more. For skin care, use it as a lip balm, sunscreen, under-eye cream, make-up remover or a skin moisturizer. You can buy this here.
Kama Ayurveda Pure Coconut Oil
Kama extra virgin coconut oil is 100 percent organic, cold pressed and produced without synthetic fertilizers, pesticides etc. Coconut oil naturally conditions and nourishes damaged hair. An ideal moisturizer for the body, it makes the skin smooth and even textured. Highly recommended for baby massages. A light, non-sticky and easily absorbed oil with a pure, tropical Coconut scent that conditions damaged hair. You can buy this here.
Best Coconut Oils For Cooking
Now that we talked about the hair and skin care regime with coconut oils, let's mention the best coconut oils for cooking use in India.
Coco Soul Cold Pressed Natural Virgin Coconut Oil
Extracted from freshly harvested coconuts from India, Coco Soul Virgin Coconut Oil (VCNO) is 100% pure, Natural and Unrefined. Manufactured specifically through a meticulous No-Heat* process, this Cold Pressed Oil has all the vital nutrients preserved, with a rich aroma and flavor of real coconuts.
This oi is directly consumable as it's 100% natural, pure and is free from added preservatives. Virgin Coconut Oil is a rich source of naturally occurring Lauric acid C12 and Vitamin E which helps to improve body immunity along with many other health benefits. It is rightly termed as a Superfood with its multiple benefits. VCNO is considered as 100% natural immunity booster. Due to its better oxidative stability and high smoke point, it can be used as a regular edible oil. You can buy it here.
DiSano Cold Pressed Virgin Coconut Oil
DiSano cold press virgin coconut oil come with 100 percent natural, cold pressed unrefined and ideal for cooking, dietary, skin and hair. It is pure, cold pressed, unrefined oil extracted from coconut milk. The cold process method ensures that all the vital nutrients and natural goodness of fresh coconuts are retained. When used for cooking, it helps to boost immunity, stimulate weight and control metabolism. You can also consume a tablespoon of oil everyday to boost better health.
Organic India Cold Pressed Virgin Coconut Oil
This pure cold-pressed coconut oil is a natural super food. It is beneficial for the heart and helps in healthy functioning of the thyroid and endocrine systems. It helps to increases the body's metabolic rate, helping to melt away the extra pounds. One of the best oils available for cooking, and it doubles up for skin and hair care as well. You can buy this here.
Merit VCO Extra Virgin Coconut Oil
Maintaining a Virgin coconut oil diet is beneficial for your internal body system. Virgin coconut oil diet is done by changing your usual cooking oil with refined Virgin coconut oil and taking three to three and a half tablespoons of virgin Virgin coconut oil as supplement everyday.The medium chain fatty acids (MCFAs) in Virgin coconut oil greatly contributes in boosting the digestive system that improve the performance of cells and hormonal secretion of glands. Also, Virgin coconut oil contains antimicrobial lipids, lauric acid, capric acid, and butyric acid that are helpful in fighting infections, yeast growth, and killing disease-causing bacteria. You can buy this here.
Maxcare Virgin Coconut Oil
Virgin coconut oil (vco) is extracted from fresh coconut milk and is 100 percent natural. It is unrefined, unbleached and cold pressed. Unlike other coconut oil that is extracted through heat, vco does not possess that latik odour, but fresh aroma of coconut oil. Vco is the most healthy and versatile of all vegetable oils. For dietary – vco is rich in medium chain triglycerides which help boost metabolism and provide an instant source of energy. It also has lauric acid in good quantity which helps fight bacteria, fungi and viruses and improves immunity. You can buy this here.
Now that you are aware of the best Coconut Oils for Hair and Cooking Use in India; which one is going to be your choice for wellness, health care and hair and skin care? Drop a comment and let me know!