Looking for some gifting this holiday season? How about some natural skin and hair care products and wellness products that your friends and family will truly love to use! I've collated 25+ Best Beauty and eco-friendly Gifts in 2020 that you can gift to your friends and family.
The best part is that these won't gather dust (like most presents do!), instead your friends and family will thank you for introducing them to natural skin and hair care products!
25+ Best Beauty and eco-friendly Gifts in 2020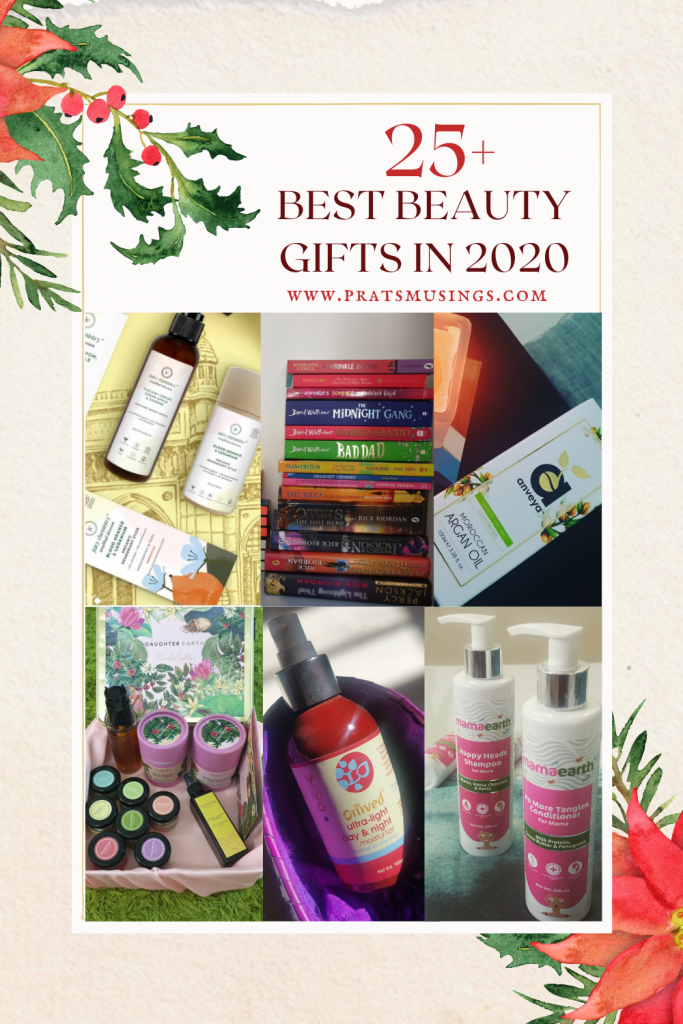 There can never be enough when you think of gifting for your loved ones! Here is my selection of the Best Beauty and eco-friendly Gifts in 2020 that is a mix of skin care, hair care, aromatherapy and wellness!
Daughter Earth
If you are looking for some fab skin care products for yourself or for gifting, I promise you that your search ends here! My current favorite being the Serum Absolut and the Ceramide Probiotic Microemulsion eye serum. DE has something for all your skin care concerns. And do check out the lip tint as well that works brilliantly as a light tint that will add loads of gorgeousness for your festive look. Check their entire range of products here. Coupon Code for Daughter Earth – pratibha15off
Juicy Chemistry
It's always difficult for me to recommend that ONE product you'll love to gift or own because I love most of their products! What can I do? Mix and match! Make a little hamper and send it out to yourself or your friends and family! I highly recommend their essential oils and scrubs. They are simply divine! You can check out the entire range of products from Juicy Chemistry here. You can use the code Pratibha to get an additional discount as well.
Mamaearth Vitamin C Sleeping Mask, Night Cream
The combination of Vitamin C and Aloe Vera works together to bring back skin's radiance, which gets lost over time. Antioxidants present in the mask work overnight to protect the skin from free radical damage and pigmentation, which eventually leads to younger-looking skin. Buy it here.
Nutty Yogi
Want to switch to healthy eating and snacking? Take time out to celebrate together – Health, Happiness and the good luck which helped us tide over this year. Nutty Yogi has put together some meaningful gift boxes this year to show how much you care. These have products which are not only delicious but nutritious. Which keep up Healthy as we go. They show you really care. Check out their entire range of healthy food here.
Mind Relaxing Kit by House of Beauty
Stress, Anxiety and Tension are common in today's lifestyle, and needs immediate attention as it can have chronic health effects in the long term. These blends reduce stress and encourage focus and feelings of wellbeing. They can be inhaled, diffused, and applied topically. They target the olfactory system and help the mind in relaxing and calming, also giving you a cooling sensation. You can buy this here.
Amorearth
Made by hand mindfully, consciously with approaches rooted in sustainability such as reduction of waste and reducing the impact of inconsiderate encroachment and unmindful / over-consumption on the planet. I highly, highly recommend their Immunity Boosting Powder which is a boon in the times of this pandemic.
Phool
For me there is nothing more calming than a burst of natural fragrances at home. These incense sticks and incense cones are made from temple flowers, so rather than them being discarded, the founders of Phool came up with the innovative idea of making incense sticks and cones out of these flowers. You can click here to view their products.
The Better Home
The Better Home has a collection of products that are best suited for your wellness. Keep your home free from toxins and make a safe environment for you and your family with the range of cleaning products that include a floor cleaner, laundry detergent, toilet cleaner and dishwasher liquid. As they say, this season goodness wins over everything toxic! View their range of home care products here.
Soap Square
I was introduced to Soap Square a few months ago and I have to say that they have a wonderful collection of shampoo bars. Apart from the shampoo bars I have used their soap, hair masks and more and found them to be gentle on the skin and hair. They have come up with curated gift sets that make them awesome eco-friendly gifts for Diwali 2020. Choose from the various options you have to pamper yourself or your loved ones! Look up their entire range of gift sets here.
Mitti Se
Choose from their wide range of products; made from ethically sourced ingredients. They have a fabulous range of skin and hair care, their wellness kits or the home care range. You'll never be disappointed with their products. You can view their entire range of products here.
Omved Therapies
Transform your life into celebration with a 100% natural aromatic Sandalwood soy wax candle. The range of soy candles from Omved are made with soy wax and it has a blend of essential oils that usher in festivities with loads of joy and happiness. You can check the entire range of products available here.
Natural Soaps
Soaps these days are ridden with chemicals and artificial fragrances, which is why a set of natural soaps is perfect this season! This set contains soaps made from organic extracts, and are free from sulphates, parabens, formaldehyde and mineral oil, making it free from carcinogens. Costs Rs. 931.00. You can look up more products from PureSense here.
Himalayan Salt Lamp
Himalayan salt lamps are getting increasingly popular, making this a trendy gift idea! These lamps are carved from natural rock salt from the Himalayas, giving it its characteristic pink color. The lamps are said to promote good sleep and purifies the air at the same time. You can check the collection here.
Must Read: 7 Creative and Budget-friendly Gift Wrap Ideas
Shampoo Bars
Shampoo bars! You either love them, hate them or wait till your hair gets used to them! Shampoo bars are economical and eco-friendly. Shampoo bars is not just another trend that is doing the rounds, it has been there and its now that people are opting for it. When you make that shift from the liquid shampoo to the solid shampoo, it takes some time to get used to the changes, but the end result is the same; squeaky clean hair! You can buy this here.
21 Fools – Kyaari Paper Calendar
Sustainability at its best. Gift this wonderful reusable paper seed calendar that can adorn his office desk! The handmade paper has plant seeds, at the end of the month, ensure that he gets back the paper home so that you can plant it in your own home garden! Made out of two elements- BeejKapas and Reclaimed Wood. Priced at INR 1199, you can buy the Kyaari Calendar here.
Face Oils
Face oils is big boom in skin care today. You can leave it on the skin to absorb or let it stay on the face for a few hours and wipe off with a towel soaked in warm water. Using a face oil is totally dependent on your skin type. If you have oily, sensitive or acne prone skin, you may just need to apply it on the face and neck and wipe it off after an hour or two. For those with dry skin, you can let it soak in your skin overnight. Look up some face oils that you may like here.
Yearly Planners
This planner is created for those who want a simple, but functional year planner that helps to track their to-do lists. It can be used in your own unique ways. We are all unique and so are our planning techniques. That's where this unique planner fits in and can become your co-traveller for the year ahead. You can buy this here.
[clickToTweet tweet="Choosing eco-friendly gifts is not only possible, it's affordable." quote="Choosing eco-friendly gifts is not only possible, it's affordable." theme="style3″]
Amrutam Hair Spa
This hair spa contains Triphla, Bhringraj, Eucalyptus oil, Balchhad and Kapoor kachhari. Revitalizes your scalp and helps in strengthening of hair roots. Useful in preventing hair loss, helps in hair re-growth and keeps your hair healthy and black. You can buy this here.
Incense Sticks

Incense sticks are a good way to stream aromas in your home. Look for handmade, hand rolled incense sticks that are free from toxic ingredients that cause them to smoke. Organic agarbattis are made in a base of resins, bamboo and therapeutic grade essential oils that makes it safe to burn indoors. Omved Therapies has a wonderful range of incense sticks and the soot from Omved's incense sticks can be used for the plants too!
Teas
Teas, especially green teas are loaded with health benefits. One cup is all that you need to kickstart your day. I prefer the green tea and herbal teas because not only are hey healthy, but also full of benefits that help you steer towards a better health. These make an excellent wellness gifting option if you know someone could do with the dose of good health!
Diffuser Sets
When you're going to have lots of guests, you want your home to smell heavenly too! This reed diffuser set from Iris has everything you need to spread the scents – a little pot, reeds, diffuser oil and even dried petals. With this set, any home will be ready to smell fresh all day! Don't forget to add some essential oils to the gift set!
Handmade gifts/ Personalised Gifts
Copper Bottle
Ayurveda states that tamara jal (water that has been stored in copper vessels) has the unique ability to balance all the three doshas (vata, kapha and pitta) in your body. Copper helps to charge the water positively and needless to say when you consume it, there are various health benefits of drinking water in a copper vessel. Buy one here.
MUST READ: 5 Health Benefits of Drinking Water in a Copper Vessel
Bamboo Cutlery Set
Plastic is an overused material that's finding its way into our oceans and filling up our land mines. The Rusable Steelery Set is an environmentally friendly alternative to plastic. Made from Food Grade Stainless Steel, this handy set comes packed in a stylish jute pouch, with a napkin included! The jute pouch also doubles up as a clutch with space for carrying some cash/cards. So the next time you go out to eat, or travel, take this steelery set along and reduce your dependence on plastic. You can buy this here.
Eco-friendly toys
Let's not leave the kids behind! Shumee is one of my favourite brands when it comes to eco-friendly toys! ninjaKi is an educational game of skill that hones mental and physical agility. This delightful wooden game tests your ability to skillfully balance these agile ninjas atop one another to form a tower. You too can win at concentration, focus, strategy and fine motor skills. Just bring these finely crafted wooden toy ninjas home and watch your children play with them over and over! You can buy this here.
These are some of my most recommeded 25+ Best Beauty & eco-friendly Gifts in 2020 that make the best presents! Which ones are you going to choose this season?