One of these days I'll lose track of the multiple bags and boxes that does the rounds every month. I mean the beauty bags and boxes. Around a particular date, you'll find a bevy of posts that will pop up followed with oohs and aahs for a few days. And the cycle repeats the next month.
Yes, I subscribed to them too till I realized that the products were not just for me. Cut it to a fortnight ago when I came across a newsletter I has missed reading. And it caught my attention. EcoMart India had launched Yos Greenn Box, an eco – conscious box that one can subscribe to. They have two variants –  Vegan Box and the Organic Box. The Organic variant that has samples of chemical free and non toxic products. The Vegan box will contain samples that will not have any ingredients like ghee or honey. Needless to say that these boxes  will help you lead a conscious and an eco life style.
I was sent the Organic box for review and it contained one full sized product, 4 sample sized products and a pair of terracotta earrings. You can view the subscription details here. Priced at INR 599, the one month box is something that I would recommend to try. You can choose between a  completely vegan or an organic box. The organic box contained:
Lass Naturals Rose and Honey Face Wash – Full sized product
Rustic Art Organic Lotus Body Wash – Sample sized product
Biobloom Organic Lavender and Apricot Cleansing Milk – Sample sized product
Lass Natural Rosermary, Mint and Eucalyptus Soap – Sample sized product
Sattvik Organics Saffron Care – Sample sized product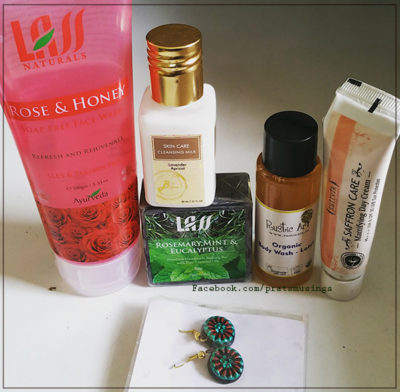 Once you choose to subscribe to the boxes, you get contacted to know your preferences and products are sent accordingly. If you notice my box contained samples for skin and body care. I am familiar with Rustic Art and Biobloom. I have used products from these brands earlier and I would completely recommend them. Lass and Sattvik were the brands in the box that I would love to sample. I have used the Satvik Face Care till now and I loved it. It does not leave my skin oily and it has a very good matte finish that is perfect for this humid weather. I have never used Lass so I am looking forward to use this facewash once I exhaust my current face wash.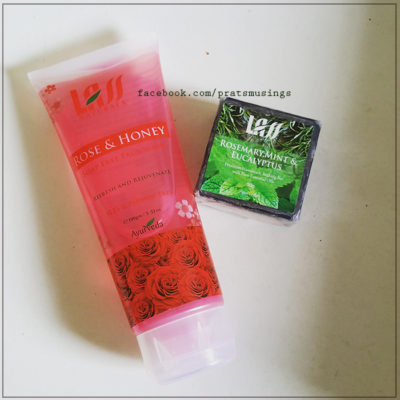 When I see boxes like these, I am really happy to see green living being promoted. However, there needs to be a focus on a complete well-being box not just for oneself but also the living areas. In a conversation, the founder of EcoMartIndia mentioned that it was exactly the same concept on her mind. A potpourri of candles, incense, home cleaners, tea bags etc added to the boxes will give a broader perspective to green living. I am really keen to explore this box that will start looking beyond beauty!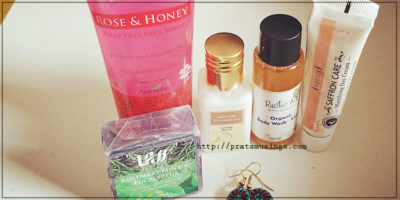 Have you purchased this box as yet? If you have, leave a comment to share your experience with me. 
Follow Me On…
FACEBOOK | TWITTER | PINTEREST |elephant journal
*All of my reviews are based on my own personal experiences with the brand/products. If it is a sponsored post, it is indicated. Most of the brands and products reviewed are what I have tried and tested and truly recommend! All Photographs are (C) Pratibha unless stated otherwise.*