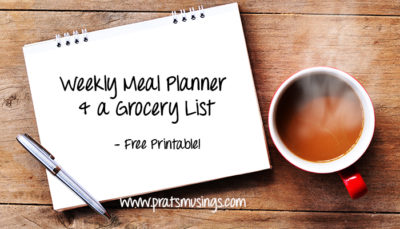 Every evening, as soon as my cook arrives and asks me what she needs to cook for dinner, I immediately call up the better half and ask him what he wants to eat for dinner, or if the boys are at home, I ask them what would they like to eat for dinner. I completely draw a blank when it comes to deciding what I have to cook or decide what needs to be cooked!
To escape from this ordeal (and I am sure that most of the mommies would be glad to escape it too) I created this simple and easy to use weekly menu planner printable that is going to be a lifesaver for you! With the new year setting in, I am sure that a lot of us have made resolutions. My first resolution was to plan for meals so that I didn't have to be worried about what to cook or tell the cook what to cook!
Creating a Weekly Menu Planner
I recently received an HP InkAdvantage HP 3635 Color Printer for review and the kids and I had a super fun time making some creative Christmas decorations with it. With my resolution to create a menu planner to make my life simpler, the first thing that I did was to create a menu planner that could help me jot down what I wanted to make for the meals the entire week.  Click on the image below to access the printable.
Designing and printing this on my new HP 3635 printer was a breeze. This 3 page printable allows you to plan your weekly menu which I have already done as you can see in the pic above and the grocery list allows you to shop for just the things that you will need for the fortnight. In the past whenever we have shopped without a grocery list, we've ended up buying things we didn't want and forgot to buy what we actually wanted. A grocery list helps to save time, money and keeps you focused on what you actually need to buy.
I have categorized the grocery list according to most of ingredients that we include in our meals. So if you use a weekly meal planner to plan out the meals, you know what grocery items need to be stocked. Just add it to the list. This simple yet effective weekly meal planner helps to sort my meals and the grocery. Trust me, this is a huge time saver for me as a working mommy!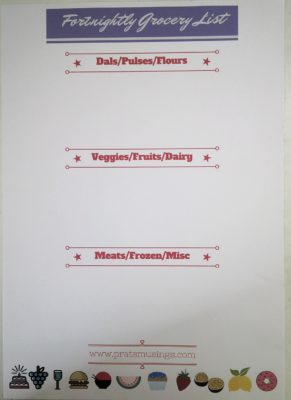 Most of you are aware that I was away for a month for a complete detox. By using this weekly meal planner, I ensure that we are eating right. The planner helps me to ensure that we have a variety of food to eat and that its not the same boring food that will prompt us to order a takeaway!
I have opted for colour printouts because with the HP 3635 printer, I can take loads of colour printouts as it is really economical. The weekly meal planner will still serve its purpose even if you take a black and white printout! Go ahead and use some colourful pens and make the menu look more exciting. I already have so many ideas that I have jotted down to try with my HP 3635 printer! Printing out some family pics, project work for the boys, making my own to do lists,  and more!
You can also download the weekly menu by clicking here. If you aren't already subscribed to the list, you will need to sign up! Follow Me On…
FACEBOOK | TWITTER | PINTEREST |elephant journal
*All of my reviews are based on my own personal experiences with the brand/products. If it is a sponsored post, it is indicated. Most of the brands and products reviewed are what I have tried and tested and truly recommend! All Photographs are (C) Pratibha unless stated otherwise.*