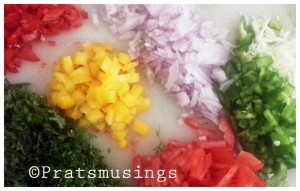 I've always had a love-hate relationship with cooking. I go between the phases of cooking so many new recipes to resorting to Maggi as a life saver. Being married to a Punju who favours the rajma, choles and the various parathas and managing two boys whose interests vary from bhindi to pasta had me go bonkers when I had to cater to every interest. Luckily sense prevailed and before I thought I could be the super-mom, I stopped myself from a classic burnout and hired a cook. Despite that I still like to make something for the boys every now and then.
My recipes are simple and I experiment with food that has a lot of veggies in it so that the boys get more than one veggie in that meal. This is another healthy and super filling breakfast that is made at least once in a week at home. Very simple and easy to make, I love  it for its taste and the amount of veggies that go into it.  And of course, the boys do not complain, which makes it easier for me because I don't have to tackle fussy eaters.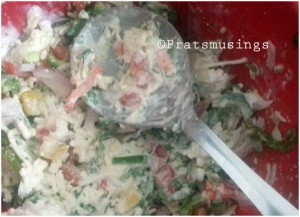 What you need
Half a cup of finely chopped bell peppers –  I use the yellow, red and green ones
Half an onion – chopped finely
A teaspoon each of finely chopped coriander and mint leaves
Two tablespoons of finely chopped mushrooms sautéed in a bit of butter
Two tablespoons of finely chopped cabbage
One tablespoon of chopped tomatoes
2 teaspoons of cream
2 teaspoons of sooji
Two cubes of grated cheese
Salt and pepper according to taste
One loaf of bread
(Whew!)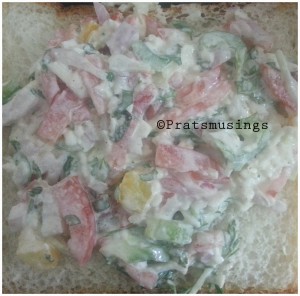 Now all that you need to do is mix everything in a bowl and set aside. Add a bit of butter in a pan. Spread a layer of this mix on one slice of the bread and keep it in the pan with the spread side facing down. Let it cook for about a minute or two in a low flame. Turn and cook the other other side. Serve with sauce.
See that is all you need to do! Isn't it simple?