The winter often causes the threat of dry, flaky, itchy skin. It's a known secret, yet most of us end up using products that are not suiting our skin. Either it turns out to be too oily causing breakouts and acne or you need to hydrate your skin continuously to keep it soft and supple. But, what you need are products that you can include in your daily care regime to use it minimally to keep it soft, nourished, hydrated and supple. And that is why I am keen on using Daughter Earth products in my daily skin care regime.
So what causes dry skin?
"Dry skin or patches of dry skin can be caused due to multiple reasons. It is a known fact that as we age, our skin becomes drier and thinner and less bouncy. Pollution and sun damage also are the culprits. When your skin's starts drying up, it's more fragile and can disrupt your skin barrier function. Think of microscopic tearing , pH imbalances, flakiness etc. as the barrier gets compromised, your skin is more prone to the damage. Moisturizing inside out with pH balance formulations that do not disrupt the gentle microbiome of the skin is very crucial. This is at the core of making of our moisturisers." says Prasanthy, the founder of Daughter Earth.
How can you rectify this?
"It's very important to topically quench the thirsty skin with much needed hydration and it is equally important to do so with internal hydration too. What I rarely see skincare brands talk about is the second part which forms a critical and more effective skin barrier. Personally, drinking lot of water and adding sufficient amount of fats and omegas to your diet, is a simple, healthy and effective way to complement your skincare. I love adding ghee to my diet precisely for this reason.   I'm also a big fan of Panchakarma where they make you drink pure ghee and oil concoctions to detox you inside out. " she adds while explaining more about dry skin.
How do we combat this?
What if I told that the number one beauty mistake that causing your dry skin can be rectified with just one brand; yes you read that right, just one brand will you be interested to know more? I bet you will, after there is no need to have an array of different products to get rid of the number one beauty mistake that's causing your dry skin. That is why I insist on using Daughter Earth products in my daily skin care regime! Right from masks, exfoliation scrubs, to body butter and more, this brand has all that you need to take care of our skin and hair.
Using Daughter Earth products in my daily skin care regime
The number one beauty mistake that causing your dry skin is that you are not providing a solution-oriented approach to skincare that allows your skin to live more comfortably in its own dermis.And as I said earlier that I why I insist on using Daughter Earth product in my daily skin care regime and hair care too!
That's why I collaborated with Daughter Earth and the founder of Daughter Earth, Prasanthy to give us the scoop on the must-have products and practices to keep dry winter skin at bay.
"Dry skin is extremely common as the season changes. The drop in the temperature in the winters sap the skin of its natural moisture, and creates dry, itchy and flaked skin and scalp too. It is important to follow the right skin care regime to ensure your skin is hydrated and nourished all through the season." says Prasanthy, founder of Daughter Earth.
So the question how does using Daughter Earth's products in my daily skin care regime skin help to maintain soft and supple skin, not just in the winters but all year round. I have reviewed some of the products from Daughter Earth in my earlier post, this post includes their mew launches and some of the most raved beauty products.
MUST READ: MY REVIEW OF USING DAUGHTER EARTH PRODUCTS
Tip 1: Indulge in a massage.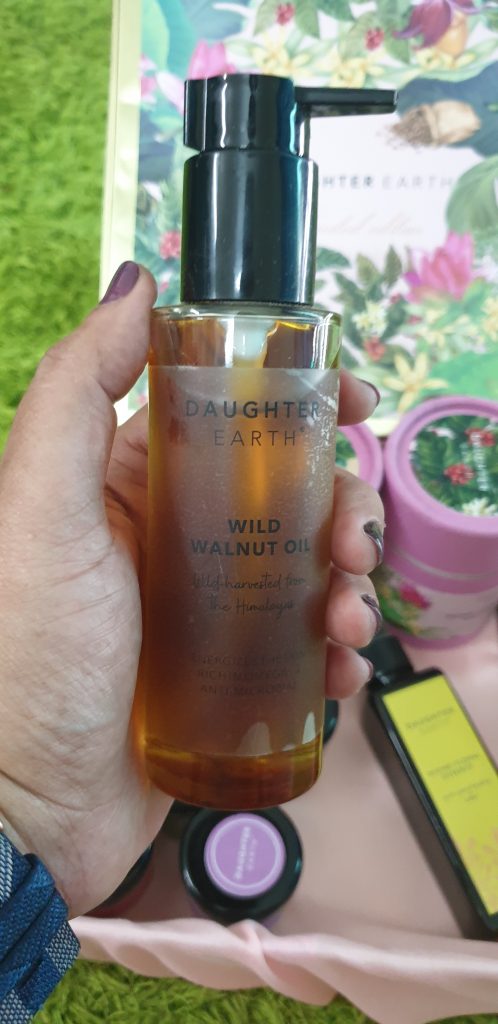 The number one beauty mistake that causing your dry skin is that you don't indulge in a massage or an abhyanga. You should massage your body at least thrice a week. Daughter earth has two oils that I use to massage my skin; the Wild Apricot Himalayan Oil and the Wild Himalayan Walnut oil. Use this pristine pure body oil to gently massage your baby or to care for your own skin. Apricot Kernel oil increases skin suppleness and elasticity to help prevent Stretch Marks.Lightweight, toning and anti-microbial, this wild walnut oil balances and softens skin texture for a visible glow.
USE CODE PRATIBHA15 when you shop at https://daughter.earth/collections/shop to get a flat 15% off.
Tip 2: Cleanse Cautiously
While in the summer, the skin may become more greasy, but in the winters you need a super gentle cleanser like the Active Botanical face-wash that helps to gently clean the skin of the environmental pollutants. Made with active botanicals, this gentle face face wash ensures that it does not strip the skin of vital moisture.
You can also use any of their masks to ensure your skin gets more hydration. I love the Java Plum mask! They also have a brahmi and an orange mask that doubles up as a face and a hair mask.
Tip 3: Exfoliate from head to toe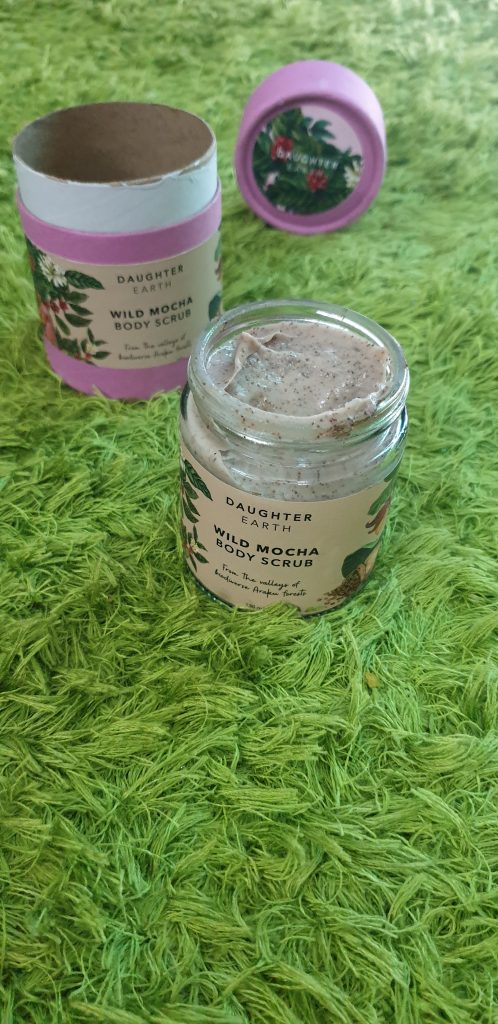 It's a myth that exfoliating the skin in the winter causes it to dry further, but if you use the right scrub, it can work wonders on your body. The newly launched Wild Mocha Scrub is skin elixir for me. Wild Mocha Body Scrub is a deeply moisturizing and gently exfoliating treatment cacao butter (chocolate) blend of potent botanicals from microclimates of Araku valley with rich walnuts from the Himalayas. Gentle enough for daily use, it helps to even your skin tone and slough the dead skin. And the wild smell of coffee is truly intoxicating.
Tip #4: Defend your skin against drying up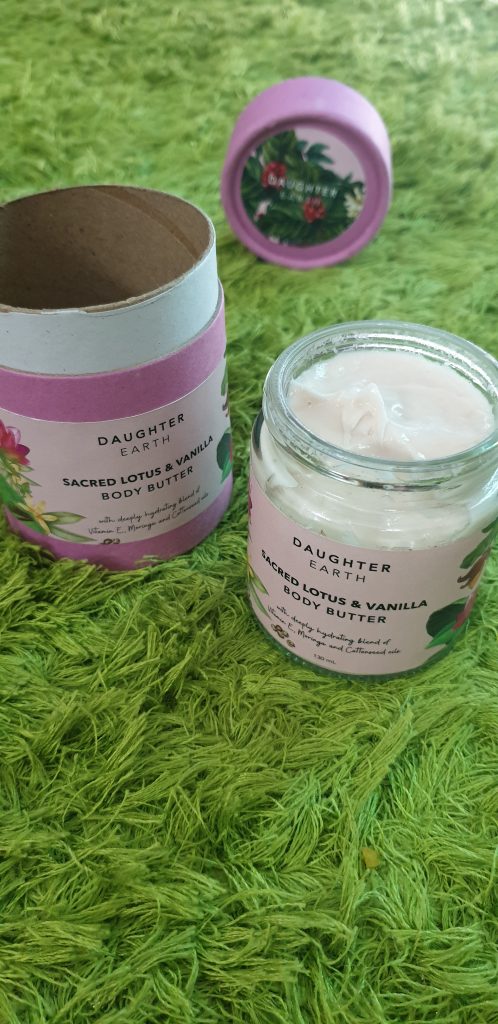 Moisturizing is an important part of your skin care regime. Well, at least its mine! In the morning and night I use the newly launched Sacred Lotus & Vanilla Body Butter which takes to the wilderness of the Himalayas. A tad feminine fragrance but it soaks into your body as soon as you apply it. Made with nutri-active botanical blend of Pink Lotus, Moringa, and Vanilla, this body moisturiser is crafted consciously and packed in a sustainable glass jar. Pregnancy-safe and safe to use on babies too.
USE CODE PRATIBHA15 when you shop at https://daughter.earth/collections/shop to get a flat 15% off.
For the morning and night
For my face I use the Eternal Youth Pythonutrient Moisturizer. A pea sized quantity is all you need to let its goodness soak into your skin and keep it nourished and moisturised. At nights I combine this with the Eternal Youth Serum that keeps my skin hydrated as I sleep.
Tip #5: Love your lips!
My skin care is incomplete without a lip balm. The antioxidant lip balms from Daughter Earth keeps your lips hydrated for hours together. Antioxidant lip balm seals and hydrates your lips while also protecting from the harsh UV rays and environmental free-radical damage. Helps with lip-elasticity and pigmentation on and around the lips. 100% Vegan and Beeswax-free.
Tip #6: Get ready for the giveaway!
In the blog post, I have shared with you why I insist on using Daughter Earth products in my daily skin care regime. Now, two of their new launches could be yours! Participate in the contest and two people stand a chance to win one of their two new launches; the Wild Mocha Scrub and the Sacred Lotus and Vanilla Body Butter.
Entry Guidelines for the giveaway!
How can I not share some goodies with you? So this new year get ready to grab some awesome goodies from Daughter Earth. The rules are listed.
Follow @pratsmusings & @daughterearthofficial and keep engaging in our regular posts to increase your chances.
Like this post! Repost it if you like it! You can also share the post on your insta stories by tagging me and Daughter Earth so that we know you have tagged us. (The repost and insta stories is optional, but we could do with extra love! <3)
In the comments on Instagram tag 3 of your friends and let us know why you would like to win.
Leave a comment on my blog post to increase your chances of winning.
What you get:
2 lucky winners gets to win any one of the products from the list I have mentioned. We have zeroed into these products:
One Wild Mocha Body Scrub
One Sacred Lotus and Vanilla Body Butter
This giveaway is open until Jan 31st, 2020 and the winners will be announced within a week of the contest closing. I use a Instagram random user picker to select winners. Winners will be announced in the insta stories and the feed.
Do not follow to unfollow just because you don't win! You'll be blocked from the future giveaways.
Giveaway is open only for Indian Residents / anyone with a valid Indian address.