The Triphala shampoo came to  me with a very high recommendation by the founder of SoulTree and I must say that I was not disappointed. If you are a fan of shampoos that lather, then I am sure that you will be a tad disappointed with this product. But if you left that condition aside, I am sure that this is a product that you will love! When I opened the lid, the first fragrance that I got was a mix of Shikakai and Reetha. I remember my mom would mix these for me to use when I was a kid because using a shampoo was a luxury. Without a nostalgia trip, here is my review on the product.
My take on this product 
This is one of the few shampoos that does not require a followup with a conditioner. At least I did not need it with my hair type. And I totally loved the fragrance of this shampoo. When I started using this shampoo, I also had dandruff issues. With  regular usage I noticed a visible reduction in the dandruff. The shampoo has a gel like consistency and is not very thick and it is not runny either. The only thing is that it does not lather. Leave it on for at least a minute or two post the massage with the shampoo for visibly shiny and healthy hair.
Packaging : The packaging of the SoulTree are similar, so if you have more than one product of theirs in the bath area, be sure to double check what you use :). Packed in recycled bottles, this product comes with a snap open/shut lid. You can squeeze out the desired amount on your palm. The only drawback in this packaging is that I found the bottles to be a bit hard so when the quantity reduces, you will need to open the lid and tap the bottle on your palm to get out the shampoo.
Price and shelf life: This is priced at Rs. 300 for a 200 ml shampoo and has a shelf life of  2 years from the date of manufacture.
Where can I buy this? : You can buy this at Goodlife. I am not sure if they sell at any other online store.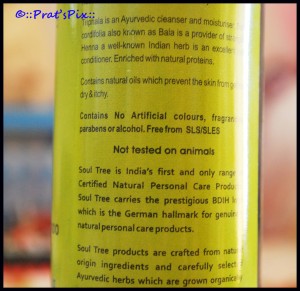 Would I recommend this: Yes, I would. I found this to be a mild shampoo very suitable for regular use. It has the age old concoctions that our mom's and grandmother's would make for us when we were younger with which we could wash our hair. And if you are getting the same packed in a bottle today, I don't see any reason why I should not use it.
Ingredients : Emblica Officinalis (Aamla), Terminalia Belerica Fruit (Bibhitaki), Terminalia Chebulica Fruit (harītakī) ( these are the tri-phalas used in the shampoo)
About the Product ( On the SoulTree Site)
Triphala (Three fruits)- is an Ayurvedic cleanser and moisturizer. Sida cordifolia also known as Bala is a provider of strength. It helps prevent premature falling of hair.
While Shikakai is known to have detangling properties, Henna is a natural conditioner and together with Wheat protein provides a soft after-wash feel. Neem Oil & Rice bran Oil prevent the skin from getting dry and itchy. It contains carefully selected Organic Ayurvedic extracts which nourish & strengthen hair.
Does not contain parabens, phenoxyethanols, artificial fragrances or colours. Not tested on animals
Note: The product was sent to me for a review by SoulTree. This has not affected my review.