Summers are on the move to welcome the monsoon. As much as I love the lashing rains and sitting in my balcony with my plants and enjoying my cup of hot coffee, I can't help, but think how my skin is going to treat me this season! The season gets humid and my skin does start acting up, which means that I need to switch to a better skin regime that suits me in the monsoons. The good news is that I have some tried and tested tips to keep your skin glowing in monsoon.
Tips To Keep Your Skin Glowing In Monsoon
With the potential humidity that rises every single day, it becomes difficult to manage skin. Especially if you have sensitive and oily skin, you are likely to be prone to more breakouts! A proper skin care routine should be your first line of defense. In this article, I'll share with you tips to keep your skin glowing in monsoon. Let's start, shall we?
MUST READ: YOGA ASANAS FOR MONSOON
THE CTM + EXFOLIATING ROUTINE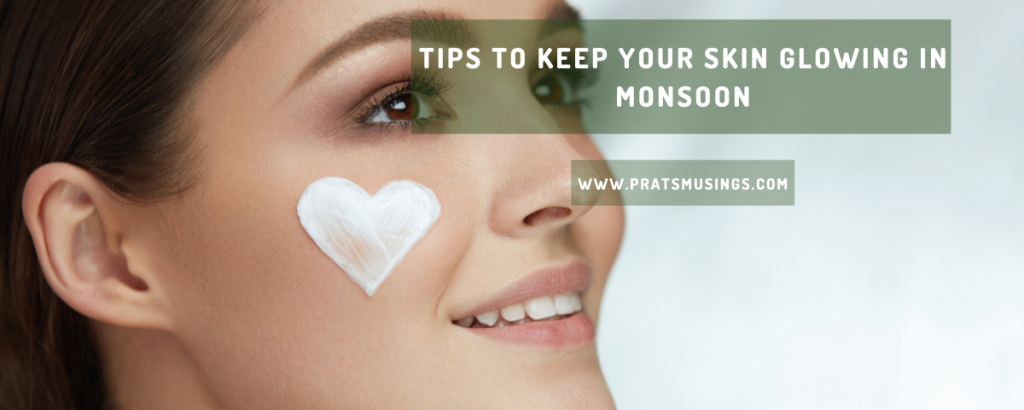 Follow the CTM (Cleansing, Toning, Moisturizing) regime. Add exfoliation too. Here are some of my tried and tested tips!
Cleansing your face
You need something that can add the instant glow to your face. What you need to also invest in is a soap free cleansing gel that can help you get rid of the dirt and impurities. You need to use this all around the year so that your face is not stripped of the natural oils. I have recommended the Saffron, Marula & Ylang Ylang Organic Face Wash from Juicy Chemistry here. You can use the coupon PRATIBHA if you want to buy anything from Juicy Chemistry.
Make your own cleanser/toner
Nothing like a DIY recipe! Take organic rose water and add a drop of peppermint essential oil to it. Add a few strands of saffron in the mix. Now, add some water to this mix and dip cotton balls in the mixture. Let it cool in the fridge for a while and use it to wipe your skin. This makes a very healing cleanser by eliminating excess oil from the skin and peppermint has healing properties that can keep acne at bay. You can also use oil-free skin wipes to remove excess oil and dirt when outside.
Moisturize
Moisturizing is another important aspect of a good skin care regime. Use a gel-based moisturizer in case of an oily skin and a cream-based moisturizer for a normal to dry skin. You can also opt for facial oils. If your work demands you to be outdoors, opt for a mild sunscreen. This particular sunscreen is from Mamaearth and is gel based that ensures faster absorption into your skin.
Exfoliate
Use a very mild scrub at least once a week to exfoliate the skin. An exfoliator should not be used more than once a week, and if you have dry skin, make it once a fortnight. Exfoliating your skin helps to get rid of dead skin cells and gives way to newer skin. Follow up with a soothing mask that can help even your skin tone after you have done the exfoliation.
Pro tip: I have started using this really fabulous product from Daughter Earth which is Vitamin C Booster – Serum Booster with Vitamin C + Ferulic Acid, Zinc PCA, Hyaluronic Acid, Aloe and Provitamin B5. It's a powder that you need just a wee bit of amount that can be mixed with your cleanser or your serums to give your skin a boost of radiance. Designed to be versatile and can be mixed with serums, creams, face masks, cleansers, and facial mists. Also helps with body pigmentation, elbow and knee darkness.
MUST READ : SKIN AND HAIR MASKS FOR MONSOON
DIY MASKS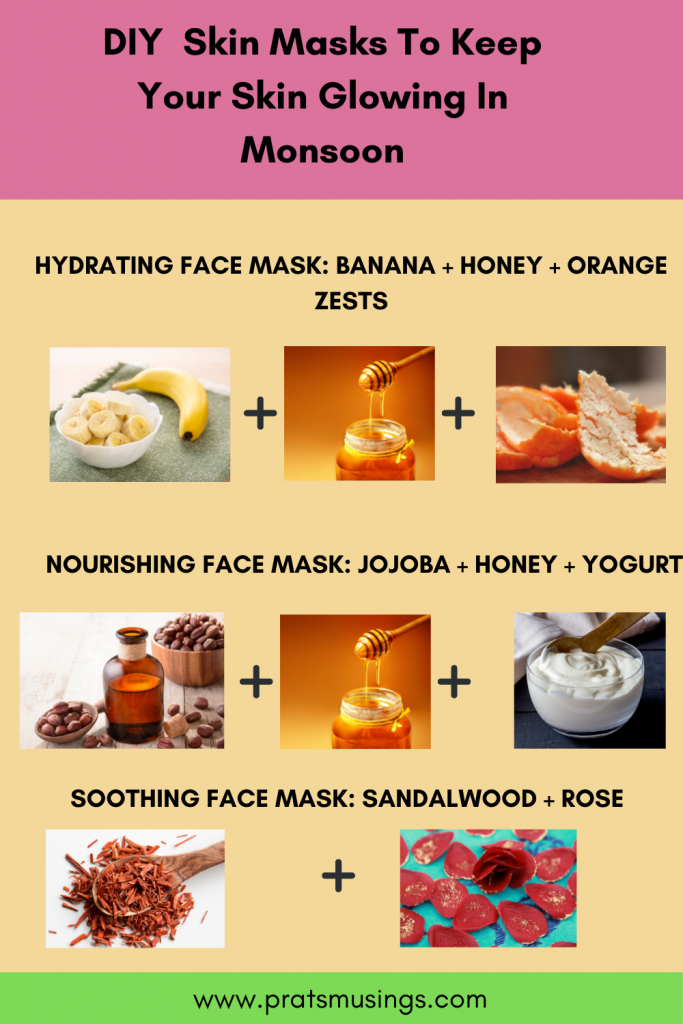 This particular one actually tops my list! I am sharing two DIY masks that can be made with ingredients easily available at your home. I love making my own masks because I know what goes in it! And plus you can choose the ingredients according to your skin type.
BANANA FRUIT MASK
Unclog pores, remove dead cells and exfoliate your skin with this hydrating banana fruit mask. Mash together a ripe banana, and tsp of honey to make a thick pack. Add a few zests of fresh orange peel if you have an oily skin. Apply on face and neck and let it stay for 15 minutes. Wash off with warm water. Banana makes your skin soft and supple and hydrates it. Please do follow up with moisturizer or a face oil if you have a dry skin.
JOJOBA AND YOGURT MASK
This pack is very good to treat dry skin. Mix together about 10 drops of jojoba oil with one tablespoon of fresh yogurt and add a drizzle of honey. Whisk this well till it is completely blended. Apply on the face and neck for about fifteen minutes and rinse it off with a mild sulfate free face wash. Since this mask is for dry skin, ensure that you use a hydrating serum afterwards so that your skin does not dry out further.
SANDALWOOD ROSE PACK
Sandalwood has been long used for acne prone skin for its soothing properties. It is one of the best ingredients for skin that is prone to breakouts. Mix together 1 tsp of sandalwood powder with pure rose water. This mask is suitable for all skin types. Apply it on the face and neck and leave it to dry. Splash some water in your face and wet the mask. Now gently scrub your skin in circular movements to let it exfoliate your skin very gently. Rinse with normal water and pat dry. If your skin feels very dry, follow up with a natural moisturizer.
'This post is a part of Blogchatter Half Marathon.'