Gayatri Khurana and Radhika Anand may be a generation apart, but love binds them together. Of course, they do love each other as much as a grandmother and granddaughter would, but their personal love stories are what I am talking about.
The Naani Diaries – Book Review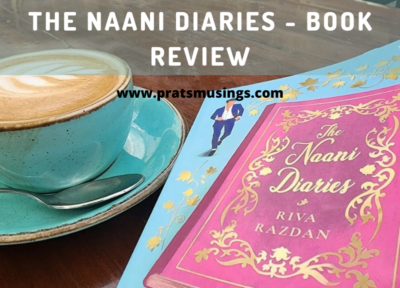 We're all caught in this fast-paced life. We look for instant gratification. And when we do not get it in life, we choose to move on.
But what if we chose to slow down? Choose the old-fashioned love, maybe? Take it one thing at a time. Fall in love slowly, perhaps.
But what if it isn't as it is meant to be? What if it is all a lie?
Nursing a breakup, Radhika lands at her naani's home in Mumbai all the way from New York. All she knows is that she doesn't want to remain single and wants to "settle down." After all, nothing is more comforting than a naani's hug to tide you through everything.
The love story of her naani has inspired Radhika. The love story she's been reading has been jotted in a diary that she has been reading all these years. And deep inside, Radhika knows she wants a marriage just like her grandmother's.
Gayatri Khurana's story is set in the 1960s. A love tale that is beautiful. The kind that you'd read when you're lounging in your comfy PJs, oversized tee, curled up in the bed, with a cup of steaming hot coffee.  But is it as real as you think it is?
Flitting through the 1960s to the current year, the book is unravelling the different facets of love. Gayatri Khurana is now widowed and runs a salon that gives you an insight into the lives of the women who visit it. What's unfolding in her life? Is she ready to find true love?
For Radhika's grandmother, mother, and herself, love holds different meanings. And as Radhika gears to settle down, she's introduced to Zain Rajan, that mysterious boy from London and the nephew of a friend who has been through the thick and thin in Gayatri Khurana's life.
What is it with Radhika attracting the bad boys in her life?
What is it with Birdy and Gayatri?
If you want to know more, pick up this book from Amazon.
About the author
This is the second book authored by Riva Razdan. Her first book was Arzu which was released in 2021. A recent graduate from New York University, she believes that the constant relocation in her formative years made her a relentless writer – an outsider trying to make sense of an everchanging landscape by mapping the world through the fictional journeys of her heroines. The more she moved between cultures, the more she began to examine her own north Indian upbringing. She realized that there was a lack of representation of strong-minded and ambitious millennial women who also longed for romantic fulfillment in popular Indian fiction. When she is not writing novels, she is a screenwriter for Anil Kapoor films.
The review is part of #Bookchatter, a book review program powered by Blogchatter