Who wouldn't want a soothing Aloe Gel for summers? With the summer heat I face the inevitable skin irritation and I am always on the lookout for something cooling that will be a blessing for the skin. I was discussing this with a friend ans she mentioned this super cooling and soothing Aloe Gel for summers that can be made at home.
So this is going to be a quick post on a DIY recipe that your skin will love this summer. This recipe isn't mine. As I mentioned, its my friends recipe who swears by it and she makes it at her home too. The base of this soothing gel is aloevera. Depending on your skin type, you can choose the other essential oils that you want to add, Since this focusses on getting rid of troubled skin, I have used teatree essential oil which is a complete boon for troubled skin. I have also added pure rose oil because of the floral fragrance it leaves longer you have used it. Other oils that you can use for this gel are pure coconut oil or pure saffron oil that is really premium skin food.
Soothing Aloe Gel for summers
This soothing aloe gel with essential oils is your perfect summer companion. Its non sticky and absorbs in your skin really fast leaving it cool and hydrated. I love to use this as a gentle foot gel at the end of the long day to promote relaxation of the feet too! You can also use it on the nape of the neck to relax the tired and sore muscles.
What you need:
Aloe Vera Gel – Try and use the gel directly from the plant if you have one at home or use the one that suits your skin.
Essential oils – Again, you can add or delete oils that suit your skin type. Since I was also looking for something cooling, I chose the following essential oils:
1 tbsp of pure cooconut/rose/saffron oil.
Mix all these together and blend with a small wooden spoon till you see the colour of the aloe vera gel turning slightly milky. Transfer this to an airtight glass container or a plastic tub and keep refrigerated.  I have used lavender in it for its calming properties. Since I use this gel only at night, I prefer the lavender fragrance because it really does help to calm the tired mind.
This makes enough gel that can last you a fortnight if you are using it everyday. You can also store this soothing aloe gel in the refrigerator for up to two months. I have always preferred to make a small portion of any DIY product that I choose to make. When you do this, it allows you to make and try other variations and the most important fact is that you are not stuck with a jar or tube of product that you will take ages to finish!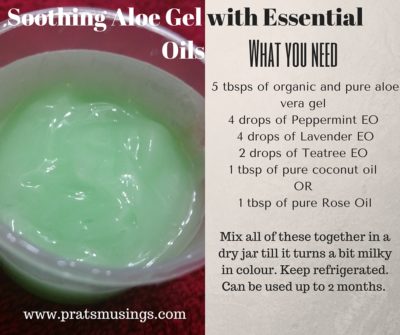 What I completely love about this Soothing Aloe Gel for summers is that it leaves a really refreshing and minty fragrance that revives your senses almost immediately. Go ahead and pamper your skin this summer with this refreshing and rejuvenating gel that you will love! 
Follow Me On…
FACEBOOK | TWITTER | PINTEREST |elephant journal |INSTAGRAM
*All of my reviews are based on my own personal experiences with the brand/products. If it is a sponsored post, it is indicated. Most of the brands and products reviewed are what I have tried and tested and truly recommend! All Photographs are (C) Pratibha unless stated otherwise.*