Bookmark this post if you believe in doing good for society and helping people. They say what goes around, comes around. And when to contribute to the betterment of a society, you are contributing to making people self-sufficient. 
Let me share more about social investment with Rang De in this post. But first, let us understand what social investing is all about.
What is social investing?
Social investing, also known as socially responsible investing (SRI), is an investment strategy seeking to generate financial returns while considering social and environmental impacts.
In recent years, social investing has become increasingly popular as investors have become more aware of their investments' social and environmental impact and have sought to align their investments with their values.
It's a way of giving back to the underprivileged and giving them the financial independence and empowerment they may need to lead. 
Simply put, social investing is when you invest in facilitating a social cause. Simply put, it is the use of repayable finance to help someone achieve a purpose affiliated with a social mission. 
Why invest?
Let's do some simple math. Look up the expenses you may have had in the last week. 
A lunch or dinner outside = 4000 INR 

Movie outing: Tickets + popcorn + samosa = 1500 INR 

A pizza because you were too tired to cook a meal = 2000 INR
Even if you indulge in any of these, you have spent X amount of money. While the message here is that you can spend on what you want, your money can be a livelihood for a person. 
But starting with an investment of as little as INR 500 can generate 10-11 days of livelihood for remote small-scale entrepreneurs. You are enabling them or giving them the financial empowerment to scale their venture, which is the source of their livelihood. All that you contribute is crucial to them as they do not have accessible credit options, which limits their growth.
Startling right? What can just this much money do? But wait, there is more. 
Introducing Rang De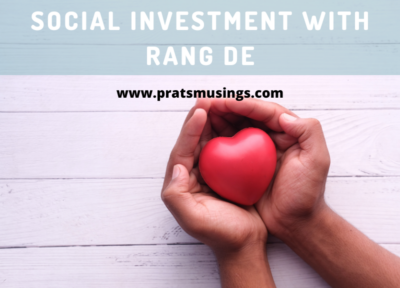 Realizing the potential need to reach out to people who deserve our help, Rang De was conceptualized. 
Rang De is India's pioneering and only peer-to-peer lending platform focused on providing timely and affordable credit to unbanked communities.
We pioneered social investing, enabling individuals to lend to unbanked farmers, artisans, and entrepreneurs and help kickstart, sustain, and grow their livelihoods.
It is not a donation-based model. You can reinvest your money in different causes once the requirement for the particular cause or fund you contribute to is fulfilled. 
Must Read: Social impact stories of Rang De. 
Social investment with Rang De
Here is why you should opt for social investment with Rang De.
It is the 

first social investing platform

 in India.

Being an RBI-governed entity, there is a diligent responsibility on RangDe to be transparent. 

It involves integrating policies, processes, and audits and being answerable. This ensures your investments are in the right hands. 
What are the different ways your investment is used?
Your investment at Rang De is put to use in causes that include: 
Capacity Building 

Resource allocation 

Creditworthiness 

Employability

Financial inclusion 
These are the first order of impact. But it doesn't stop there. Your investment can create a multi-fold impact like 
Improved access to education

Better standard of living 

Economic Sustainability 
Must read: Why Rang De for social investing
Let's make that change. You and me. Together. That small contribution can help change the lives of those who genuinely need it. I have contributed to supporting two people's livelihoods and know this is just the start. Start your journey of social investment with Rang De today. 
"This post is part of Blogchatter's CauseAChatter initiative with RangDe."