I don't believe that I have pushed writing on this topic so far! And with two teenagers at home, for the longest time, I have been struggling to find a good skin and hair care routine for teens. Let me say that it took a while before I could zero in on good-quality skin and hair care products for teens.
Add stressful schoolwork, late hours of studies, lack of sleep, eating fast food, and erratic schedule – this only damages the skin faster.
Let me share some tips on good and basic skincare tips for teenagers. Follow this regime and skincare tips for teenagers to maintain good skin health.
Discover good skincare routine for teenagers
Teenage acne due to surging hormones—characterized by painful cystic pimples, random whiteheads, and a blackhead-dotted T-zone—is a common skincare issue between 12 and 24 years old.
The first step is to identify the skin type and set a skincare routine for teenagers accordingly. This also sets a routine for them to maintain a good skincare routine as they grow older because they are aware of their skin type.
Let's look at some skincare tips for teenagers that can help them get healthy skin naturally.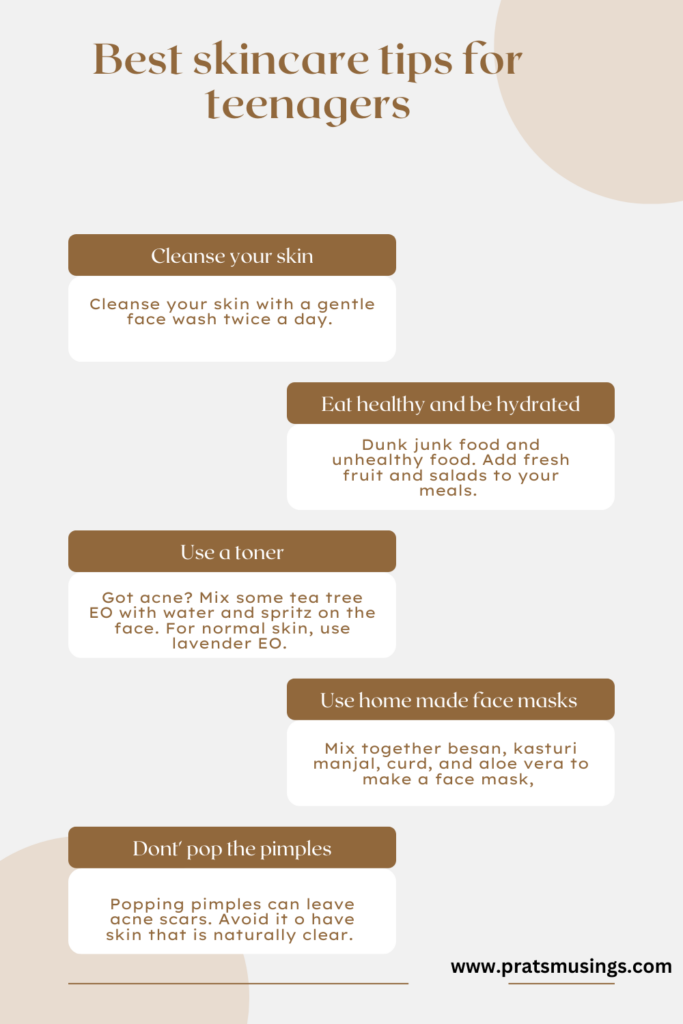 Cleanse well
At the start, let me say that this is the age when puberty acne shows up. It's on the forehead, on the face, and often on the back. Teenage girls would be experimenting with makeup, and this can cause them to clog their pores. On the other hand, boys need constant reminders to keep their skin clean!
Cleansing thoroughly before sleep and after waking up at night will be critical as it helps strip the skin of impurities. You will need a gentle face wash that is free from sulfates and parabens. If there is active acne, opt for a gentle salicylic acid base for the skin and body. Salicylic acid exfoliates the skin gently and keeps it clean.
Products I recommend for active acne on the face and body:
Body wash: The Derma Co Salicyclic Body Wash – Formulated with Salicylic & Glycolic Acid, this sulfate-free body wash gently exfoliates the skin and removes impurities from deep within.
Face cleanser: The Derma Co Salicylic Foaming Cleanser – This super gentle face wash effectively reduces and prevents acne by dissolving debris that clogs pores.
If your teenager has normal skin, you can check this combo here from Tikitoro, which includes a face wash, body wash, and body lotion.
Read more articles for children here.
Don't forget to moisturize
It is a myth that if your skin is oily, you don't need to moisturize. A moisturizer is only needed for dry skin or normal skin. The truth is even oily skin needs a balancing moisturizing lotion that can control sebum production and maintain the skin's pH balance. Even if your skin feels oily, making sure you're using a moisturizer that works for you is important.  You can use a non-comedogenic moisturizer that'll feel comfortable and light on the skin, like a gel or lotion-based one. You can also use oils that can keep your skin healthy.
Use a sunscreen
Now is the time to start using gentle chemical-free sunscreen. Depending on the skin type, they can choose a gel-based or a cream-based sunscreen after they have moisturized their face and skin.
Exfoliate the skin naturally
While salicylic face washes help to exfoliate your skin, if you really want to use a face mask to exfoliate the skin, use a basic mix of besan and kasturi manjal turmeric with milk, aloe water juice, or water as a face mask if you have acne.
Don't pop the pimples
It's tempting, right? Almost irresistible and so satisfying too! But don't pop the pimples, as they will leave acne scars on your skin that can be there for the rest of your life. You can make your own hydrosol by diluting tea tree essential oil in distilled water and spritzing it on the face. This will help clear the infection and kill any remaining bacteria.
Eat right
If they are sweating a lot, it is an indication of a heat build-up. You need to ensure that they have a good intake of cooling and hydrating foods. While sweating is normal at this age, more so if you have boys! Sweating is normal for this age.
Keep the body hydrated
Drink at least four liters of water every day to keep the body hydrated. Include fresh fruit juices and infused waters in the diet. Try to limit the intake of meat and dairy if possible. Squeeze the juice of one lemon and add it to warm water to give their body a gentle detox.
Other things to keep in mind for a good skincare tips for teenagers
Wash your hands before applying anything to your face.
Avoid layering products, as they can cause your pores to clog.
Avoid touching your face. It transfers bacteria from your hands to your face.
Avoid using products that are laden with chemicals. Choose chemical-free products.
Limit screen time, and the blue light from the gadgets can spoil your skin. Keep away from gadgets before you sleep.
Ditch those burgers and pizzas and any junk food. Unhealthy eating habits and oily food is the leading cause of acne.
Clean your skin at least twice a day. Follow the AM and PM routines. All you need is a good face cleanser and a moisturizing lotion.