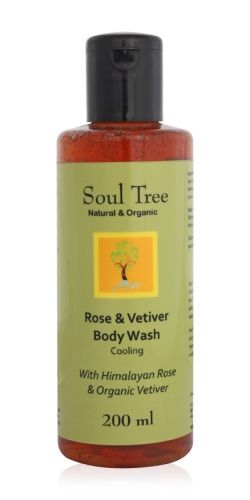 When I was browsing through the product list of Soul Tree, I came across a very interesting product –  The Rose and Vetiver Body Wash. This was a combination I had never come across and I decided to give it a try. Vetiver is Khus in Hindi. Rose and Khus have individual and really strong fragrances. You can either like it or hate it.
Vetiver – Known as Ushira in Sanskrit, it is a Pitta pacifying herb. It cools, removes excess heat from the body and refreshes.
My take on this product :
The Fragrance:
When I snapped open the lid, the first fragrance to hit my senses was rose. I must say that I am not a very big fan of anything that smells like roses, but this had a very nice fragrance. While rose was the prominent fragrance, there was also a very citrus fragrance that I could not figure out. I love the smell of khus. From the Rasna cool drink in the bright green colour that we would gulp down as kids to the khus sheets that were packed into the coolers in the summer to ward away the heat, I have strong memories of this fragrance. I was a bit disappointed that the fragrance was not as intense as the rose one :(.
The Texture: 
The body wash is light reddish-brownish in colour and is a very free flowing liquid. It does not lather much.  It has a nice tingling and a cooling effect post the shower and I would say that this is a product that is ideal for the summer.  It leaves behind a very faint fragrance that is pleasant and makes you feel clean and fresh.
Packaging: Packed in recycled bottles, this product comes with a snap open/shut lid. You can squeeze out the desired amount on your palm. I like the packaging and also the fact that it has been packed in recycled bottles.
Where can I buy this?: You can buy this at Goodlife, click here. I am not sure where else I can buy Soul Tree products.
Cost and Shelf life: A 200 ml of this body wash is Rs. 200 and the shelf life is mentioned on the bottle. I am assuming it is two years from the date of manufacture. This body wash is available only in one size.
Will I recommend this? : Yes. If you are looking at buying a product that is going to keep you fresh and fragrant this summer, go in for this body wash. You will love it!
About the product: 
A gentle body wash for everyday use rich in Organic Ayurvedic herbs. Does not contain harsh detergents or cleansing agents like SLS/SLESContains no artificial colours.
Does not contain parabens, phenoxyethanols, artificial fragrances or colours.
Not tested on animals.
Soul Tree™ Body Washes are not only good for your skin, they are easily bio-degradable and hence do not harm the environment.
A must know about the brand, Soul Tree:
Soul Tree is India's first range of certified natural personal care products. Made from organic ayurvedic herbs, natural oils and natural origin ingredients it carries the assurance of the German hall mark for natural beauty products. Soul Tree products are born out of extensive research firmly rooted in the principles of Ayurveda. The ingredients are derived through strictly regulated processes to ensure that synthetic & harmful ingredients do not make their way into the products. No artificial colours, fragrances or harmful preservatives are allowed. 
Note: Product was sent for consideration by the PR. This has not affected my review.