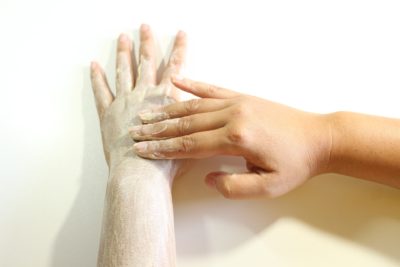 It's been a while since I shared a DIY recipe, so here I am with one of my very favorite rice and sesame body scrub that I have been using for years now. Once you start using this scrub, you'll say goodbye to the various variants that are available in the market. Made with easily available ingredients at your home, this non-fussy rice and sesame body scrub will nourish your skin, especially in the winters.
Rice and sesame body scrub
What you need
I am giving you the quantity that is required for a one time use. Since you cannot store this scrub and it has to be made fresh, it is best to make it as and when you need it.
– 3 tablespoons of white sesame seeds (unroasted)
– 3 tablespoons of any white rice
Making the scrub
Mix the sesame and rice and wash under running water till the water is clear. Drain well and add enough water to soak the rice and seeds in it. The level of the water should not be above or below the rice and sesame seeds. Let it soak for at least 7 – 8 hours. Drain the water if any and make it into a very slight coarse paste in the mixer. Your scrub is ready to use. The rice granules should not be very coarse as it can cause skin abrasions.
Using the Scrub
If you want, you can add a drop or two of your favourite essential oil since this a fragrance free scrub. I like to use it as is, but the essential oil is optional.
Wet your skin and dab this scrub all over your body.
Massage slowly in circular movements to boost the circulation and nourish the skin.
The oils are a part of the scrub so it acts like a deep nourishment for your skin.
The slightly coarse granules of rice help to exfoliate the dead skin.

Chances are that you will not need a moisturiser after this scrub because the oils of sesame will moisturise and nourish your skin as you massage with the scrub. This scrub is suitable for all skin types only in the winter. During the other seasons, people with sensitive and acne prone skin should not use this scrub because of the oils present in it. 
Follow Me On…
FACEBOOK | TWITTER | PINTEREST |elephant journal |INSTAGRAM
*All of my reviews are based on my own personal experiences with the brand/products. If it is a sponsored post, it is indicated. Most of the brands and products reviewed are what I have tried and tested and truly recommend! All Photographs are (C) Pratibha unless stated otherwise.*