I admit that I was trying to postpone writing this post for almost 10 months. Yes that's been close to a year since I made that switch and no, I have just not regretted it. Why the delay? I just wanted to be sure that I love this product! And 10 months is a long time to know that my choice is right.
All this while tampons, cloth and disposable pads have existed as some of the mainstream feminine hygiene products. These have been around for as long as one can imagine and the not so new revolutionary product the menstrual cup has been around for a while.
What is a menstrual cup?
A menstrual cup is a silicone cup that fits in your body. Unlike most existing products that absorb the menstrual fluid, the menstrual cup collects the fluid in a silicone cup which needs to be inserted into the vagina. The time for the cup to get full before you can empty it ranges from 5 – 9 hours depending on the flow of your cycle. To be honest, I even forget that I am on the monthly cycle mode with the menstrual cup!
Using a menstrual cup or a period cup has a lot of advantages. If you have been contemplating shifting to using one, but haven't really got around doing so, let me list 6 reasons why you should be using it!
How long does a menstrual cup last?
Anywhere between 5 – 10 years and it also depends on how YOU use it. A menstrual cup gets discolours, but there are ways to clean it. However, you need to know that just a little discoloration alone isn't going to affect the quality of your cup. Some points to keep in mind are extreme discoloration, a strong persistent odour that does not go despite sterilizing it, stickiness or if you notice a powdery film on it that appears often.
6 reasons to use a menstrual cup
1. They are environmental friendly
Yes, they are. A menstrual cup is good for your body and the environment too. The cups are made of medical grade silicone and unlike the other feminine hygiene products, it does not contain bleach, artificial fragrances or any  chemicals that can cause discomfort. You don't dispose them off contributing to a landfill. Since the cup is reusable you don't need to waste money on piles of tampons and disposable pads.
2. Experience comfort that you never knew
When I wear a cup I cannot tell it is there.  Yes, that is true. There is no uncomfortable shifting of pads or even cramps. There is such a high comfort factor that apart from a nagging pain, I don't even remember that I am on the monthly cycle.  Unlike tampons or pads, a cup will not dry out the sensitive areas but will only hold the flow.
3. You need to change less
You will need to empty the cup according to the flow. From 8 hours to more, the cup can hold more flow than you can imagine. You don't need to change it with every visit to the bathroom either. It would take roughly 2 – 3 cycles for you to gauge how long you can let it stay.
4. You learn more about your body
Let me be honest, I wasn't ready to face the ickiness when I started using it. But when I did, I learned more about my cycle. Since the cups indicates measurements, you are aware of exactly how much blood you are losing. And believe me it is a lot lesser than you imagine. Its a fascinating thing to discover and trust me I no longer look at the monthly cycle as a nuisance.
5. They are economical and safe
You save money, lots of it! The cost of the menstrual cup starts from INR 550 and this is a lot lesser than your quota of tampons and pads that you will need for an entire year or two. Do the math! This should be one of your main reasons to use a menstrual cup!
6. You go about living normally!
Love yoga? Don't want to miss out on the swimming? Or just want to go for that long walk or a quick run. You can do all of these without having to worry an iota of discomfort or staining or any leakages. And yes the best part, you can sleep uninterrupted for almost 7-8 hours through the night. Sleeping through the night! Should that not be yet one of the reasons to use the menstrual cup?
How to use a menstrual cup?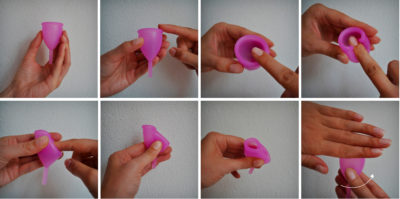 When you insert the cup, it opens and it pops open inside, it creates a seal that prevents any kind of leakages or staining. When the cup is overflowing or the seal hasn't been created properly, you are likely to experience leakages.
How to clean a menstrual cup?
Pull it out and empty the contents. Wash it thoroughly with a mild soap and warm water. Dry and re use. Before and after use, boil it according to the instructions that came with the cup and store in a cloth drawstring bag. You can read a detailed post here on the cleaning method.
Where to buy a menstrual cup?
If you are less than 30 years old, opt for this cup. If you are over 30, opt for this one. You can also get two sizes with this option. This option has 3 sizes that you can choose from. You can view the entire range of menstrual cups here.
The menstrual cup reviews are mixed. You either love it or hate it. These are my reasons to use a menstrual cup. Let's get this straight! Menstrual cups are easy to insert, wash and reinsert.  Apart from that they are super comfy, economical, eco-friendly, free from chemicals (read nontoxic), reusable (for almost 10 years)* and they don't contribute to the landfill. So there you are, it is good for you and the earth. Make that switch now and opt for a green period!
[amazon_link asins='B00TQPRO1S,B0747LJ4JZ,B019HBYRP6′ template='ProductCarousel' store='pratsm-21′ marketplace='IN' link_id='521b06e6-1860-11e8-88e4-4991b90fd389′]
Image sources
1, How to use, 3
* While it is recommended that you change your menstrual cup at least once in 2 years, studies state with proper care and hygiene the cup can last up to 10 years.
A detailed and a much viral version of this post has also been published on Elephant Journal. 
Follow Me On…
FACEBOOK | TWITTER | PINTEREST |elephant journal
*All of my reviews are based on my own personal experiences with the brand/products. If it is a sponsored post, it is indicated. Most of the brands and products reviewed are what I have tried and tested and truly recommend! All Photographs are (C) Pratibha unless stated otherwise.*