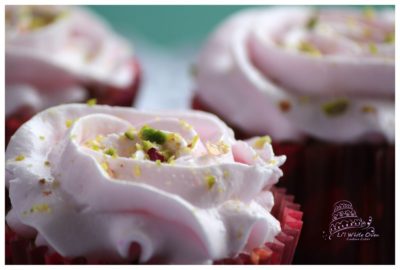 With Diwali around the corner, I am always scouting for easy recipes that I can use to create a different Diwali fare. While chatting with Gauri, a fab baker who makes these awesomest cakes, I realized that I should have one of her easy peasy recipes on my blog this year too. So here she is with a fantastic recipe for some yummy cupcakes!
—-
Well guys, I am back on my dear friend Pratibha's blog, after a while. I hope you tried and loved my easy microwave mug cakes that I had posted before, for I am back with a new recipe for Diwali.
I was tired of eating the same ole' flavors of cupcakes, and although I love my chocolates and strawberries I was craving for some new addition to my menu. Something that has a very Indian touch, and is yet subtle.
Having loved pista kulfi ever since I can remember, I thought why not introduce that flavor into my cupcakes. But I didn't want an all pista cupcake, so I made the cupcake in pista flavor and the frosting in rose flavor.
What is also amazing about this recipe, is that the cupcakes stay moist despite being in the fridge, and the frosting is whipped cream based… so not overt sweetness there. Just the right combination of cake and fluff.
Onwards with the recipe: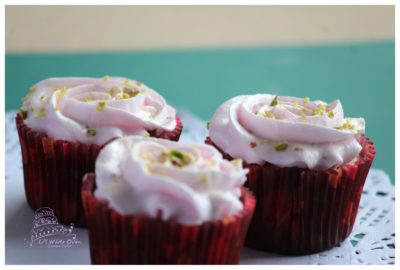 PISTACHIO AND ROSE CUPCAKES RECIPE
Ingredients:
1 cup yoghurt (any yoghurt will do)
1 cup powdered sugar (or 3/4th if you like it less sweet)
1 tsp baking powder
½ tsp baking soda
1/4th cup oil (any flavorless vegetable oil)
1 and ½ cups plain flour
½ tsp vinegar
1/4th tsp clear pistachio essence
a few drops of green food coloring (don't add too much)
For the frosting:
1 cup whipping cream (Rich's or Tropolite)
1/4th tsp rose essence (Or ½ tsp rose water)
a few drops of pink food color
crushed pistachios for garnishing
Method:
Line your cupcake pan with 12 cupcake liners. Preheat oven to 180 degrees.
Take the yoghurt (or thick curds) in a large mixing bowl. Add the powdered sugar and mix well till sugar is all dissolved.
Add the baking powder and baking soda and mix well. Leave it for 5 minutes for the mixture to froth up.
Now add the rest of the ingredients one by one, and add upto 1/4th cup of water to adjust the consistency of the batter to ribbon consistency. (When the batter is allowed to drop from the spoon, it should fall in a straight flat ribbon pattern)
Finally add the ½ tsp vinegar and give the batter a few stirs. Do not overmix. It is okay for a few lumps to remain.
Fill each cupcake liner 2/3rd full with the batter. Bake in the preheated oven at 180 degrees for 12 to 15 minutes or till a toothpick inserted in the center emerges with a crumb or two.
Remove from the oven and cool them on a wire rack.
For the frosting:
Whip the whipping cream in a chilled bowl for 5 to 10 minutes till stiff peaks form. Add the remaining ingredients and whip well. Put them in a disposable piping bag fitted with a star tipped nozzle.
Pipe the frosting over the cupcakes and garnish with crushed pistachios.
There, your awesome yummy cupcakes are ready in a jiffy! Serve them with love this Diwali.
What is your favourite go to recipe for this Diwali? Share your recipe with us! 
Follow Me On…
FACEBOOK | TWITTER | PINTEREST |elephant journal
*All of my reviews are based on my own personal experiences with the brand/products. If it is a sponsored post, it is indicated. Most of the brands and products reviewed are what I have tried and tested and truly recommend! All Photographs are (C) Pratibha unless stated otherwise.*