Let me take you back two decades ago. Just in our 20's and life was fancy free. We were a bunch of us who had joined a start-up and we really were a mixed lot. A lot of our time went into umpteen chai breaks and we beavered our way along to write for publications when we were not having
those chair breaks.
One fine day, a tall, lanky boy walked in with such enthusiasm that all of us
turned to look at him. Vivek, Viv and Vivekian, he went by many names, but the one thing, make that two things that remains etched in my memory is him getting these sack full of books from authors from various countries and sometimes our conversations.
Book Review: Now you know I am gay by Vivek Tejuja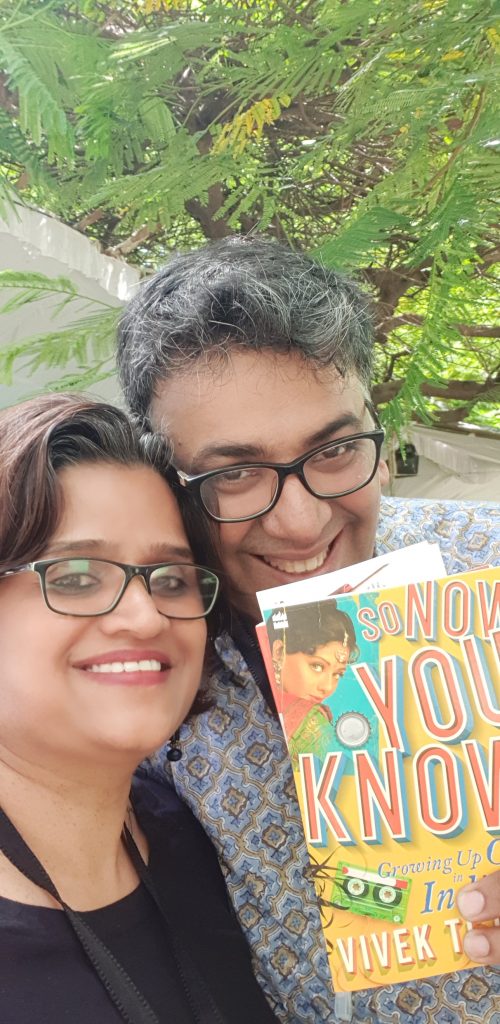 Many summers ago, after meeting the deadlines, we headed to one of the most happening joints in Secunderabad. That evening was also one of the days when Vivek told me he was gay. It didn't come as a surprise, but truth be told, he was the first person I knew personally who was of a different
sexual orientation. Life went on. Nothing changed. To me, he was just Vivek.
Then we lost touch. A few weeks ago, Pune Lit Fest happened and I met him there; getting his book signed from him. Two decades later, our paths crossed. From writing articles in a frenzy for a start- up, here we were.
You can buy this on Amazon India here.
A breezy memoir
Now you know I am gay by Vivek Tejuja is a breezy memoir of his life from a gay boy to a teen. I read the book in one sitting because I had to. The memoir is of his life before I met him, so it gave me a whole new perspective of knowing who he was before I actually knew him.
Discovering Identities
"As far as I can remember, I always wanted to be someone else. To be anyone, but myself. There was something about me that made me uncomfortable in my own skin; right up until I learnt to embrace
myself."
To embrace oneself and find acceptance is one of the hardest things to do. We are defined by how the society wants us to be and not what we want to be. Caught in the rut of life, we often end up pleasing others more than ourselves. You can buy this on Amazon India here.
My review on Now you know I am gay by Vivek Tejuja
Here is my review on Vivek Tejujua's latest book and some snippets from a conversation with him.
What do you do when you realize when you are different when you are just 8?
What do you do when none of the boy things interest you and you find your comfort in books?
What do you do when your uncle thunders at you when you are twirling around in a dance?
What do you think of when Bollywood stereotypes the queer?
What do you do when you Uncle passes a snide remark when eunuchs cross your path telling you they've found their kind?
In conversation with Vivek, the author of Now you know I am gay
How hard was it to embrace you the way you are? What were some of the steps you took to make things easier for you?
"It wasn't easy to embrace myself. Self-love is never easy. More so when you are being constantly told you are different. We don't learn how to celebrate differences. We follow the herd mentality of
being homogenous. In all of this, it was tough as nails to be who I was. To not be scared. To be the way I wanted to."
Growing up in the 90's was an alienating experience. You'd either be categorized as pansy or be constantly bullied. Acceptance was a word that didn't exist for the queer in those years.
Reading the memoir
The memoir starts around when he was eight, bonding with movies, music, books and art. His love for his best friend, not playing sankli just because he was scared he'd have to hold the hand of the boy he had a crush on.

What was that one thing that you did when you realized you were different? There must have been a lot of pressure from your family. What did you do to accept yourself the way you are?
"Well, I learned how not to be ashamed. I understood early on that I am the person who will stand by myself the most. No one else will. I learned the art of self-dependence. I embraced goodness and happiness every chance I got."
Now you know I am gay by Vivek Tejuja was published by Harper Collins India and has released on September 6th, 2019. You can buy this on Amazon India here.
The post was originally written for Quint, You can read the rest of the post here: https://www.thequint.com/lifestyle/books/growing-up-gay-in-india-vivek-tejuja-book-review