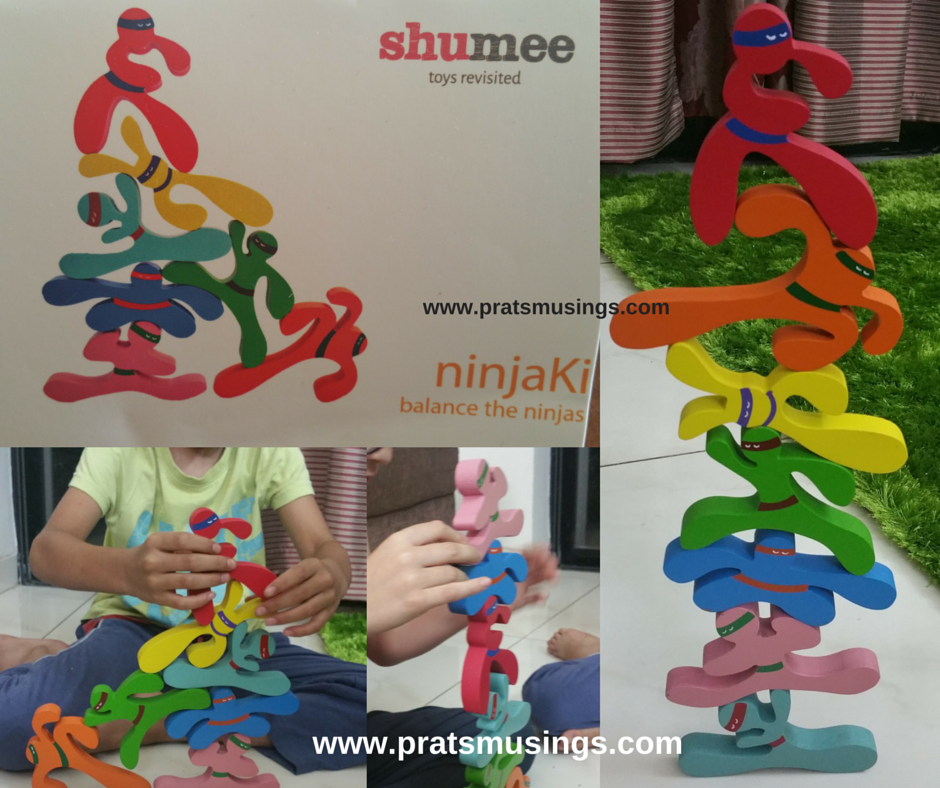 I have talked about Shumee Toys in one of my earlier posts. Yes, the same brand that makes awesome eco-friendly wooden toys. They have safe, non-toxic and a really vibrant collection of toys that is a must buy if you are an eco- conscious parent.  Starting from toddlers to upto 7 years, they have a wide range of toys that is very kid friendly.
I was actually a bit sad that I had nothing to buy from them for my kids. When Meeta, the founder told me that there was something in the making that was not yet launched and perfect for my boys, I was waiting for it. And then it arrived, Ninjaki by Shumee Toys!  7 wooden hand-painted ninjas that were waiting to be tried.
ninjaKi by Shumee Toys
A 7 card set explains each of the ninja's that are a part of ninjaKi. The concept of ninjaKi is very interesting. A game of skill and balance, that helps improves a lot of factors – focus, concentration, fine motor skills, creativity, problem solving and more. One needs to balance these ninja's atop each other and let the tower stay without toppling over. It's absolutely fun and there is complete chaos when the boys have their friends over at home and they take turns in playing with the ninjaKi. It comes with a measuring scale that allows you to see how tall your ninjaKi tower is.
Not just for kids, adults would love the game too! In fact, I am guilty of spending a few minutes with this everyday before the boys get back home. As an adult, it has worked on my patience. Patience is not a very strong virtue, but when you play with this, it allows you to slow down a bit. And yes, it is addictive too! I would actually call this a perfect family game!
What skills does it help with?
Imagination and Creativity – One of my boys chose to make two ninjas as a base and build a tower. Fair enough! All of us are were breaking our heads to balance them one on top and this guy just thought out of the box.
Problem Solving
Curiosity and Discovery
Fine Motor Skills
Confidence and Self-Expression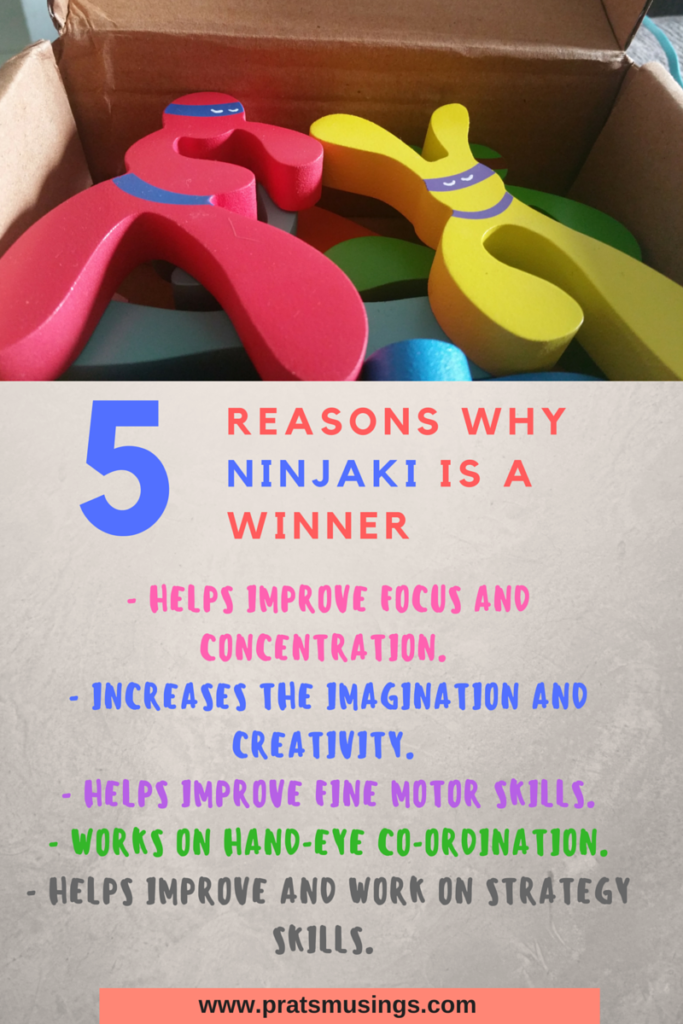 What's ninjaKi about? ( from the website)
ninjaKi is an educational game of skill that hones mental and physical agility. Legend says that Ninjas are half demon and half crow. This delightful wooden game tests your ability to skillfully balance these agile ninjas atop one another to form a tower. The ninjas should not topple for you to get your points. Each ninja has a skill and a special ability that makes him or her a winner. You too can win at concentration, focus, strategy and fine motor skills. Just bring these finely crafted wooden toy ninjas home and watch your children play with them over and over!
Would you be buying this for your children?
Don't forget to use the code PP15 and get a flat 15% when you buy eco-friendly toys from Shumee.
Follow Me On…
FACEBOOK | TWITTER | PINTEREST |elephant journal |INSTAGRAM
*All of my reviews are based on my own personal experiences with the brand/products. If it is a sponsored post, it is indicated. Most of the brands and products reviewed are what I have tried and tested and truly recommend! All Photographs are (C) Pratibha unless stated otherwise.*