Niacinamide is an ingredient which has tons of benefits and your skin will be thankful for its use. Niacinamide stands out among a lot of ingredients because of its ability to suit almost every skin-type and to fit it with many ingredients. For brightening and hydration, niacinamide is a powerhouse component that is often overlooked concerning vitamin C.
What does Niacinamide do for your skin?
What does niacinamide do for skin? Niacinamide supports the skin barrier (the outer surface of skin), increases its resiliency, and improves texture by making pores look smaller. It also helps balance oil production, and—bonus! —it's good for all skin types.
Niacinamide for skin
Let's look at some facts about Niacinamide for skin:
NAME: VITAMIN B3 (NIACINAMIDE)
TYPE OF INGREDIENT: Niacinamide for skin is essentially a skin brightener that helps to promote radiant skin.
KEY BENEFITS: Niacinamide for skin helps to brighten the skin tone while decreasing symptoms of ageing and decreasing acne.
WHO CAN USE IT: Niacinamide for skin can be used for those who want radiant skin or combat skin ageing,
HOW MANY TIMES YOU CAN USE IT: In the morning and evening, twice every day.
WORKS WELL WITH: When using vitamin B3, it is good to combine it with other healthy and strong antioxidants, such as Camellia Sinensis (Green Tea) Catechins, Quercetin and Tocopherol. It also eases irritation linked to retinol.
DOESN'T WORK WITH: N / A, suits perfectly with most ingredients.
What exactly Niacinamide?
Niacinamide is also known as vitamin B3. It is a water-soluble vitamin. It interacts with the skin's natural substances to help visibly reduce swollen pores, tighten lax pores, boost uneven skin tone, soften fine lines and wrinkles, decrease dullness, and reinforce a damaged surface.
Niacinamide for skin, also decreases the effect of environmental damage due to its ability to strengthen the barrier of the skin (its first line of defense). It also plays a part in helping to restore signs of past damage to the skin. This form of a regular attack, left unchecked, makes the skin look older, dull, and less radiant.
Why should you should use Niacinamide?
Niacinamide is uniquely compatible with most of the ingredients, including retinol, peptides, hyaluronic acid, AHAs, BHA, vitamin C, and all forms of antioxidants, in your skincare routine.
You can easily use products containing niacinamide because it works well with all skin types. It can also be used by people with rosacea-prone skin.
Other beneficial advantages of niacinamide are that it helps to regenerate and preserve the skin's surface against loss of moisture and dehydration. It does this by helping to increase the skin's natural development of skin-reinforcing ceramides.
If you struggle with dry skin, it has been shown that topical application of niacinamide increases the hydrating potential of moisturisers so that the surface of the skin can better resist the loss of moisture that contributes to persistent dry, tight, flaky skin. With traditional moisturiser ingredients such as glycerin, non-fragrant plant oils, cholesterol, sodium PCA, and sodium hyaluronate, niacinamide works brilliantly.
Niacinamide increases the elasticity of the skin, thus making the pores contract so that they appear smaller. By reducing the degradation in our cells of the essential enzymes NADH and NADPH, niacinamide does this. For the cell processes responsible for keeping our skin elastic as we age, NADH and NADPH are required.
How to use Niacinamide for skin?
It is very easy to come across products that contain niacinamide, along with other beneficial ingredients such as antioxidants, skin-restoring agents and other skin-replenishing ingredients which help in increasing the benefits of the product.
Niacinamide for skin when combined with multiple ingredients helps to provide the best skin care results by targeting most skin issues. As nutritious as kale is, if kale was all you ate, you will soon become malnourished because your body requires more than one healthy food to preserve itself. Think of it like your diet. The same is true of the skin, the biggest (and most exposed) organ in the body!
Best Products with Niacinamide for skin
To make things easy for you, we have a list of products that include Niacinamide for skin. These products are natural and chemical-free and works wonders on your skin.
Mamaearth – Skin Correct Face Serum with Niacinamide and Ginger Extract for Acne Marks & Scars
Acne marks and scars are a concern for many people. Mamaearth Skin Correct Face Serum addresses these skin problems with its unique formulation. The combination of proven ingredients such as Niacinamide and Ginger Extract, helps reduce acne scars and marks, minimizes enlarged pores, and improves overall skin texture.
Niacinamide is a form of Vitamin B3+ and a well-demonstrated ingredient in skincare that balances natural sebum levels and prevents overproduction. As a potent antioxidant, Niacinamide for skin reduces inflammation, evens out skin tone, and restores the skin's elasticity shrinking enlarged pores. Ginger Extract, on the other hand, is an antioxidant that prevents collagen degradation and stimulates melanin production to even out skin patches. It further helps in soothing the skin, preventing irritation due to acne.
Product Quantity : 30 ml. Price INR: 599. You can buy it here.
Niacinamide 10% Serum by Suganda-Skincare
This concentrated 10% niacinamide serum booster dramatically improves uneven skin tone and refines the appearance of pore size, skin texture, and fine lines.
Promotes a brighter, younger-looking appearance
Niacinamide (vitamin B3) visibly minimizes pore size
Niacinamide for skin helps with skin barrier repair.
It helps to increase elasticity, natural Ceramide levels, and balances Fatty acid levels in the skin.
Perfect for dry as well as acne-prone skin, it combats . It also reduces acne, fine lines, pigmentation, and helps in improving eczema.
pH of the Product: 6. This product is fragrance-free. Net Volume: 20ml Price: INR 699. You can buy this here.
Dot & Key 10% NIACINAMIDE SPOT CORRECTOR SERUM
A water-light, non greasy serum formulated with 10% niacinamide & 1% Zinc.
Helps fade dark spots, minimize the appearance of pores.
Helps reduce redness, irritation and improve overall skin texture.
Zinc acts as an antioxidant that helps rejuvenate and correct the appearance of uneven skin tone.
Contains Vitamins E and B5 with Hyaluronic acid.

Product Quantity: 30 ml Price: 1095. You can buy this here.
10% NIACINAMIDE + PHYTO CERAMIDES + HYALURONIC ACID SERUM by Earth Rhythm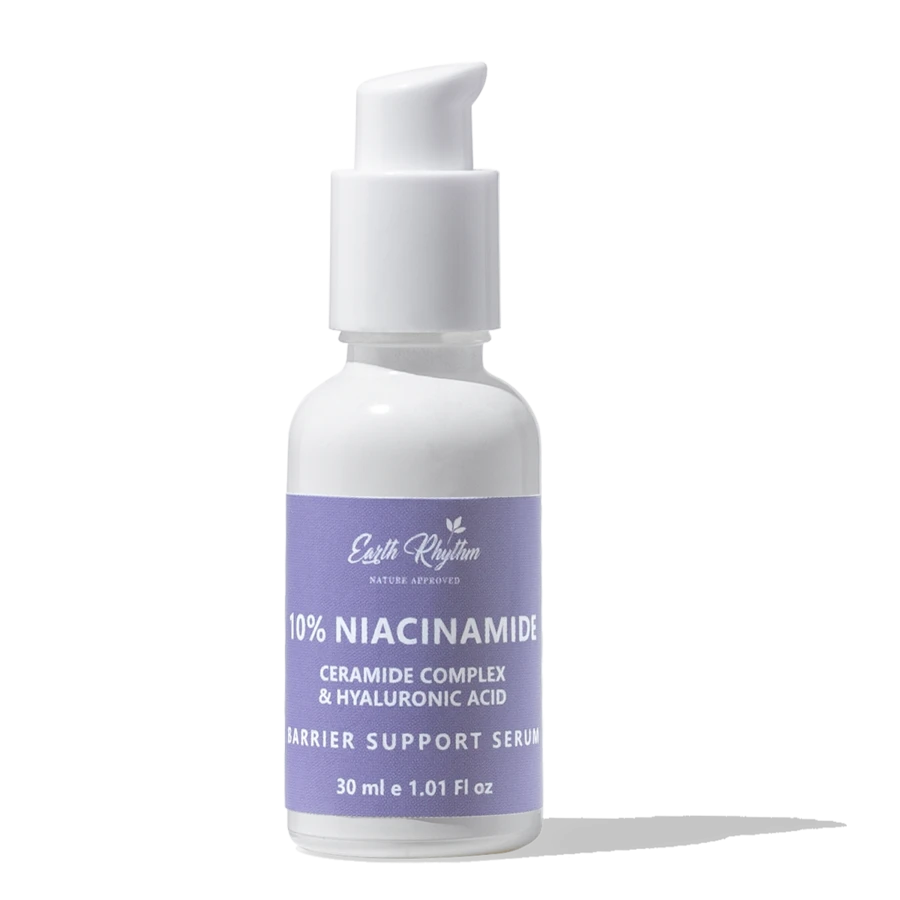 It contains Niacinamide which improves the function of the barrier (among a wide range of other benefits), resulting in improved skin water retention capabilities. The ceramide complex makes it possible to penetrate the skin. It hydrates hair as well. The acid provides a plumping effect and all their products are natural. Net Vol: 30 gms.
Price: INR 999. You can buy this here.
Basic Brightening Youth Glotion by Dr. Sheth
It is formulated for Indian skin as a brightening lotion. For a super brightening effect, it blends a high dose of niacinamide along with hibiscus extracts, citrus unshui extracts and orange oil. This brightening lotion prevents Indian skin from being inflamed, oily and damaged excessively. An all-rounder with 5% Niacinamide with Citrus Unshui extracts and Orange Oil that helps to decrease acne. , increase brightness, decrease sensitivity and increase the overall health of the skin. Prod Quantity: 50 ml. Price INR 850. You can buy it here.
There's no need to wait for your skincare routine to include niacinamide. This beautifully flexible vitamin offers many topical advantages to boost the appearance of the skin to make it appear even, brighter and younger. As with any great skincare product, with a broad-spectrum sunscreen rated SPF 30 or higher, it is crucial to be vigilant about protecting your skin every day. This helps niacinamide and other proven skin savers to give you the full value.
This is a guest post written by Ananya Singh for PratsMusings