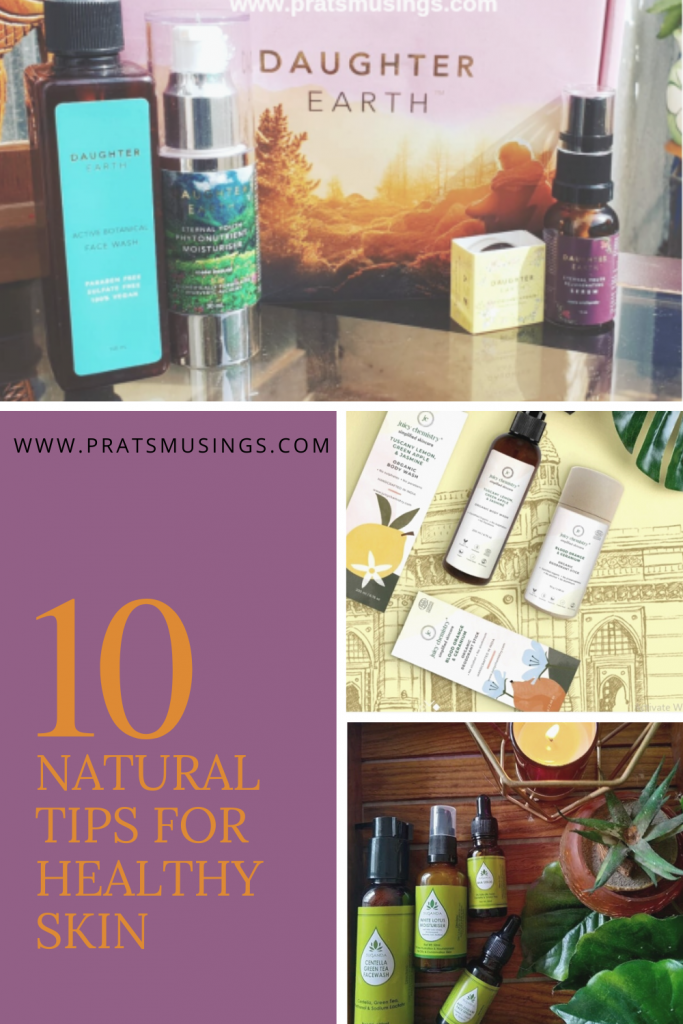 Winter can wreak havoc on your skin — making it dry, itchy, and irritated. While the cold conditions outside can leave your skin feeling dry and raw, the indoor heat can zap the moisture levels from your skin making it feel dry and itchy. The drier the air, the drier the skin. There is no escape really! What you can do is ensure that you follow natural tips for healthy winter skin. These will include ensuring you follow the right diet, eat the right foods, choose a natural skin and hair care regime that will work in your favor for healthy skin in winter.
A little effort and time can go a long way in ensuring that you have skin that is soft and supple for the rest of the season. And also a mane of tresses that stays nourished and hydrated in this cold season. Follow these natural tips for healthy winter skin.
10 Natural Tips for Healthy Winter Skin
A few lifestyle changes, choosing the right food to eat, some natural and 100% chemical-free products to vouch for, and a proper skin and hair care regime is all that you need to ensure how to get glowing skin this winter.
Opt for a Humidifier
A humidifier is a great idea to keep your skin moisturized in the winters. A humidifier works to moisten dry air thus making the atmosphere more moisturized. A humidifier increases the moisture content that enables easy breathing. Winter is the season that marks the onset of a flu, cough or a cold. With a humidifier in place, you can keep these allergies at bay. I have the portable one at home as well that I us in my study. It's whisper quiet feature ensures that it is noiseless, so you don't really hear anything around you. Look up some varieties of humidifiers here.
Exfoliate your skin once a fortnight
Since the skin tends to get drier in winters, you need to exfoliate less. Once in a fortnight is an option I would suggest. Try to use an exfoliating gel or a product with the base of an oil so that it does not dry your skin completely and instead hydrates it as it exfoliates. Choose a mild exfoliant that will not dry out your skin completely.
Products I recommend: Forest Essentials Kashmiri Walnut Gel
Mamaearth Ubtan Body Scrub
Switch to body oils
Using a skin oil may be more effective in this season because it will keep your skin really hydrated. You can also opt for a hydrating body cream that nourishes your body. I am currently using the Damask Rose and Ylang Ylang Body oil by Juicy Chemistry for after bath moisturization. You just need a few drops to massage on damp skin and massage for a bit to let the oils be completely absorbed by the skin.
Need some love? What you can also do is explore the Juicy Chemistry "Shop by Concern" category to pick up products that best suit your skin type. You can head over to Juicy Chemistry website and use the code PRATIBHA for some extra discount!
Go for a body massage
While I simply love body massages, thanks to Covid 19, I haven't been able to step into a salon to get a massage done. So I have opted for the next best thing; a self body-massage! An abhyanga or a self-massage helps to unwind and start the day on a fresh note. It is considered to be a daily self care ritual, to heal the mind and body from the stresses of daily life and to keep it going strong and steady.
A self-massage helps to heal your body, promote flexibility of muscles and joint and of course promote a healthy skin in the winter. It is also a natural and chemical free way to encourage youthfulness and improve the quality of the skin and hair.
Products I recommend: Daughter Earth Walnut Oil
Juicy Chemistry Grapefruit and Camellia Body Oil
Head over to the Daughter Earth website to buy this brilliant oil. You can use the code pratibha15off to get a flat 15% off on anything you buy at their site.
Use a hydrating hair mask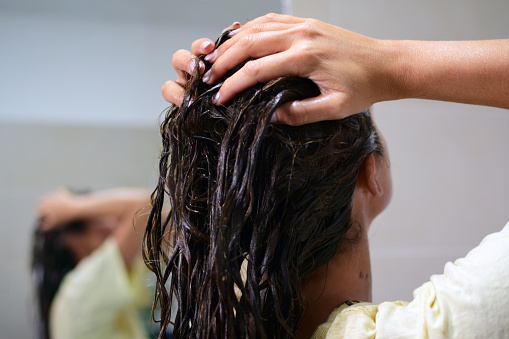 If you want your hair to be well-behaved in the winters, opt for hydrating hair masks that are rich in butters. Not only do they offer a spa-like treatment, but also leave your hair looking gorgeous. There are some masks that double up as an oil that I like to leave overnight and there are some that need to be applied before the shower. No matter which option you choose, ensure that you opt for a 100% chemical-free option.
Products I recommend: Sacha Inchi, Mango Butter and Argan Hair Mask by Juicy Chemistry
Mamaearth Bhringraj Hair Mask
Use chemical-free products
This is a sure-shot way to keep your skin and hair looking healthy in the winter season. When you use chemical-free products you are ensuring that you are actually pampering your skin and hair in the winters. Opt for natural and organic products that are made with certified chemical-free ingredients. If you are just making the switch to chemical-free products keep in mind that you are likely to go through a skin purge till your skin and hair gets used to the product. It is a natural process of a skin and hair detox when adapting to better products.
Replenish your skin at night
If you wish to see a healthy skin, you must not forget to replenish it at night when you are resting for about 7-8 hours. Opt for highly hydrating serums and facial oils to work their magic on your skin when you sleep. Since the air is a lot drier in the winters, you will need deep moisturizing to ensure you wake up to smoother and supple skin. For the face, I am sticking to the Eternal Rejuvenating Serum by Daughter Earth and regular face massages with the Juicy Chemistry Argan Oil with a drop of the Lavender Essential oil. For the body I stick to a body butter that is more hydrating and rejuvenating for the skin.
Use lukewarm water to shower and wash your face
Yes, I know those hot showers are super tempting! Nothing helps more than a hot shower to beat the cool freezing winter temperatures. Right? But let me assure you that you are doing a wrong thing by opting for hot showers. Hot water tends to dry out your skin further by sapping out all the moisture and making it look scaly. A lukewam water shower for a bath and to wash your hair and face is recommended to retain the moisture levels in your body.
Eat the right foods
In the winters, opting for an increased intake of fat can help with dry skin. Foods that you can include in your diet are walnuts, olive oil, and avocados. Winters also indicate a lowered immunity that results in a whole host of infections, the most common of which are fever, common cold, flu, sore throat and general congestion. There are also several kinds of allergies that do the rounds in winter, along with respiratory and stomach infections. Get an upper hand on winter illnesses by boosting your immunity with the help of these super-foods. Look up these recipes for some soups on my blog that make the perfect winter companion for food!
Keep yourself hydrated
Water gives way to the endless cups of chai, coffee and ht chocolate. Let's admit that too much of this is not very healthy for your skin and you can choose to sip some warm water instead that will not just help to hydrate your body, but also flush out the toxins. Look up this post on how to increase your water intake. And to make drinking water more easy, I toss in a few cut fruits or cucumber and lemon wedges with some mint leaves to make infused water that is easier to drink.
It isn't as difficult as it seems to follow these natural tips for healthy skin in winters. Do you have a sure-shot way to keep your skin and hair looking like a million bucks in the winter? Share your tips with me!
I am taking my blog to the next level with Blogchatter's #MyFriendAlexa