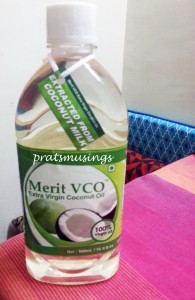 All these years, I have always used coconut oil to massage my hair. A bit of methi seeds thrown in the oil and half a camphor was an excellent remedy to keep the migraines and dandruff at bay. And yes, I did know that it was also used in cooking. And if someone told me that coconut oil had more uses that just these, I probably would have ignored it and would have blissfully unaware of the zillion fantastic uses it has.
A few months ago, a series of mails in my inbox had me interested about the various uses coconut oil had. Quite curious, I interacted with the person behind the brand and one thing led to another and I was sent a bottle of the oil to sample.
Once I got half a litre of the oil I was unsure if I actually wanted to try the benefits it had. And after a long thought I did and I must say that I'm amazed at the number of benefits it has. I am talking about Merit VCO Extra Virgin Coconut oil and you can buy it here. 
Let me introduce you to the wonderful product and the ways I used it! I am sure there are other ways to use this natural coconut oil, but this is my list for now!
So, what are the benefits of Merit VCO Extra Virgin Coconut oil?
Natural Skin Care
Coconut oil is natural and is very gentle on your skin. It has been for years used in many of the natural body care products. So whether it is an organic shampoo or organic body care products, you'll find this listed in ingredients as a base.  Listed are some uses of coconut oil for natural skin care. Of course, there are lots of beauty tips one can think of when using coconut oil, but these are what I have used the oil for.
1. Make up remover
Yes, you read that right! For all those of you who love the make up, this is one of the most natural, safe and effective ways of wiping out the paint off your face. Dab some oil in the cotton and stroke your face in upward movements to wipe out make up completely. Yes, you will need to use a gentle face-wash to clean the oil residue. Isn't this a good way to indulge in some natural skin care too?
2. A massage oil 
Use it as is or mix a few drops of your favourite essential oil to make it a personalised massage oil. I use this oil as a base and add a few drops of peppermint oil when I indulge in a head massage.
3. Home made scrubs
I am always experimenting with the base of the scrubs that I make at home. I have used olive oil, sesame oil, the Rustic Art massage Oils and now coconut oil. I have half a litre bottle and I thought I may as well make good use of it. So there, I created some awesome hand scrub for myself the organic coconut oil. Using the coconut oil in the scrub left my hands soft and moisturised post the wash. And I use as hot water as I can bear to wash my hands so that it relaxes my hands.
My Tip: With the onset of winters, my feet and hands get extra dry. I take one drop of my favourite essential and mix it with a tablespoon of coconut oil and I use this to massage the hands and feet. Did I also mention that it works as an awesome lip balm if you like the taste of coconut oil! 
BUY MERIT VCO COCONUT OIL HERE 
Natural Health Product
Did you know that you can substitute butter  with coconut oil for a healthier meal. Not just that it is easier to digest in comparison to the other cooking oils. It is also loaded with amazing health benefits. It helps to improve digestion and absorption of fat-soluble vitamins and other nutrients. Research has shown that coconut oil improves insulin secretion and utilization of blood glucose, which makes the ideal oil to be used in cooking for diabetics.
Using coconut oil for cooking not only makes your heart stronger and improves cardiovascular health, but also helps in normalising the blood pressure. You can make awesome coconut cakes or cookies for kids that serve as healthy snack options in comparison to the burgers and pizza. My boys love lamingtons and I don't stop them from eating it because it has the goodness of coconut in it .
Did you know that people who consume coconut on a daily basis are known to be healthy and lesser prone to illnesses?
For the expecting mom,the new mom and the baby
For the expecting mom, use coconut oil to massage on your belly will help to reduce the itching that is normally caused with the stretching of the belly and no, it will not help get rid of the stretch marks. Nursing moms can include coconut oil along with Vitamin D to increase the milk supply and nutrients for the baby.
Massaging your baby with coconut oil gives the bones  the strength and the skin adequate nourishment. A head massage also promotes the growth of thick and healthy hair. And for the mom's who use a diaper for the babies, you can apply coconut oil as a natural and safe alternative for a diaper rash.
Note: For all the tips shared above I have  used the Merit VCO Extra Virgin Coconut oil.