I am back after a long break !The travels kept me busy and away from work. While it was a refreshing change to visit a new country and explore new places, I did a very basic mistake of not carrying sunscreen with me. Yes, I am not used to these products and I had to face the brunt of the harsh sun. Stepping out of the air conditioned homes into the scorching sun and a day long exploration in the seas caused a lot of skin damage. I came back home looking like a burnt charcoal and needless to say that the first thing that I did after catching up on my sleep was look up for natural remedies to remove suntan.
Despite the season about to change I knew that I had to work on getting rid of the suntan otherwise it would leave my skin dull and listless.   And not to mention that the pollution and dust would just add to my woes. Some of the issues I faced with the suntan were – hyper-pigmentation, disccoloration of the skin and dark spots. After an extensive search I zeroed in to these remedies that are working for me.
Natural remedies to remove suntan
One of the most important things to keep in mind is that you need to use natural and preferably organic products that can help to reduce the intensity of the damage. A soap free cleanser should be the start before any remedy that you follow. Whether it is using a simple scrub or a soap free cleanser, you need to work on nourishing your skin first.
The Orange and Yogurt Mask
Orange is rich in vitamin C that helps fight skin blemishes. It is also a natural skin cleanser and with regular application it helps to lighten the skin discoloration. Orange is also known to slow the process of ageing and it helps tighten the skin. Yogurt acts like a natural bleach and it also moisturizes the skin to  make it soft and supple. THis mask can be applied not more than twice a week.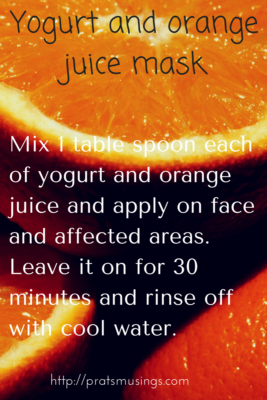 Aloe, Lentils and Tomato Mask
Masoor daal also known as red lentils is an excellent scrub that can help to exfoliate the dead skin and help even skin tone. Aloe vera gel is a skin soother and it helps revitalize and nourish your skin. Tomato pulp acts as a natural bleach and it helps to lighten the skin. When these three ingredients are combined, it nourishes, rejuvenates and revitalizes the tanned skin.

Honey, Oatmeal and Sugar Scrub
This scrub that can be used not more than twice a week. Use it in combination with one of the packs for better results. Mic together 3 tablespoons brown sugar with 2 tablespoons (30ml) honey and olive oil each. Add to this 2 tablespoons of oats powder. Mix well in a dry bowl and use it as a body scrub. Apply on damp skin and massage gently. Wash off with warm water.
Gram flower, Milk and Lime
This is one of the most tried and tested face and body packs that has been used for generations.  Take a tablespoon of gram flower and add 2 -3 teaspoons of raw milk and add few drops of lime juice to the mixture! Add half a teaspoon of organic rose water and you are done! Apply a thin layer of this to the affected areas and get ready to take off the tan. Leave it on for at least 15 minutes before you wash it off.
The good thing about these remedies is that you can make them with ingredients that are readily available at home. Use these in a combination and regularly to get the desired results. It will take close to a month or more to get rid of the tan depending on the intensity of the tan. Do you have a natural remedy that I can try? 
Follow Me On…
FACEBOOK | TWITTER | PINTEREST |elephant journal
*All of my reviews are based on my own personal experiences with the brand/products. If it is a sponsored post, it is indicated. Most of the brands and products reviewed are what I have tried and tested and truly recommend! All Photographs are (C) Pratibha unless stated otherwise.*