Cellulite is a skin condition that gives the appearance of small bumps and ripples under the skin.  The bumps are caused by the underlying fat cells growing too large and stretching the natural fiber compartments that hold the skin to the underlying layers of tissues. There are various natural home treatments for cellulite that can help to decrease their appearance.
What is Cellulite?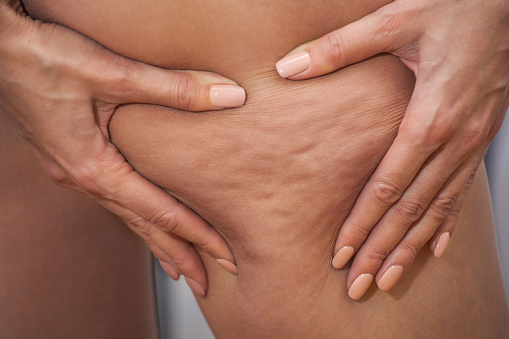 "Cellulite" is ordinary fat, but ordinary fat that affects the appearance of the skin. Strands of fibrous collagen tissue connect the skin to the subcutaneous layers and also separate compartments that contain fat cells. When fat cells increase in size, these compartments bulge and produce a rippled appearance of the skin.
Women tend to have cellulite more often than men because they have a vertical pattern of collagen in the underlying layer that holds the fat cells, and when the fat cells become very large, they bulge out of the chambers and appear as cellulite.  Another factor in cellulite is high levels of estrogen, since this hormone has a direct effect on the holding capacity of fat cells through the increase of alpha-adrenoreceptors, the chemical doorways that tell your fat cells to hold on to their contents.  Poor diet, bad circulation, and poor lymphatic circulation can all contribute to the appearance of cellulite. Let's look at some natural home treatments for cellulite reduction.
Natural Home Treatments for Cellulite
If you have been asking yourself, how to reduce the appearance of cellulite or how to get rid o cellulite on your thighs and other body parts, do follow these steps. There are several extra steps you can take for the treatment of cellulite. Consider the treatment for cellulite as a part of your skin care regimen. Make it a point to follow it regularly and fine-tune it to meet the needs of your skin type. When you add these natural home treatments for cellulite, you can notice a visible reduction in cellulite promoting healthy skin.
As with everything, never expect results overnight! Cellulite is a condition that can takes months to decrease. But when you follow a healthy diet, coupled with certain skin cleansing techniques, these home remedies to reduce cellulites and stretchmarks will work slowly, but surely.
Nutrition
Although cellulite is a skin condition, it's closely tied to the storage of excess fat. If you are significantly overweight, you should certainly alter your diet. Eating a nutritious diet can improve overall circulation to your skin and cleanse or flush out toxins. Include microgreens in your diet to eat healthy. Add salads, steamed veggies and fruits to your diet.
Cleanse with Loofah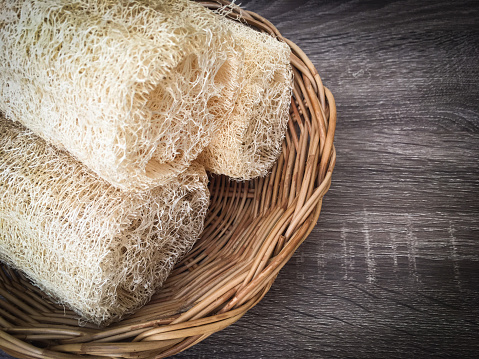 When cleaning your skin, use your washcloth or loofah to massage the area where cellulite occurs.  First, use a circular motion and then a brushing motion upwards.  This will improve circulation and help remove toxins from the body. Using a loofah also helps to reduce the cellulite and promotes new skin.
Dry Skin Brushing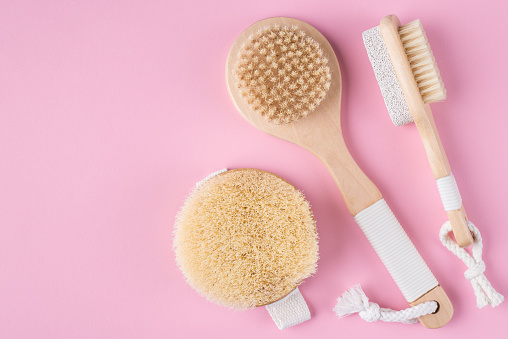 Learn to dry brush your skin at least once a day, preferably before going to bed. Skin brushing provides many benefits in the treatment of cellulite. First of all, it's "exercise" for your skin, and strengthens the underlying dermis and pattern of collagen in the subcutaneous layer. It stimulates the growth and repair of the tissues by increasing blood flow to the area.  It also helps remove toxins and metabolic wastes out of the interstitial fluids surrounding the tissues for disposal. Dry brushing is good for your skin all over, but if you are suffering from spider or varicose veins, brushing these areas vigorously several times every day, first in a circular motion and then upwards towards the colon, can improve the appearance of cellulite.

MUST READ: BENEFITS OF DRY SKIN BRUSHING
Exercise
Regular exercise is necessary for the improvement of cellulite.  Not only does it help reduce the appearance of cellulite by burning the fatty acids that are causing the cellulite.  It also improves circulation and helps to remove toxin-filled wastes away from the skin.  Take up a walking program, or sneaking in a set of exercises in the restroom during breaks. Get out of the habit of crossing your legs, knees and ankles.  This reduces circulation and increases swelling.  Try to keep moving regularly, neither sitting nor standing for long periods. 

Body Wraps
Body wraps can improve the appearance of cellulite.  They are a combination of minerals and herbs that stimulate the fat cells to release their contents, they absorb toxins from the skin and reduce swelling.  Generally you will find stimulant herbs like kelp or algae that stimulate the fat burning process in the cells.  You will find cosmetic clays that will remove toxins and wastes from the pores, and horsetail and horse chestnut that reduce edema (swelling) and provide minerals for strengthening the skin.  These formulas are applied to the skin with the use of compression wraps.
Massage
Massage, particularly the kind that improves lymph flow, is very good for reducing the appearance of cellulite.  It improves the removal of metabolic wastes and toxins from the interstitial tissues around the adipose tissues, and gives the skin a smoother appearance.  Use simple tools like the jade roller to drain out and improve your skin texture. Several scientific studies have found that a massage has numerous health benefits, especially when done with oil and in a proper, rhythmic manner. A good massage encourages the body to produce more oxytocins, the feel-good hormone, which is why self abhyanga is believed to be as good for the mind as it is for the body.
MUST READ: BENEFITS OF A SELF MASSAGE
Supplements for Cellulite Reduction
Alfalfa is a natural diuretic that helps balance the body's interstitial fluids and reduces edema and swelling. It can help balance the excess estrogen that can exacerbate cellulite.
Apple Cider Vinegar contains an array of important enzymes and aids in maintaining your body's pH balance. It's also a good source of potassium, which is necessary for fluid balance in the body.
Coconut Oil contains medium chain triglycerides which are easily absorbed and used by the body for fuel.  It has the capability of stimulating the thyroid gland, which increases body temperature and metabolism and is known for improving the burning of excess fat.
Gotu Kola is a natural source of caffeine that stimulates the beta-adrenoreceptors on the surface of the fat cells to release their stores of fatty acids, aiding in the burning of excess fat.
Ginkgo Biloba is a natural blood thinner that increases the microcirculation to skin and fat cells.
Green tea is a mild stimulant that contains caffeine as well as powerful antioxidants that aid in the proper replication and repair of skin cells.
External Treatments for cellulite reduction
Aloe Vera contains allantoin, which soothes and heals skin.  It has been shown clinically to increase microcirculation of the skin and to speed healing of skin tissues.
Bentonite Clay is a natural mineral clay that is known for its ability to absorb impurities and toxins from the skin through the pores.
Horsetail, ginkgo biloba, kelp and green tea also work externally and can be added to lotions or creams for massage into problem areas.
Coffee grounds can be used as a scrub for cellulite prone areas.  The grounds work as an exfoliant, as the caffeine absorbs into the skin and stimulates the beta adrenoreceptors in the fat cells to release their contents.
Dead Sea Salts contain powerful minerals that aid in the repair of skin cells as well as the mineral iodine which can aid in the metabolism of the underlying fat cells. 
Just remember that cellulite reduction is a two step process.  The first step is to reduce body fat, and many herbs and nutrients both external and external can accelerate the process.  The second step is to increase the strength of the skin and the collagen webs under the subcutaneous tissues. 
Skin and collagen require vitamins, minerals and fatty acids to rebuild themselves properly.  Excess fluids can exacerbate the problem, so proper fluid intake and circulation is important.  Drink plenty of fluids, and stay active to increase the circulation of the lymph system. With a little diligent effort and these mentioned natural home treatments for cellulite, you can work towards reducing the appearance of cellulite.
This post is a part of Blogchatter Half Marathon.