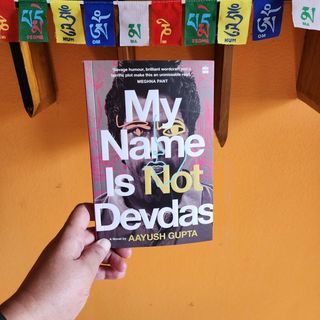 My name is not Devdas – the version of a classic tale that has been retold many times. It has been dramatized with epicness on the big screen by the likes of K.L. Saigal, Dilip Kumar, Shahrukh Khan, and Abhay Deol. Remember the song "Emotional Atyachaar" in Dev D? That movie was one of my favorites. But not to digress, let's know about the book and its protagonists. 
My name is not Devdas – Book Review
Devdas, the legendary original story, made its mark in 1917 and was penned by Sarat Chandra Chattopadhyay. One hundred and five years later, the tale is retold. Only this time, the characters are Not Devdas, Not Paro, and Not Chandramukhi. 
Let's meet the protagonists. We have Dev, who has a troubled past. His father was in the news for the wrong reasons after alleged sexual misconduct with his student. If that wasn't enough, his mother elopes with a local cable guy. 
Then there is the fiery and rebellious Paro, a Haryanavi girl adopted by Dev's father. But wait. Paro loves Dev fiercely and not as his adopted sister. She'll do all she can to get the love she deserves. 
Meet Chandramukhi, the girl from the idyllic mountains of Kashmir who leads a not-so-ideal life in Delhi. A student by the day and a sex worker by night, all to fend for herself, for she has no one else to depend upon. 
The book is not set against the opulent mansions that reek of obscene richness. Nor is the story about your lovesick, lovelorn man, taken to the bottle because of jilted love. It is a story of a self-destructive generation that will repeat the mistakes they must not. 
The book is set in the fast-paced nooks of Delhi University. What stories do Devdas, Paro, and Chandramukhi have to say? What would you and I interpret these stories as? To know their stories, pick up the book here. 
About the Author
Aayush Gupta
is an author-screenwriter. He's been a part of writers' rooms in Eros, Zee, and is currently associated with Yash Raj Films. He's produced and presented shows for All India Radio's External Services and National channels. Under his own banner, Guddi Productions, he has directed and co-produced multiple nonfiction shows and documentaries.
More about the book
Title: My Name is Not Devdas
Author: Aayush Gupta
Publisher: HarperCollins India, 2022
Available as: Paperback and on Kindle
Pages: 155
The review is part of #Bookchatter, a book review program powered by Blogchatter