The blogging world has an uncanny way of connecting people. This year when I was searching for cake designs for my son's fifth birthday, I started interacting with Gauri, a professional baker to take ideas on what options I could have in cakes. You know having twins with diverse opinions was not an easy task. One thing I was very sure was that I did not want one of the routine cakes that are churned in a bakery. A few chats later I knew that I had found the one who would bake the dream cake! And bake a cake she did! My boys still remember the cake and so do the guests!
Do you love cakes too? I love cakes in any form! Today's post is all about how to make a cake in a jiffy. These mug cakes are a hit with kids and they take less than 5 minutes to get ready!  Welcome Gauri, the owner of Lil' White Oven, who creates the most delicious cakes! Here is she on my blog with an easy peasy recipe that I am sure that you will want to try!  t You can also connect with  Gauri on Facebook and follow the other awesome cakes she bakes!

"My God, when I think about the first time I baked a cake, I cringe at the thought of what I had made. It was a rock hard… thing that wasn't fit even for animal consumption. Dang!
But that didn't stop me. I was determined as ever to make a good cake. So I kept at it, and kept making disasters over disasters until one day a miracle happened. What came out of the oven wasn't a disaster anymore. Far from it, it was the softest ever sponge cake. I combined it with gooey chocolate ganache, and I had a lovely cake to boast about.
What I am trying to say here is, if I can bake a cake, anyone can.
See, there are some principles you need to know about good cakes. They are light, soft, and moist. The structure is formed by the flour, and the softness is imparted by the air bubbles incorporated in it. Air bubbles can be incorporated by whipping egg whites into a stiff meringue, or in case of an eggless cake by something that effervesces such as baking soda with any acidic medium.
Softness is rendered when all the ingredients are in proportion, and mixed with a very light hand. Overmixing results in a heavy batter which doesn't rise well, no matter what you do.
Here's an easy recipe for you to start with. A super quick decadent, moist and soft mug cake.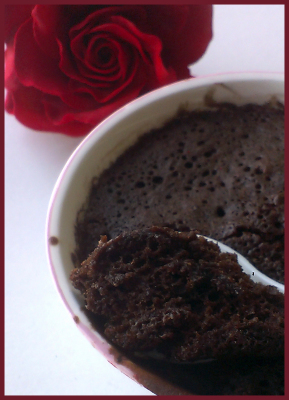 What gives?
Craving can strike at just about any time. Ask me, I know. Especially chocolate cake cravings. But fear not, because here is a chocolate cake that can be made in a matter of minutes, and is so soft and moist that it will be difficult for you to not make it day after day. Just follow the mug cakes recipes to a T and you will not be disappointed.
 Mug Cakes Recipe
Ingredients
1/4th cup All purpose flour
2 tbsp granulated white sugar
2 tbsp cocoa powder
½ tsp baking powder
pinch of salt
2 tbsp oil
¼ th cup + 2 tbsp milk
1 tbsp white vinegar
½ tsp baking soda

Method:
Mix together all the dry ingredients in the first list. No need to sift.
Mix together the milk and oil in a bowl. Add the dry ingredients to the milk and oil mixture.
Next take the vinegar in a bowl and add the baking soda. It should bubble up immediately. Quickly add it to the batter and give it a stir. Don't stir too fast, or too much. Just a few strokes to distribute it evenly.
Distribute the batter in four different microwave safe mugs or bowls. Add a dollop of nutella into the center of each (do not mix or try to push it in, just put a dollop of it in the center). Nutella is entirely optional.
Place each bowl in the microwave one at a time, along with another bowl that has water in it. Microwave on high power for 60 seconds.
Remove after 60 seconds, if the surface seems a little wet, pop it back in for another 20 seconds.
Done!! Your soft, decadent microwave mug cakes are ready!
Serve just like that or with any of your favorite frosting 🙂  Isn't the mug cakes recipe so simple and easy? Happy baking!
Follow Me On…
FACEBOOK | TWITTER | PINTEREST |elephant journal
*All of my reviews are based on my own personal experiences with the brand/products. If it is a sponsored post, it is indicated. Most of the brands and products reviewed are what I have tried and tested and truly recommend! All Photographs are (C) Pratibha unless stated otherwise.*