On a particularly cold evening after I had seen many Marie Kondo posts on my timeline about her show on Netflix, I convinced my better half who had his nose half buried in Mossad to watch the show with me. As we made ourselves comfortable, he wanted to know who she was and why he was made to go through this ordeal.
He: "So you are basically making me watch a program about a lady who tells you to declutter and keep things that are necessary in life? Really P? I say this to you every single weekend and yet you are raving about some Kon Mari method?
Me: *instantly regretting my decision* Can we like just watch it?
He: *rolls eyes* And goes back to reading.
Me: *Tucks in legs under the duvet cover hoping he hasn't seen the new socks I was wearing*
Marie Kondo – The art of (not) decluttering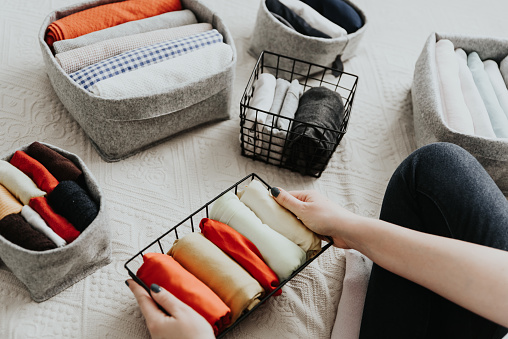 That left me with watching Marie Kondo on my own; and thus began the journey of Marie Kondo in my home. 3 shows later, I was hyper ventilating and secretly glad that I owned way less stuff than the others did in the show. But, when I remembered the hidden stash of goodies I had, a feeling of gloom and despair loomed over me.
As a blogger I tend to buy loads of products. I mentally counted over 2 dozens soaps, half a dozen of shampoos and shampoo bars, body lotions, face creams, massage oils, body mists, hair oils and you get the drift right? Not to mention a dozen trial packs in my cupboard. If you know me, you know about my obsession with soaps. I have this strange obsession with them. If I like one, I buy a couple of them and stash them for later use, only to find the expiry date is nearing and have an assortment of soaps when I am bathing. Once when he walked into my bathroom, he came out and asked why I had 3 different soaps and 4 shampoos in my bathroom.
"I like to choose which one I'd like to bathe with everyday" I replied snootily. The only ones who are loyal to me and love using my bath are the boys who get to use a different soap every day.
Scenes at home
Now my mornings start with….in conversation with the boys:
"Mammaaaaaaaaaa….which one these is a shampoo bar? All of them smell the same to me."
"Mammaaaaaaaaa…this says use as a body wash as well as a shampoo, what shall I use it for?"
"Mammaaaaaaaaa…this is a very girl smell. Do you have any other soap? Like the ones Papa uses?"
As an ardent fan of natural and chemical products, my boys probably learnt to ask me with a lisp if the body wash they used was natural before memorizing the spellings.
Right, so where was I? Kon Mari. Let me tell how Mari Kondo fared at my home. The better half (the most organized one) refused to be a part of this activity declaring he had no clutter in his life.  That left me and my twin boys.
Teaching the boys the Kon Mari Method
I tried to teach my boys the Kon Mari method and told them to clean the cupboards. With one swift move of the hand I dumped all the clothes on the floor and asked to sort the ones they didn't want by thanking it and keeping it aside.
Boy 1: Why should I thank it if I don't want it?
Me: Because it's served the purpose. You have used it and now you don't need it. Thank it because you got to use it.
Boy 1: I want to go down and play.
Me: Do this first.
Boy 2: *Miffed at the book being taken away, gives me the scowls.* Come on! You have to help your brother!
Boy 1: Will you let me buy a book on Kindle if I do this?
Me: No
Boy 1: Then I will go down and play.
Boy 2: I have never seen you clean your cupboard and you have so many clothes.
Me: That is because I clean it when you guys are not around.
Boy 1: And you still have so many clothes!
Me: Right! Work now.
5 minutes later, Boy 1 walks in with a random pile of clothes and dumps them on the floor declaring they are all small for them. Before I can even have a look, Boy 2 comes with the angry man look and asks his brother why he is throwing away the tee he picked up last month, and before I can glance at the clothes, I have to separate two warring boys. No spark of joy here! And I didn't even get to the toys and books.
Me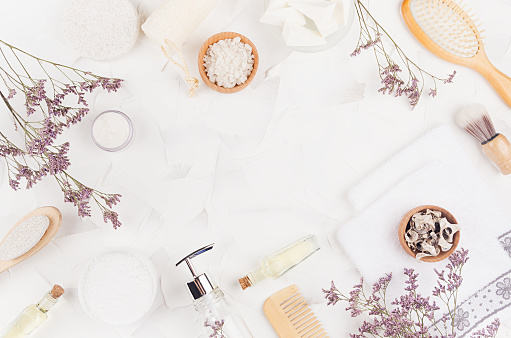 When I literally dumped at the products on the bed, I realized I had enough wares to open a mini store that would be stocked with bathing and grooming accessories. Each product that I picked up and got close to my heart reminded me of its price tag and I said, "Aww, you're still precious." At the last count, I had about 29 soaps, 8 lip balms, 6 serums, 4 bottles of hair oils, 3 shampoo bars, 2 pre-shampoo butters, 3 body butters, 3 bottles of massage oils, 7 body washes, 21 bottles of essential oils, and about 3 dozens of samples lying around. Did I mention that there are different things for the boys and the better half?  I bought storage boxes (adding to the clutter) to arrange them according to its usage. The better half just rolled his eyes.
"At least you know what is what!", I said in all self-defense.
Then, I sorted my collection of the Starbucks Mugs and arranged them in alphabetical order. A rough calculation later I realized they were worth a LOT, so there was no way that I would EVER let go of them.
Moving to clothes! The clothes have been segregated into these fit me and these will fit me when I lose weight, and these loose clothes are perfect to wear in the night piles. My hair bands have been stashed away for the when-I-grow-my-hair days. After all, one has to be optimistic, right?
700 books from our collection of over 1500 books were the only ones that were donated to a local library, but I did give them away with a heavy heart. No joy was sparked.
The next best thing I did was stop watching her episodes so that I do not get psyched again about the stuff I own. The rest I'll save for a day when the de-clutter and organizing bug hits me again. Have you been Kon Mari(ed) as yet?
This post is a part of Blogchatter Half Marathon.