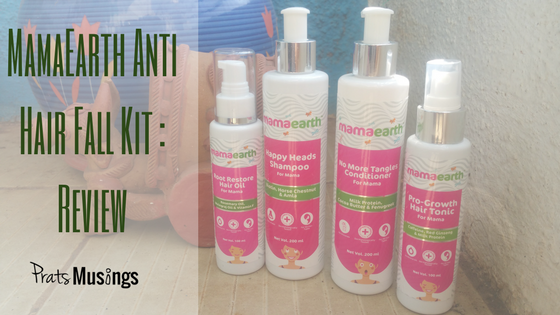 I've been spending most of the time outdoors and needless to say, the amount of pollution and damage that my skin and hair have taken is cringe worthy. I got back home almost a fortnight ago, and now that I am back to staying indoors, I can choose to get rid of the damage!
So, if you follow me on Instagram, you'll probably have seen that MamaEarth sent me their new launch, MamaEarth Anti Hairfall Kit last month. I started using these products almost a fortnight ago and let me get to the MamaEarth Anti Hairfall Kit review plus announce the giveaway so that you can participate and win some of the fabulous hair care range from MamaEarth
MamaEarth Anti Hairfall Kit Review
MamaEarth Anti Hair Fall Kit contains 4 products – a hair oil, a shampoo, a conditioner & a hair tonic. It is completely  free of silicons, mineral oil, & sulfates. At the back of the pack are detailed instructions on how to use the products as well. The quantity of the products is enough to last at least 3 months with regular use but MamaEarth says that 6 weeks is all that you need for healthy hair.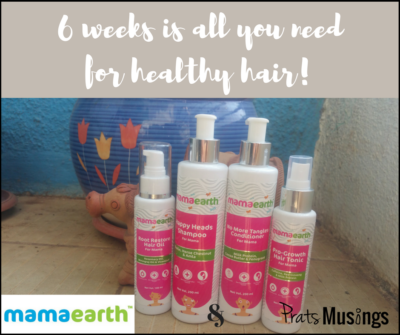 I have been using all the products in this range from the past 15 days now. And my experience so far has been manageable hair! If you use products from multiple brands, I would suggest that keep them aside and use just this set for at least 6 weeks to notice a VISIBLE difference. You are unlikely to see any difference if you mix these with other products or have used it occasionally.
Let me quickly introduce you to the products and let you know about the giveaway.
MamaEarth Roost Restore Hair Oil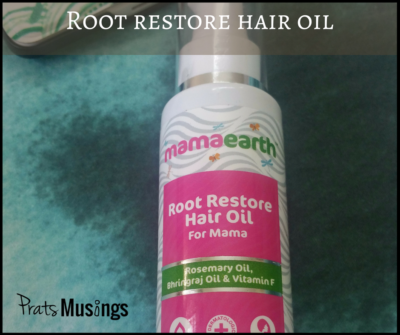 Oiling your hair is the basic of hair care regimes. I love oiling my hair and I apply oil at least 3-4 times a week for the extra nourishment. You need to apply this oil on the scalp and gently massage your scalp to boost the circulation. It is more effective when applied on the scalp, because that is where you want to arrest the hair-fall. Looking for some TLC for your hair? Wrap it up in a hot moist towel and leave it for 30 mins before you wash it off.
What's in the oi? It is a powerful infusion of 10 potent hair friendly essential oils like Almond Oil, Olive Oil, Rosemary Oil, Cinnamon Bark Oil, Bhringraj, Jojoba Oil. This blend of essential oils stimulate the scalp and hair follicles, increasing blood circulation, deeply nourishing hair from the root to the tip. Did I mention its completely free from chemicals, paraben, SLS & toxic ingredients?
Buy it here: Rs.399 for 100ml.
MamaEarth Happy Heads Shampoo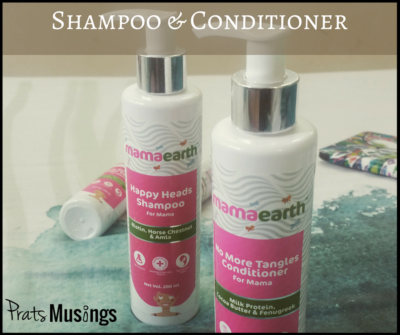 Two important things that you must keep in mind when you wash your hair is – use lukewarm water and a 100% natural shampoo. I have short hair so I don't need more than one pump of the shampoo. Wet your hair and apply on the scalp. Work up a lather and leave it on for a minute. Wash off. Repeat if you feel your hair is still oily.
What's in the shampoo? It is packed with Bhringraj & Amla that nourishes the hair and Biotin makes the hair thick. It works to gently cleanse and promote healthy scalp and hair by removing the built up residue from scalp. And yes, free from from harmful chemicals like SLS, paraben, phthalate, dyes and artificial fragrance. 
Buy it here: Rs.349 for 200ml.
Mamaearth No More Tangles Hair Conditioner
A conditioner helps to nourish damaged hair and lock in the moisture content. You need just a little bit of the conditioner. I take about two pumps and gently massage on the scalp, running my fingers through the hair so that it covers the tips as well. leave it on for 3 minutes and then wash off with warm water.
What's in the conditioner? Milk Protein and Fenugreek, makes hair tangle free and soft. 
Buy it here: Rs.349 for 200ml.
Mamaearth Pro-Growth Hair Tonic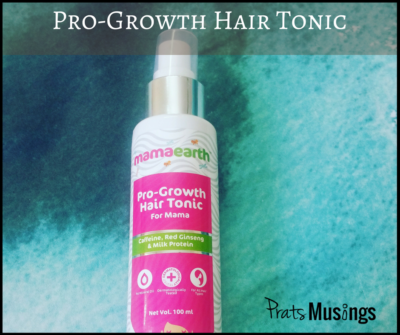 The tonic is a light and non greasy tonic which promotes healthy scalp and gives soft, glossy hair within seconds of application. Spritz the tonic on the scalp when your hair is semi wet and massage it gently. Run your fingers through the hair to let the tonic spread to the tips. Don't apply tonic on the hair directly. What I noticed was a healthy sheen to my hair.
What's in the hairtonic? Korean Red Ginseng with Caffeine aids hair regrowth. Can be used as a leave in tonic for treatment of damaged hair promoting hair regrowth. 
Buy it here: Rs.349 for 200ml.
Buying the products
You can buy these products individually if you do not want the complete set. You can buy the shampoo, conditioner, hair oil and hair tonic as individual products too. If you change your mind and decide to go for the Mama Earth Anti Hairfall Kit, you can buy it here and here.  If you are lucky enough, you can get it right away or there is a waiting period for it and they are always open to pre-order.
Want to view the entire range of MamaEarth products? Click here.
Mama Earth Anti Hairfall Kit Giveaway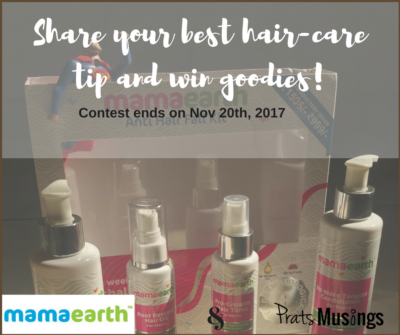 Now comes the best part! A giveaway! Yes, I am giving away the complete set as well as individual products from this wonderful Mama Earth Anti Hairfall Kit. Would you like to win any of these? If you said yes, then read the competition rules and get ready to participate.
What's your sure shot mantra to keep your tresses healthy? Share your best hair care tip with us! MamaEarth will go through your tips and pick the best ones! Multiple entries as different comments are allowed. We'll be choosing the best and the most original tips from the comments on the blog.
MamaEarth will be choosing 3 winners to get the following prizes.
Winner 1 – Mama Earth Anti Hairfall Kit
Winners 2 & 3 will get the shampoo & conditioner
Participate in giveaway by MamaEarth in collaboration with PratsMusings and you could be one of the winners to receive a goodie bag from them. The giveaway ends on 20th November, 2017. The brand will choose the winners and I'll announce the names in approximately 15 days after the contest ends.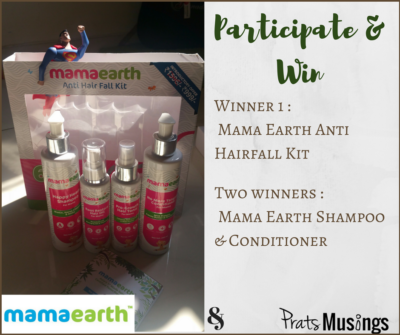 Important Note: Entries/Comments only on the blog post will be eligible for selection. Contest open to Indian residents only. Any messages to me or the brand stating that you hope to win will lead to immediate disqualification!
Follow Me On…
FACEBOOK | TWITTER | PINTEREST |elephant journal |INSTAGRAM |QUORA
*All of my reviews are based on my own personal experiences with the brand/products. If it is a sponsored post, it is indicated. Most of the brands and products reviewed are what I have tried and tested and truly recommend! All Photographs are (C) Pratibha unless stated otherwise.*
Shampoo – http://amzn.to/2xEnaS4
Conditioner – http://amzn.to/2xF4AcF
Hair Oil – http://amzn.to/2iPGs4y
Hair Kit – http://amzn.to/2iVjsBh
http://amzn.to/2z6KRX5 – All ME prods