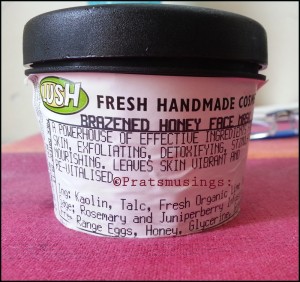 I finally collected the five empty Lush pots and was super thrilled about indulging in the famous fresh face masks by Lush that I have never used till now. Since this was to be the last of my Lush indulgence, I was excited! We had gone to the Amanora Town Centre and I was shocked to see the closed Lush store.  Turns out that they shut shop! So there I was 5 pots in hand and totally grumpy.
We continued with the shopping and were headed home, when the better half decided to sympathize with me. He took a detour to  drop me at Phoenix so that I could go and pick up what I wanted. A big smile on the face I headed towards the Lush store. And as I got closer and the Lush fragrance engulfed me, I was tempted to buy something more ( that one last time!) and that was when I noticed the steep price rise. There is almost a 30% rise in all the product prices. With the price rise, I am pretty sure that there will no Lush for me.
And getting back to the face mask! I picked up the Lush Brazened Honey Face mask.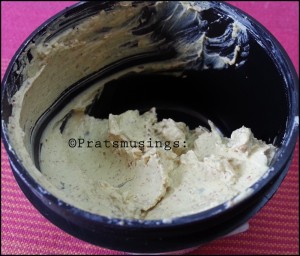 There were other masks in the store but this particular one caught my eye because of the colour. That was the only that smelt really nice and it had a coarse texture to it very much like the Herbalism cleanser that I have used earlier. I liked the texture of the Brazened Honey Face Mask because it also worked like an exfoliator. I got about 70 gms of the mask when I returned the empty pots.
Since these masks are fresh, I enquired about the shelf life of the mask and the Lush rep said that I could keep it up to 3 months in the refrigerator and the quantity is more than enough to last at least half a dozen applications. The fragrance of fennel is so strong in the mask that it lessens the fragrance of the other ingredients. For instance, it was only when I got home that I saw fresh eggs was an ingredient in the mask. I could kick myself for not seeing that earlier, but the good part is that I could not get an eggy smell in the mask at all.
I finally got the chance to use it the last weekend. Since it has a creamy texture, you don't need much, I took just about a teaspoon of the mask and it covered the face and the neck.  The ground almond shells exfoliate very mildly ensuring that the dead skin cells are gone. The clay in the mask acts as the firming agent and honey adds that glow to the skin. Of course there are loads of other ingredients too that make your skin looks fresh post the application.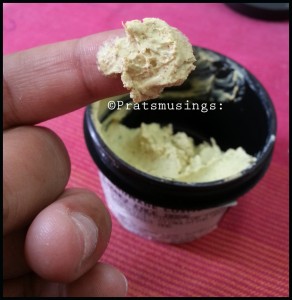 I did not let the mask dry out completely. I left it on the face and neck for roughly 7 minutes. There was a slight tingling sensation that lasted for about a minute or so. I wet the mask slightly and massaged it for about 2 mins before washing my face with tepid water. What I did notice was that my skin looked clear and felt smooth, but my face felt oily within an hour 🙁 . So I can safely say that this mask is not for my skin type (combination). I guess this is more suited for a dry skin type so that it leaves your skin hydrated. All that excitement of the fresh face mask by Lush went a total kaput.
So that was my experience about the much hyped fresh face masks from Lush. What a let down it was. I am sure there are better face masks out there, but I just did not get the right one.I doubt there will be a second time because I won't be indulging in more Lush, so no more pots to collect. And I am hoping that the left over face mask will make a good foot pack!
What this mask is all about
A powerhouse of effective ingredients for all tired skins. Refreshing herbs and fruit juice are blended with warming Ayurvedic herbs and spices. With almonds to polish and moisturising honey, this blend leaves the skin vibrant and reinvigorated. Apply to clean skin, avoiding the eye area. Leave for five to ten minutes, and then rinse with warm water massaging gently. 
What this face mask does ( according to Lush)
Banish dirt and excess oil: Ideal for those with combination to oily skin, or those who want a deep cleansing mask.
Can you handle it? Brazened Honey is very stimulating, so if you're quite sensitive, we recommend navigating towards Catastrophe Cosmetic or Oatifix instead!
Deep clean for your skin: We use ginger root extract in Brazened Honey to help the body eliminate toxins from the skin.
What's in the mask
Kaolin , Talc , Fresh Organic Lime Juice (Citrus aurantifolia) , Sage (Salvia officinalis) Infusion , Rosemary and Juniperberry Infusion (Salvia officinalis, Rosmarinus officinalis, Juniperus communis) , Fresh Free Range Eggs , Honey (Mel) , Glycerine , Fresh Fennel (Foeniculum vulgare) , Ground Almond Shells (Prunus dulcis) , Almond Oil (Prunus dulcis) , Bentonite Gel, Fresh Ginger Root (Zingiber officinalis) , Fresh Parsley (Carum petroselinum) , Fresh Coriander (Coriandrum sativum) , Ground Turmeric (Curcuma longa) , Ground Cardamom (Elettaria cardamomum) , Clove Bud Oil (Eugenia caryophyllus) , Ginger Oil (Zingiber officinale) , Vetivert Oil (Vetiveria zizanoides) , Juniperberry Oil (Juniperus communis) , *Benzyl Salicylate , *Eugenol , *Geraniol , *Benzyl Benzoate , *Linalool , Perfume