There has hardly been anyone on this planet who has not searched for "beauty tips for skin" on Google! With the fast-paced life that one leads with lesser time to visit a salon and get a beauty treatment, it is natural for people to search for natural beauty tips for glowing skin.
Apart from a plethora of DIY recipes available on the internet that promises radiant, dewy, and glowing skin, it is natural for people to seek what can give them healthy skin, nails, and hair.
Is it important to maintain a daily beauty regime?
The basic routine for beauty tips for skin includes the CTM regime, which consists of cleansing, toning, and moisturizing your skin in the AM and PM routine. Including exfoliation and masking in the weekly skincare regime is also essential.
In addition, you can also include a supplement like Perfectil that can be consumed daily to help you with overall wellness and promote healthy skin, nails, and hair. Some of the positive benefits of consuming a supplement like Perfectil include deep nourishment and protection from the inside to reveal healthy skin outside.1
Season transitions – how to handle it?
As the seasons change, your skin, hair, and nails take the brunt of the change. In the summers, you may find your skin and scalp oilier; in the winters, it is normal to have drier skin, an itchy scalp, and brittle nails. One of the essential beauty tips to combat seasonal change is to change your regimen to products that are more suited to the seasons. And consuming a supplement like Perfectil can help you fight seasonal changes too.2
Latest beauty tips for skin that you can follow at home in 2022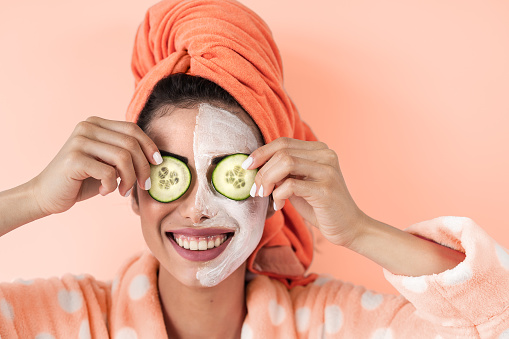 There are many beauty tips for skin that you can follow at home, too, that will not burn a hole in your pocket! These beauty tips for skin I follow at home since I am always racing against time!
A quick blend of ½ tsp of turmeric powder mixed with organic honey and a spritz of rose water helps give my skin an instant boost of radiance.
Add infused water to my daily water consumption to keep myself hydrated. Tear a few basil leaves and add a few slices of cucumber and a few rinds of lemon to about 1 liter of water. Let it infuse overnight. Consume it the next day to flush out toxins from your body.
Eating healthy can never go out of fashion! So, incorporate raw foods like salads and fruits that give you not just nourishment but also boost skin, hair, and nail health.
Using a strict regime when it comes to skin, hair, and nails. While you may be inundated with many products in the shopping aisle, it is essential to choose products that are best suited for your skin and hair type. Using the right products that suit your skin and hair type can promote visibly healthy skin and hair.
Adding a supplement like Perfectil is one of the best beauty tips for skin. The best part is that it is recommended for use by men and women of all ages to maintain skin, hair, and nail health.
Other essential beauty tips for skin
There are other essential beauty tips for skin that you can regularly follow to promote healthy skin. These include:
For skin
Applying sunscreen, whether indoors or outdoors
Using skin care products suited for your skin type
Following a good skin care regime every single day
Washing your face when waking, before bed, and after sweating
For hair
Oiling your hair regularly to boost better hair health
Washing your hair with a sulfate-free shampoo and following with a conditioner
Use tepid water to rinse your hair so that less damage is caused to your hair
For overall wellness
Eating healthy and keeping yourself hydrated
Include a supplement like Perfectil that helps in overall wellness. Perfectil is packed with nutrients and vitamins like Vitamin C and E, including calcium and magnesium, promoting healthy skin.1
These are essential beauty tips for glowing skin and healthy hair and nails that you can follow regularly. These seemingly easy beauty tips for skin and hair can also work wonders on your overall well-being when routinely followed.
Why include Perfectil as one of the essential beauty tips for skin?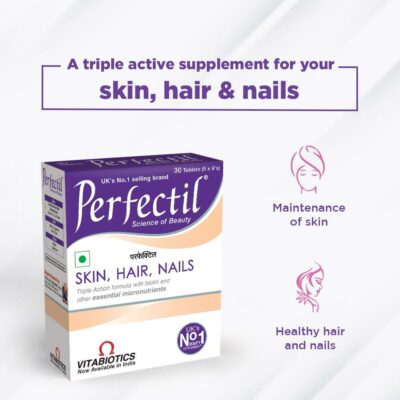 I have talked about Perfectil in previous paras. Let me tell you more about this nutricosmetic.
Perfectil gives you nourishment where beauty begins – on the inside, with triple active support for skin, hair, and nails with biotin, zinc & selenium. Perfectil is also the UK's No.1 beauty supplement brand, from the UK's No.1 vitamin company. It is now available in India.
Take the 3-step supplement selector test to know the beauty vitamin exclusively made for you. Everybody is different and so are the nutrient needs, and that's why Perfectil understands you the best.
How does Perfectil help in healthy skin, hair, and nails?
A study2 showed clinical evidence that consuming Perfectil as a supplement helped the skin, hair, and nails in the following ways.
Helped to soothe and improve inflamed skin
The presence of Nicotinamide (Vitamin B3) helped promote healthier skin and hair
The presence of NAD (Nicotinamide dinucleotide); helped prevent NAD depletion during DNA repair & thus protects against DNA damage
Helped to inhibit the Propionibacterium acnes
Showed a decrease in sebum products & accumulation of inflammatory cells
Important Note:
Food supplements must not replace a balanced and varied diet and a healthy lifestyle. As with other supplements, consult your doctor or pharmacist before using them.
These are some of my thoughts regarding beauty tips at home. Are there any beauty tips that you follow as well? Do share in the comments section.
Sources
Am. J. Clin. Nutr. 2012;96(5):1179S-84S & Cutis .2006;77(S1):11-6. Perfectil info for OTC doc