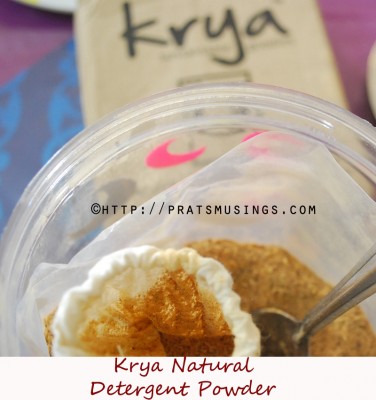 Sometime in October I wrote this post Organic Cleaning Solutions that one could use for their home and one of the products that I mentioned was the range of products from Krya. I had never used the products, but heard some absolute rave reviews and mentioned them.  I got the natural detergent powder and the dishwasher powder from them sometime in November for a review. I was busy emptying the existing stock so that I could start using Krya.  I alternate between Amway SA8 (which I have never reviewed!) and the Rustic Art Power Laundry for my clothes. Krya was a welcome change because I could finally add something more to my list of natural detergents.
What's special about Krya Natural Detergent Powder?
First things first, if you follow my blog, you will know how much I try and incorporate green living into my life. So when I get options, I am all gung – ho about exploring it.
Let me start with packaging. The product was sent to me in a recyclable box and the detergent powder is also packaged in recycled paper. The product comes with two cotton pouches that you use to put the detergent powder in.   I was a bit apprehensive about using this powder because I was not very sure of the effectiveness, because all the while I thought soap-nuts was just to clean the hair! I have been using this for about 2-3 weeks now and the results are awesome. There is a very light soap-nut fragrance in the clothes, in fact you can almost miss it. And I was surprised with the effectiveness it had. I still have a pack of detergent as a stand by that I use when the laundry is superbly dirty, but when I used this detergent and soaked the exceptionally dirty clothes of the boys as mentioned in the video, the clothes came out absolutely clean. What more can I ask for? And the clothes come out superbly soft so I also miss the step of adding the fabric conditioner in the last cycle of wash.
And it doesn't stop at just cleaning clothes, if you have used it as a bucket wash, you can use the water for your garden and plants. the residue of the detergent powder post the wash can be added to the compost bin or can be used for your plants. This is optimum usage of a product for me.

Do I recommend this?
A big, big yes! Krya Natural Detergent Powder is not just helping us reduce the carbon footprint, but also promoting a sustainable living. Thank you Krya for an awesome product.  Priced at INR 290 for a 400gms packet, I would say this is economical. You need a tablespoon of the detergent which is roughly 10gms  per use. Do the math, 40 uses from a 400 gm pack, makes it roughly less than INR 8 for a single wash for about a 5 kg load.  Isn't that easy on the pocket too? Head right here to buy this NOW!
What are soap nuts/soap berries?
Let's jog the grey cells. When I was young, shampoos were a strict – no at home. They were not good for hair. Period. You could not argue with your mom if a fancy shampoo bottle caught the attention. Instead my mom made this concoction comprising of soap nuts (areetha) and shikakai, that was used to clean the hair. Soap nuts lather naturally so the cleansing got rid of the oil in the hair too. All I can say is that the initial years of sticking to the home remedies, I have awesome hair. I never knew that this can be used as a detergent too! Read more about soapnuts here. 
How to use
For Top Load or Front Load Machines
You need a tablespoon (10 gms) of the Krya detergent. Put it into the cotton pouch that comes along with the detergent powder and securely tie a knot so that the powder does not come out.

Drop the bag along with the clothes into the washing machine.

Wash a usual. krya recommends soaking the clothes for at least 15 minutes along with the detergent if the clothes are stained and dirty.

The best part? You can use the residue of the detergent in your garden or plants!
Read detailed instructions here.
The Give Away!
---
Just answer these questions :
1. Give me your favourite green DIY home recipe
AND
2. Tell me why do you want to win this give-away
---
Just answer the questions! That is all and two lucky winners will get to try this awesome organic detergent! Nice way to begin the New Year right? The give-away is open till 26th January.
Watch how to use the detergent as told by Preethi Sukumaran, the founder of Krya.

Find me on…
FACEBOOK | TWITTER | PINTEREST
*Most of the brands and products reviewed are what I have tried and tested and truly recommend! If it is a sponsored post, it is indicated. All Photographs are (C) Pratibha unless stated otherwise.*
If you are interested in promoting your product(s) or your brand, please get in touch with
me
.