As a mother, one of the most important tasks is to ensure that my boys always have clean hands. Yes, I am the mom who makes the kids wash the hands a dozen times and clean the hands with the sanitizer when there is no access to water.  When I was told about the product Jungle Magic Lunch Packz,  an innovative lunch box kit specially made for kids, I was keen to try it and share my views because a lunch box is one of the main things that the kids carry to school.
So what's in the Jungle Magic Lunch Packz?
The Jungle Magic Lunch Packz consists of a lunch box, a bottle of sanitizer and a filter bottle. At the first glance it looks like an ordinary plastic lunch box with a sanitizer. When I took it out from the bag and tried to open it, the lid wouldn't budge. On a closer look I saw that the lid was sealed with the sanitizer. Only when the child would take out the sanitizer from the side would the lunch box unlock. Isn't that a brilliant idea?
The lunch box opens once the sanitizer has been taken out from the side space and it is also a good way for the child to remember to clean the hands before munching on the snacks.  Along with the lunch box is a filter water bottle that lasts for 300 uses. So not only are ensuring santised hands, but are also ensuring that your child sips water that safe for them to drink. So if your child even ran out of water supply at school and chose to fill water at school, you don't need to worry.
All the products are packed in a nice hand bag that the children can carry to school as well, so you don't need to worry about anything leaking from the lunch boxes and spoiling the bag or the books. The only thing that you would need to buy would be another bottle or two of the hand sanitizer because one bottle won't last the entire year.
Availability and Pricing
Jungle Magic Lunch Packz is available for purchase at SafetyKart and it is priced at INR 500. There is also a combo offer that includes a pack of  Jungle Magic Mosquito Banditz along with the lunch box kit. Safety Kart is currently running the Jungle Magic Lunch Packz  at a discounted price.
You know what is important is that I know that the boys cannot eat a snack till they have sanitized their hands. For me the Jungle Magic Lunch Packz is a life saver! As a mom, you need to worry a little less because you know, the major tension of  " Are the hands clean before they eat the lunch?" is no longer there on your mind.  Buy this for your kids today!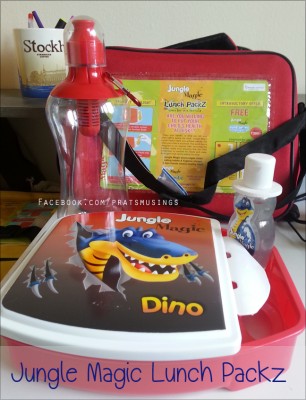 Note: Products sent by PR for consideration
Follow Me On…
FACEBOOK | TWITTER | PINTEREST |elephant journal
*All of my reviews are based on my own personal experiences with the brand/products. If it is a sponsored post, it is indicated. Most of the brands and products reviewed are what I have tried and tested and truly recommend! All Photographs are (C) Pratibha unless stated otherwise.*