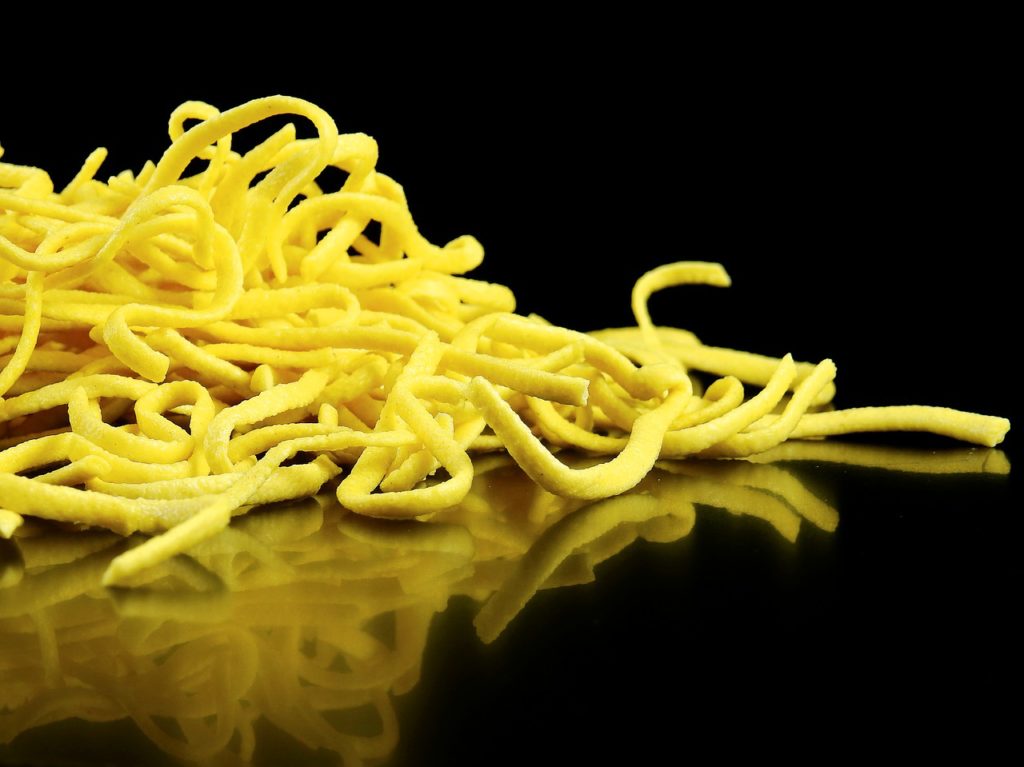 Much before instant noodles was launched in India, I was introduced to them when my cousins flew down to India in their holidays from US. That was the first time, a brood of US cousins came across these raw uncooked noodles in an intriguing foam cup that magically turned into a cup of absolutely deliciously hot flavoured noodles. Trust me it was heaven in comparison to the home-cooked noodles our mums made. But with the instant noodles myths even then we kept our distance.
My first brush with instant noodles of Indian brands was when I was 9. I don't really recollect how and why it landed at my home considering my parents were very strict about the kind of food we ate. But I do remember the heavenly taste and pestering my parents to buy some more.
13 years ago, when I was freezing in Oslo, looking for some warm food to eat, a cup of instant noodles came to my rescue. Took an armload of them back to my hotel, cooked it in the kitchenette and ate a delicious hot meal. And slept peacefully too! Trust me it was heaven after biting into cold sandwiches and salads for 3 continuous days.
Cut to today. My now 8-year-old twin boys love to eat instant noodles as a comfort food. We've experimented with many variants in the market, but have settled down for Maggi all the time. A bowl of piping hot noodles, soupy and yummy is probably one of their most favourite go-to food (and mine too). And hey, it's every mom's dream to whip up a good meal with minimal effort.
Debunking Instant Noodles Myths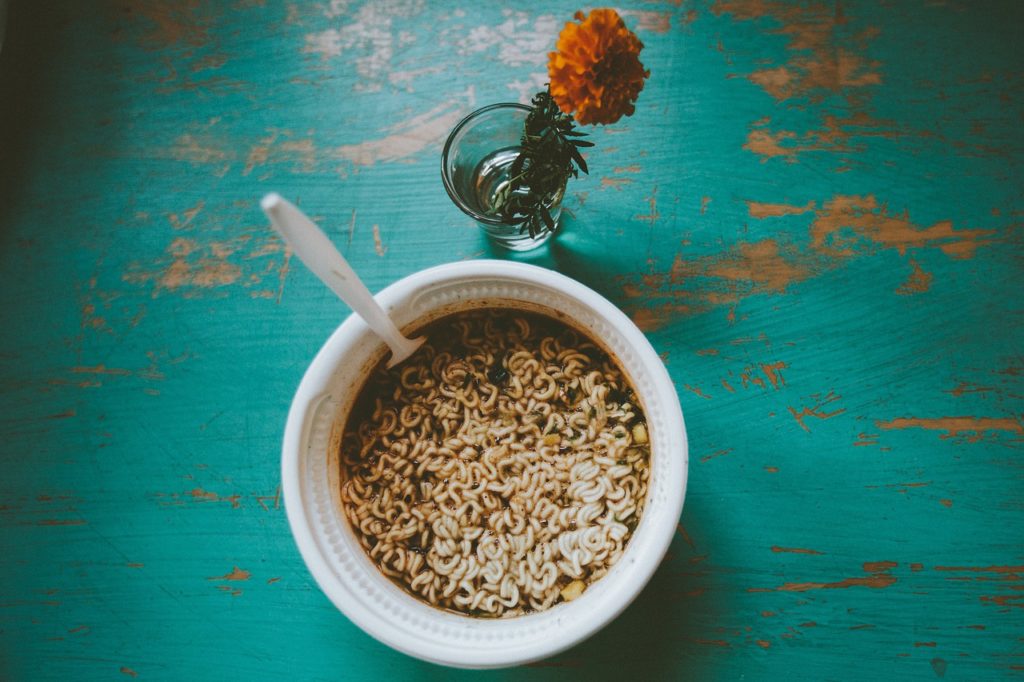 Did you just mumble that how unhealthy a choice that was? Let me tell you one thing and bust this one food myth – no single food item is healthy or unhealthy. When you have a balanced diet, eat everything in moderation and ensure an active lifestyle which includes a bit of exercise, you also welcome good health.
Research says that a balanced diet should provide approximate 50-60% of total calories in a day from carbohydrates, about 10-15% from proteins and 20-30% from fat. Are you getting that nutrition even in your daily consumption of food?
Now that we've started, let's bust some instant noodles myths!
Instant Noodles Myths 1 – Instant Noodles are Unhealthy
Fact – I mentioned this earlier; no single food item can be categorized as healthy or unhealthy. When everything is done in moderation and you lead an active lifestyle, you opt for a healthier lifestyle.
Instant noodles are made from flour, which means that it mainly contains carbs. And to eat a balanced meal you will need a good amount of proteins,fats, vitamins and minerals in your diet. Consuming a wide variety of food in moderate proportions ensures that you are eating well.
Still can't live without those instant noodles? Look for adding a healthy amount of fresh veggies so that you can add nutrition to it.
 Instant Noodles Myths 2 – That oil that you see when you boil the instant noodles is wax
I have forgotten the number of forwards and watsapp messages that I received when the rumor that Maggi noodles contained wax and the evidence was the traces of oil that you found in water when you boiled them. The traces oil care present because the cake of noodles is deep fried to ensure it free from moisture before it is packed. I've talked about it later in the post. Some instant noodles can also contain additives like vitamin A and D that are oil soluble which explains the oil in the water.
Looking to eat the cake of noodles and not worry about the oil? An easy hack I follow is to discard the water in which I boil the noodles and quickly rinse it with filter water and follow the instructions to cook it in fresh filtered water.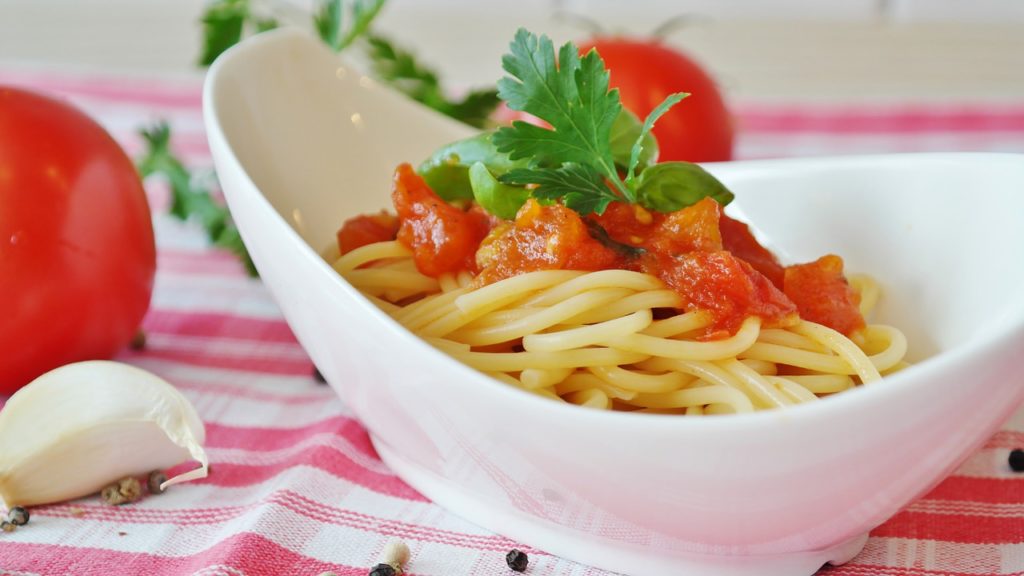 Instant Noodles Myths 3 – Instant noodles make you fat!
"According to ICMR recommendation on Dietary Guidelines for Indians, the total fat in the diet should provide between 20-30% of total calories. The total fat intake in the diets can go up to 50g per person per day based on the level of physical activity and physiological status."
The Nutrition Information on the pack of Maggi Noodles indicates a fat content of 11-13 gms that is within the recommended guidelines that a person requires.  Do the math, one packet of Maggi contains just 1/5th of the daily fat requirement. So the fat content is less than the usually consumed foods on a daily basis. Your aloo paratha dripping in yellow butter and a cup of tea will probably have a higher fat content.
Scared that instant noodles is going to make you fat? Hit the gym, go for a walk, join a zumba, in short take up a physical activity that will keep you healthy.
 Instant Noodles Myths 4 – Maggi is fried and just not healthy!
Fact – A MAGGI Noodles cake goes through an elaborate cooking process before it is packed. I was surprised to read the elaborate process of making the noodles ready to use. The noodles are first steamed just like you would steam momos or idlis. Then they are baked. In the third step, they are fried for about a minute and a half to reduce the moisture in the noodle. This deep frying also gives a longevity to the noodles to ensure it doesn't spoil. In the last step, once its completely dried, the noodles are packed.
So there you go! You now know the reason why it is fried too! 
Wrapping it up
Any kind of food in excess in unhealthy. At the end of the day no matter what you eat and if you don't indulge in some physical activity, the stored fat content will make you add on some extra kilos. Instant noodles are my go to comfort food, but I also know that it cannot replace my daily food menu. Whatever you do, do it in moderation to keep yourself healthy.
As I wrap up this post on instant noodles myths, let me know if you have come across such myths too! Share in the comments! 
Follow Me On…
FACEBOOK | TWITTER | PINTEREST |elephant journal |INSTAGRAM |QUORA
*All of my reviews are based on my own personal experiences with the brand/products. If it is a sponsored post, it is indicated. Most of the brands and products reviewed are what I have tried and tested and truly recommend! All Photographs are (C) Pratibha unless stated otherwise.*