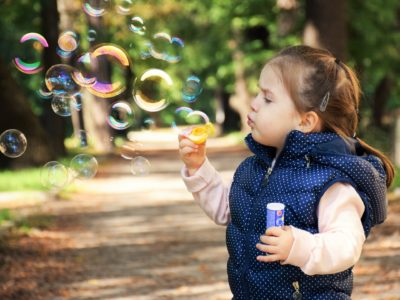 When you're a parent, your child's health generally takes priority over your own – at least in the case of most parents I know! You'd gladly eat two-day old food from the fridge than give it to your child. You check the temperature of the bath water with your bare hands before putting your child in. The same extra consideration comes into play when you talk of home remedies that you try for yourself, and that's good thinking since not all tips and tricks that work for adults need to be safe for children. And that's why we're going to look at how to use essential oils for kids, and the ways they may be different from how adults use them.
What are essential oils?
Essential oils are the natural oils extracted from plants, available in concentrated form. All parts of the plant are used to get the oil, which is a concoction of all the benefits of the plant. The aromas of these oils alone can soothe, uplift or energize one's mood, depending upon the plant they're taken from.
[amazon_link asins='B07B481F15,B06XD7VV2S,B01FG3PZOG' template='ProductCarousel' store='pratsm-21′ marketplace='IN' link_id='3917dab4-927a-11e8-a0bb-639fdce08ab0′]
Essential oils have, in fact, been used for a long time, although they probably were known differently at the time. A plant's natural oils are essential for the plant's survival – it encourages pollination, it helps the plant adjust to environmental changes and basically keeps it alive. Since children often respond well to sensory stimulation, essential oils are a good options for them, provided they're administered in the right way, and in the right proportion. With the help of essential oils, there's no reason our kids can't enjoy these benefits and more!

How to use Essential Oils for Kids
Essential oils are usually used either on it's own (pure/single essential oil) or in combination with other essential oils or carrier oils (blends/mixes). It is safe to use essential oils for kids topically when they are over 5 years old. It is best recommended that you carry out a patch test and check for allergies before you use any oils.
Use them with a carrier oil
For children, it is recommended to dilute the essential oil – concentrated versions may cause more harm than good. Commonly used carrier oils are coconut oil, olive oil and almond oil. If using an essential oil in your child's bath water, opt for a water soluble carrier like honey. The recommended dilution for children is 1 drop of essential oil per teaspoon of carrier oil.
[amazon_link asins='B01MY78APP,B07BHNMHCM,B078S9RM5W' template='ProductCarousel' store='pratsm-21′ marketplace='IN' link_id='7e57d185-927a-11e8-98cb-bb0f73087936′]
Never let them be ingested
Never, ever let  essential oils be ingested – they can be extremely toxic for young children. The common ways to use essential oils are through inhalation, through a diffuser or humidifier, or application on the skin. However, keep the oil away from the child's face, and especially the nose. For young babies, it's recommended to apply the oil on the underside of their feet alone. When using diffusers, ensure they are placed in a large area, and not in a small room. Diffusers with timers also work well, especially when you're diffusing an oil to induce sleep at night.
Allergy Risk
It is difficult to determine beforehand if your child is allergic to any essential oil, so it's best to try out a single or pure oil at a time rather than a blend, so you can identify exactly which oil is causing an allergy if any. Allergies to essential oils are extremely rare, but it pays to be cautious, especially when dealing with infants or young children. Symptoms of essential oil allergy include skin reactions like itchiness, rashes or swelling, or respiratory discomfort. An allergic reaction usually appears with a few hours of application or inhalation, but to be on the safe side, you can wait for an entire day after a patch test to watch out for any symptoms.
To do a patch test, mix a drop of essential oil with four drops of carrier oil. Apply this mix to the crook of the inner arm and watch for the next few hours. Any reaction during this time signals an allergy to the essential oil. Always ensure that your child is not allergic to individual oils before using them in a mix.

Please remember that while essential oils have health benefits, they are in no way a substitute for medical advice. If your baby is premature or has a pre-existing medical condition, please check with your paediatrician before introducing essential oils.
In the next post, we'll talk about when is the right time to use essential oils for kids and what types of essential oils you can use for kids. I'll also share some recipes that you can use for kids!
Follow Me On…
FACEBOOK | TWITTER | PINTEREST |elephant journal |INSTAGRAM |QUORA
*All of my reviews are based on my own personal experiences with the brand/products. If it is a sponsored post, it is indicated. Most of the brands and products reviewed are what I have tried and tested and truly recommend! All Photographs are (C) Pratibha unless stated otherwise.*