Almonds are among the oldest cultivated crops in the world, originating from the Middle East. They quickly spread to other parts of the world and became integral to global cuisine. But that's not all – people soon realized that almonds had many health benefits, and these nuts soon became a part of traditional medicine systems like Chinese, Ayurvedic, Siddha, and Unani. There are many uses of almond oil for skin and hair. Here are some ways how to use almond oil for skin and hair.
How to use almonds and almond oil for skin
Almonds are packed with Vitamin E, which is known to be an essential nutrient required by the body to build new skin cells to repair, renew, and add volume to your skin. Adding almonds and almond oil to your skincare regime can make your skin look supple, firm, and youthful. Massaging your skin with pure almond oil can also help to even your skin tone and reduce hyperpigmentation.
Strengthen your nails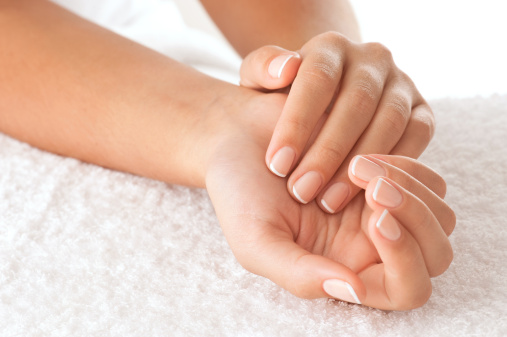 Did you know massaging your hands with pure almond oil at night and focusing on nails and their cuticles can make your nails stronger? This is more so if you have brittle nails. A regular massage with almond oil provides the required nourishment to your nails, making them healthy and stronger.
DIY almond scrub
To make the scrub
Grind 4–5 almonds to form a smooth powder.
Mix 2 tablespoons of the almond powder in a tablespoon of thick yogurt to form a paste. You can also use aloe vera gel or rose water.
You can also use a few drops of essential oils to tackle any skin issues you may have.
Apply this mask to your face and let it sit for a while.
You can then lightly scrub it for a few minutes using the circular motions of your fingers.
Wash your face with water.
You can also use a pre-mixed almond scrub.
Make your lip scrub
Lips can often get dull, dark, and flaky as the seasons change. Almond oil has all the essential nutrients to nourish dry, chapped lips and keep them soft, nourished, and moisturized. Environmental stressors like exposure to harmful UV rays make your lips look dull.
Here is a simple DIY lip scrub recipe you can try at home. Here is how to make the lip scrub:
Mix 1/2 teaspoon of almond oil with one teaspoon of granulated sugar and one teaspoon of honey.
Whisk it well till it turns a bit frothy.
Store this in an air-tight glass container.
Scoop out the desired quantity with a wooden spoon and scrub the lips.
The sugar scrubs off the dead skin cells, while the almond oil penetrates deeply to lighten the dark tone of your lips. Honey adds moisture to the remedy. Wash off your lips with warm water.
Say hello to smooth skin
Almond oil can deeply penetrate the dry, rough skin on your elbows and knees for a maximum hydrating effect. You can also massage it on cracked heels to welcome soft and smooth feet. Use the almond scrub first to slough the dead skin and use pure almond oil to massage the affected areas.
How to use almonds and almond oil for hair
There are many uses of almond oil for skin and hair. You can also use almonds for various uses for hair care. Here are some easy ways to use almonds and almond oil for your hair treatments.
Pre-wash treatment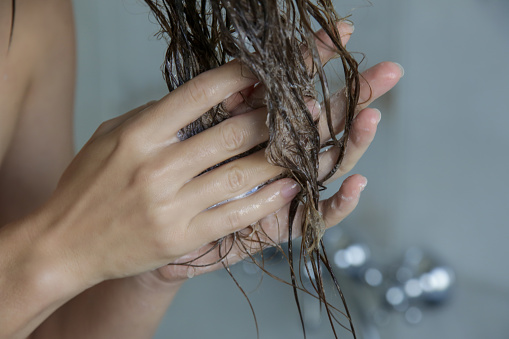 Apply almond oil directly to the hair and scalp as a pre-wash treatment. Leave it on for at least 30 minutes before washing off. Warm the oil a little before applying, and tie your hair in a damp, warm towel to let the oil soak in. Want some more love for your hair? Mix pure almond oil with other carrier oils like jojoba or tea tree oil to target hair concerns. 
Deep conditioning hair mask
Almond oil also works well as part of a deep conditioning hair mask. For dandruff, try a mask of almond oil with amla powder. Mix almond oil with avocado and yogurt and apply over the hair. Start with the scalp and cover till the hair ends. Cover your hair with a shower cap. Let the mask stay for at least 40 minutes to lock in the moisture. Rinse with warm water and cleanse your hair with a sulfate-free shampoo and conditioner. 
Leave-in conditioner
Almond oil works as a wonderful leave-in conditioner. After washing your hair, let it semi-dry, and then apply oil to the ends of the strands. Don't overdo it, as it can weigh the hair down. Almond oil also helps keep frizz at bay.
Exfoliating scrub for the scalp
You can use almonds in an exfoliating scalp scrub if you have scalp irritations. For a coarse scrub consistency, grind ten whole almonds with a few tablespoons of castor oil. Massage the scrub into the scalp using circular motions. Leave it on for ten to fifteen minutes and wash with tepid water. Cleanse with a sulfate-free shampoo and conditioner. 
DIY hair cleanser
You can also make your hair cleanser home with four tablespoons of almond oil, one-third cup of aloe vera gel, 1/2 cup of castile soap, and half a cup of water. Mix and use it as you would use a regular shampoo.
DIY hair spritz
If your hair tends to get messy through the day or dries out quickly, you can offer a quick refresher with a quick spray of almond oil, aloe vera juice, and water in a 1: 2: 4 ratio. Mix in a spray bottle and spritz whenever needed.
Wrapping up
Eating almonds is the best way to get great skin, hair, and good health. Peeling almonds before eating helps increase the absorption of nutrients. Soak the almonds overnight to remove the peel in the morning easily. You can also use almond butter or almond milk in your diet. These are some of the ways how to use almond oil for skin and hair
Avoid using almond oil before heat styling as it can damage hair. When buying almond oil, look for sweet, cold-pressed, and virgin almond oil. If you have any allergies to almonds, please avoid using any of these treatments. Nevertheless, doing a patch test before trying out any treatment on your hair is always advisable.