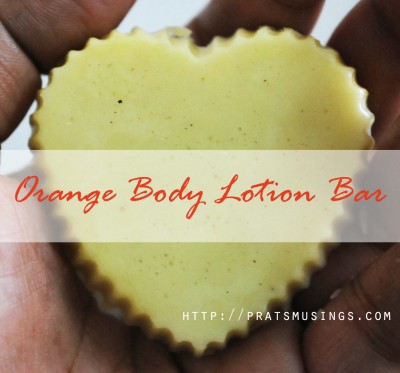 I am beginning to love working with a variety of oils and butters. In my first attempt, I made a soothing balm for headache relief that I quite love using. Today I decided to make some more varieties and I ended up making two body lotion bars – lavender and orange. I have used body lotion bars earlier and I found it a non messy option to the actual lotions. Since I never saw this product online, so I decided to make my own lotion bar. I had all the ingredients required at home. All I needed to do was stop being lazy and get to the task! And this is a super simple recipe of how to make natural lotion bars at home.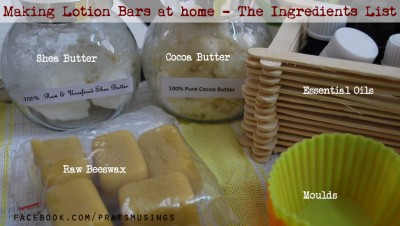 What are Lotion bars and How to make Lotion Bars at Home
What I used
Pure coconut oil – 3 tbsp
Shea butter –  1.5 tbsp
Cocoa butter – mixed to make 1.5 tbsp
Raw beeswax – 2 tbsp (you can omit this if you are vegan)
Essential oils of  Lavender and Orange 
A few drops of Vit E oil (optional)
Molds to set the lotion bars

I have blocks of raw beeswax so I need to either grate it or chop it into small pieces. The last time I grated it and a lot of of was stuck to the grater, so I decided to chop it this time. I have taken an extra amount of beeswax so that the bar has a firm consistency. If you used the ingredients in the same proportion (one part each), the bar is slightly soft to the touch. I did not want it turning squishy on contact so I added an extra portion of beeswax to keep the consistency more solid. You can also choose to use either the shea butter or the cocoa butter only. In this recipe I have used both the varieties of the butter.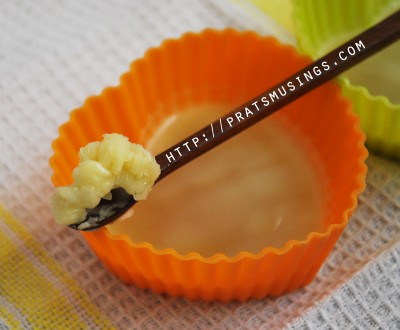 How to make the lotion bar
What I did was to combine all ingredients (except essential oils) in a steel bowl and place it as a double boiler over a saucepan with 2 – 3 inches of water in it. Use the lowest flame possible. It takes about 5 minutes to completely melt. I use a small  wooden spoon to stir it constantly. When it has melted completely, take it off the burner and add the essential oil. Since I was planning to make two varieties of the body lotion bar, I added 10 drops of the EO in the molds. I have used Lavender and Orange essential oils for this DIY motion bar recipe. I poured the melted oil in the molds and mixed it so that the EO's blend in with the oil. And I let it sit for a while.
The bars were completely  set in 15 minutes and I just popped them out of the mold and stored it in the fridge for an hour and this is how they look! I am happy because I have yet another task that I have accomplished and managed to tick off the list! There is a certain excitement and thrill that you go through when you start making products that you use daily on your own.  Would you try making this?
Store the lotion bars in the refrigerator. To use, place the bar in your palm and let it warm a bit and apply the lotion bar on your skin like you would use a soap. You can massage the skin to let the oils spread and moisturize. 
---
Getting all the ingredients: Tough
Complexity Level : Easy
Time taken to make it : 25 mins from start to finish
Time taken for the bars to set : 15 mins
---
Find Me On…
FACEBOOK | TWITTER | PINTEREST
*All of my reviews are based on my own personal experiences with the brand/products. If it is a sponsored post, it is indicated. Most of the brands and products reviewed are what I have tried and tested and truly recommend! All Photographs are (C) Pratibha unless stated otherwise.*