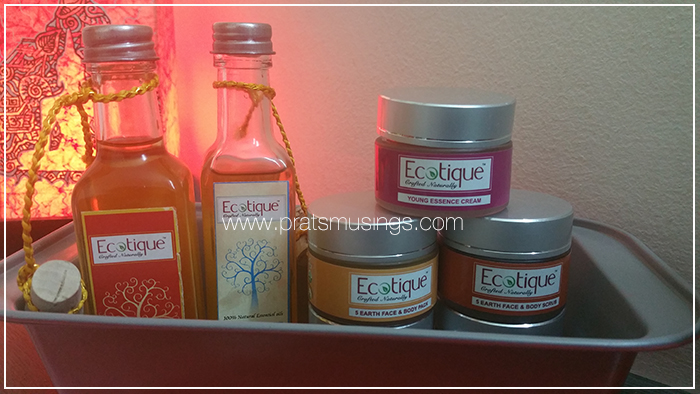 I have skin woes that aggravate in winters. From chapped lips, to completely dry skin, scaly skin and more, I face it all! I have graduated to using oils during the winters for the skin as they are far more hydrating and nourishing in comparison to a regular body moisturiser. When I picked up a major haul from Ecotique (trust me it will need more than one post to just talk about the fab products they have!) I was waiting to use the products.
I am going to review about two of my favourite skin care products from Ecotique. The first is a saffron oil and the second one is a night cream. A little bit about the saffron oil: Ecotique's 100% Natural Saffron Oil nourishes your skin, and gives you a moist, clear and glowing complexion. Every strand of saffron infused in the oil, has active antioxidants which help reduce signs of ageing, acne, and blemishes. The saffron oil combats sun damage and brightens your complexion. You will shine with a healthy, radiant glow.
Healthy Skin this winter with Ecotique
Pure Saffron Oil
Saffron has been always known for its many skin care benefits. It leaves the skin looking radiant and soft. Applying saffron oil helps to lighten your skin tone and have a healthy and glowing skin. It removes blackheads and opens up the clogged pores thus making your skin look radiant and glowing.
I have been using this for almost a month and a half now. And let me tell you that it is really good. You can use it just after a bath, when the skin is still damp. Massage it gently for about a minute till it is completely absorbed in your skin. You can use a few drops of this nourishing oil and add it to your daily use moisturiser and apply it on the face and neck too. You can buy this here. The saffron oil is actually good to replace your regular moisturiser because it is completely absorbed by the skin as I mentioned earlier. And you can also use this as an overnight nourishment for your skin. The best part is that unlike other oils this does not stain your linen or clothes.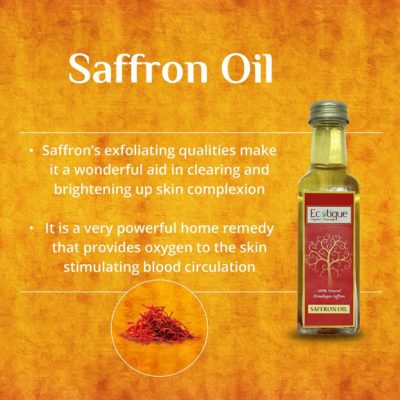 Young Essence Cream
One golden rule I learnt in skin care was never to mix your day and night creams. And I have been following this rule for at least 4 years now. Though I must admit that I prefer using a night cream only in the winter because my skin tends to stretch and dry very quickly. The Young Skin Essence Cream has a creamy texture that gets easily absorbed in the skin. I can't really figure out the exact fragrance, but its really woody and you will need to get used to it. I have been using it for over a month now and I wake up to nourished and softer skin.
About the product:
Ecotique's Young Essence Cream helps to delay the onset of sagging skin and significantly firms up the skin to unveil your natural, healthier and younger looking skin. It also reduces appearance of wrinkles and age spots naturally. Rehydrates the skin, lifts sags and diminishes fine lines.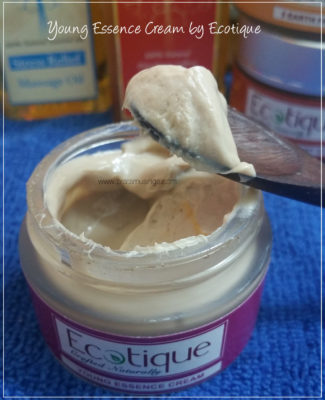 CONTEST TIME
And now it is contest time! Participate in the Healthy Skin this winter with Ecotique contest and you could be one of the 3 winners to receive 3 gift hampers from them. If you are ready, follow these simple steps in the rafflecopter to qualify to be a winner for the Healthy Skin this winter with Ecotique . The giveaway closes on 31st Dec, 2016. Winners will be chosen on a random basis and will be announced 10 days after the contest has closed.
An additional bonus would be if you leave a comment on the blog on why you want to win the contest and keep a tab on the Instagram to look out for a pic to repost and also watch out for a post on my Facebook page that you will have to share tagging Ecotique too!
Valid entries in Rafflecopter will be eligible for selection.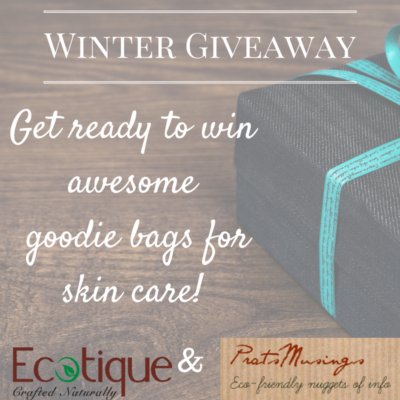 P.S: PM's (Private messages) to me or the brand on ANY SOCIAL MEDIA telling us that you hope you are one of the lucky winners will lead to disqualification from the contest.
Happy Holidays and Happy Winning! The contest is open to Indian Residents only.
Follow Me On…
FACEBOOK | TWITTER | PINTEREST |elephant journal |INSTAGRAM
*All of my reviews are based on my own personal experiences with the brand/products. If it is a sponsored post, it is indicated. Most of the brands and products reviewed are what I have tried and tested and truly recommend! All Photographs are (C) Pratibha unless stated otherwise.*