It is the time of festivities. I have been super busy with the marathon cleaning that is happening at home. I don't know I collect so much nice to use stuff, that is just nice and never used! And trust me the cleaning is super exhausting and when that is combined with two hyperactive boys, trust me it is no easy feat. At the end of the day all I think of is a hot shower and drift into an uninterrupted sleep. And for me these days crammed with the cleaning, my skin care regime goes for a toss. Literally. I have no time to even follow the basic CTM ( Cleanse – Tone – Moisturise) regime. But then, with the festivities just two days away, I need to really look my best! I've listed some very basic steps that I follow for a good skin care regime during Diwali.  I may be tired and exhausted, but these few products that I use guarantee that my skin looks and feels nice.
Skin care regime for Diwali
Auravedic foot scrub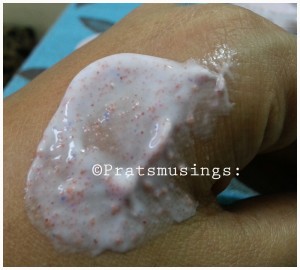 I'm on my feet most of the time and the skin gets rough. For the skin care regime of my feet, I settle for a refreshing foot scrub. This superbly minty and refreshing foot scrub from Auravedic is a must have. Wet your feet and scoop out this scrub and massage your feet gently with this. This mild scrub has gentle granules that clean your feet gently but effectively.  It has these tiny coloured granules that disappear as you massage this scrub on your feet.
My verdict: Perfect to end the day with this foot scrub and the minty fragrance not only leaves your feet smelling fresh, but also the tingling sensation relaxes your feet. If you are looking for more relaxation, use the Auravedic Exfoliating Foot oil to massage on your feet. The warm cinnamon fragrance keeps your feet warm and relaxes the tired soles. The relaxing oil can be used any time of the day!
A DIY scrub
A home made scrub is always my saviour. Not only are they easy to make but at most times you will always find most of the ingredients easily available at your home. The rice and sesame scrub is one of my favourite easy to make home-made scrub. This is one scrub that I have to include in the winter skin care regime because it leaves my skin superbly hydrated and moisturised.  All you need to do is soak equal amounts of raw rice and sesame seeds in water overnight. Use the white sesame seeds. I take roughly about a tablespoon of each. Grind it to a scrub consistency in the morning. This works effectively as a body scrub. You can use this before a bath and follow it up with any soap you want. Since this scrub is so moisturising, you will not need to follow it up with a skin moisturiser, but for those with dry skin, this may not be very effective in hydrating the skin.
My verdict: Perfect DIY scrub that is easy to make and suitable for normal, combination and dry skin types for the winter. The coarse rice granules exfoliate the skin and the rich sesame acts like a moisturiser. Keep your skin hydrated the natural way. 
Interested in some easy to make home-made scrubs? Click
here
to read the list of DIY recipes.
Exfoliate and Moisturise
I don't have the time for the CTM routine at all! But there are some products that work on making me look absolutely hydrated and radiant almost immediately.Post washing my face with a  mild face wash, I apply the Nirvaaha Face Glow pack  that is mixed with pure rose water. I just need to leave it on for about 10 – 15 minutes, post which I wet the face pack just a bit and gently massage letting the pack act as a scrub. The results are amazing and in less that 20 minutes I am left with skin that looks radiant.  And yes, I cannot do without my Omved Protective Face Moisturiser that I have been using for over a year now that works like magic to hydrate my skin all year round.
My verdict: If you don't have the time to indulge in a spa facial, this face mask is your best friend! Include this in your skin care regime at least once a fortnight to get the spa facial like glow on less than half an hour! Look your best and beautiful? Isn't this the right combination for Diwali?
There you go, simple products but effective results! These are what I swear by that are making me look my best this Diwali. What are your mantras to look awesome this festive season?
Have a happy, safe and a cracker-less Diwali!

Related posts