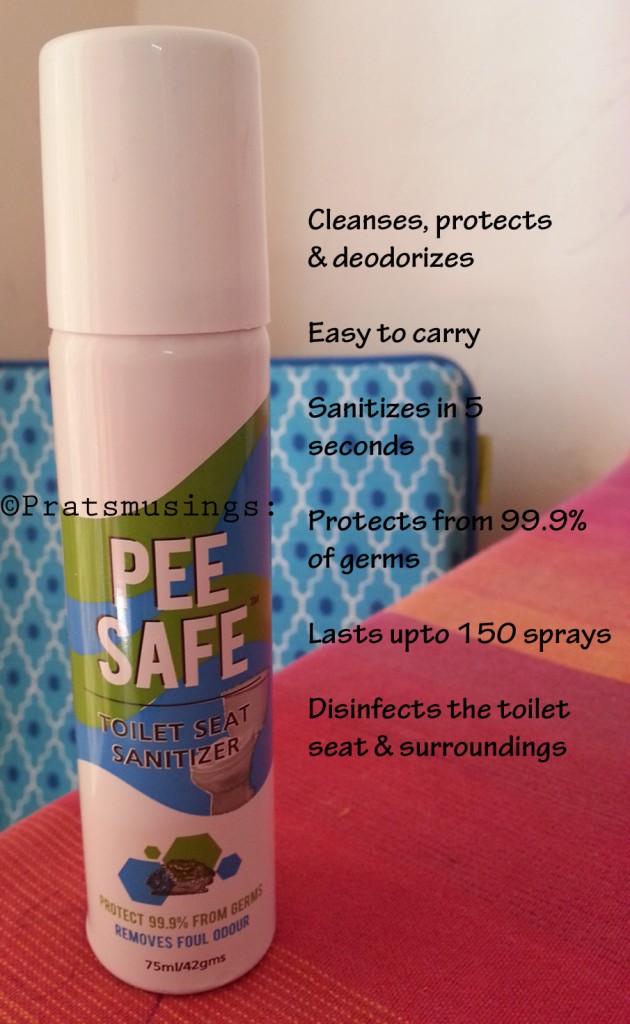 I am the kind who has a low immunity which means I am very susceptible to infections. It all started when I was expecting and with the numerous complications that followed. A low immunity but naturally meant that I had to impose a lot of precautions on my lifestyle. For almost 6 months I was at home because the thought of carrying so many things even if I had to just step out to vaccinate the boys was overwhelming. When you are at home, things are pretty much in control. It is only when you step outside your comfort zone that you realize how susceptible you are to infections again.
I used to dread using public restroom, be it in a mall, the airport or even flights. No matter how much sanitizer I used to wipe the toilet seat before I used it, I would more than often end up with an infection that was followed by a round of antibiotics. And all the while I would wonder why is there no toilet seat sanitizer in the market that would make trips to a public restroom not just hygienic but also safer.
The wait was long, but I am glad that the wait has ended! Let me introduce to you a wonderful product that meets all the requirements –PeeSafe, the toilet seat sanitizer! This product was conceptualised, created and is now marketed by SaketyKart, the only e-retail store in India that houses everything that you need for your safety.
Why do you need it?
Simply stated, you need this to protect yourself from any possible infections and toilet borne disease. This tiny can not only cleanses, but also sanitizes and deodorizes too!  The minty fragrance is actually fresh and lasts long enough to not gag you with the foul odours that are commonly found lingering in public restrooms. So I can safely visit a public restroom and be sure of complete hygienic  protection. I could not have asked for anything better!
Priced at INR 120, this 75 ml can lasts up to 150 uses when sprayed only on the toilet seat. If you want to buy one of these, click here. Not expensive at all and I think for money as less at that if I am being offered complete hygiene protection, it makes it worth a buy. Currently this product is only available online and can be bought only from SafetyKart. There are plans to make it available at local stores and other websites soon and I shall update the post accordingly!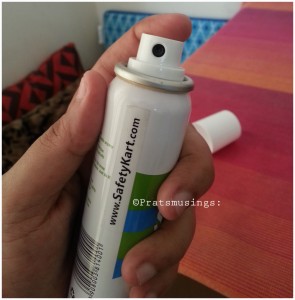 *And now for something that I would like to give away! I'll  will be randomly choosing  names of 6 people who respond to this post and SafetyKart will give those people a free sample of PeeSafe! Could it be you? Leave a comment and you may just get lucky!
Using PeeSafe
Since it is a really small can, it can fit in your purse, your tote bag or even your pocket. This product is absolutely easy to use too. I've listed the steps to use it:
Hold the sanitizer spray 3-4 inches away from the toilet seat
Shake the bottle well and spray.
Wait for five seconds.**
The disinfected seat is ready to use
Since the anti-bacterial sanitizer spray evaporates quickly, it leaves behind no residue. **You will need to experiment with the usage, as in how much to spray. The first time I used it, I sprayed too much and it took close to 20 seconds to dry.  You'll get it right with a couple of uses! You won't need to wipe it off with a tissue paper because it dries quickly. Also wiping it off with a tissue can reduce the effects of the sanitization. 
What I love about this sanitizer?
Can be used on the faucets, taps and flush knobs to sanitize them ( Isn't that awesome??)
Deodorizes the area and the fresh minty fragrance helps to eliminate the bad odours
Sanitizes, cleanses and deodorises, ensuring a complete hygienic protection.
Easy to carry and can also be stored in your hand baggage in aircrafts.
Did you know that lack of suitable toilets and unhygienic conditions is also life threatening? Millions of lives are lost every year because of a lack of sanitization and the unhygienic condition. You never know what germs or bacteria could be lurking in bathrooms you use. Whether it is at home or in a public restroom, always be protected to stay away from possible infections. Use PeeSafe and just be safe!
* For Indian residents only.