"All my ladies, if you feel me
Come on, do it, do it, whip your hair
Don't matter if it's long, short
Do it, do it whip your hair"

 – 'Whip My Hair', Willow Smith
And that's exactly what summer will do to your hair, long or short – whip it!! While every season comes with its own set of problems, no season is as challenging for hair as summer. With the hot sun blazing down and humidity at an all year high, your hair is going to bear the brunt of sun damage.
Your hair is mainly protein, and the summer heat degrades this protein making your hair vulnerable. The shine is lost and hair appears brittle. The humidity is notorious for making your hair frizzy, as already-dry hair strands reach out for moisture. Besides these, common summer activities are also culprits – chlorine from the pool and saltwater from the sea are both sure fire hair enemies!
But you needn't go and chop off all your locks!! There is hope yet, and with very little effort on your side, you can preserve your crown and keep it safe from all kinds of sun damage. Here are 10 hair care tips for summer that are really easy to follow!
10 Hair Care Tips for Summer
1. Shampoo Regularly
The summer heat makes you sweat – not just all over your body, but your head as well. Since the scalp already secretes sebum, the sweat can end up making your scalp really itchy and dirty. Use just enough shampoo to lather up your scalp and let the rest flow down your hair strands. Shampoo frequently depending upon how sweaty you get, and definitely after a visit to the pool or beach. Too much washing can strip your hair of its natural oils, so use a very mild shampoo suited to your hair type.
2. Use Conditioner
Simply shampooing your hair leaves the surface of your hair strands raised, giving it a rough look. A conditioner helps to smooth down your hair and make it sleeker while offering more protection. After shampooing, squeeze out all the water, and comb through with a wide toothed comb. Leave on for a couple of minutes, and then rinse thoroughly. If your hair isn't too dirty, you can even 'co-wash', i.e. skip the shampoo and wash only with conditioner.
3. Keep Hair Covered
Of course, the best way to keep the sun out of your hair is – keep your hair out of the sun! When outdoors during the day, keep hair covered by a scarf or a hat with a wide brim. When swimming, be sure to wear a swim cap since both chlorine and sea water are very damaging to hair. One tip for the beach is to soak your hair before hand in conditioner or even plain water. Once saturated, your hair won't absorb as much saltwater as it would when dry.
4. Go Easy on Hair Products
Summer's the perfect time to let your hair breathe, especially considering it already has a lot going on! All styling products like mousse, wax, gel, spray etc. can weigh down your hair and the build up in your scalp can cause further problems when it mixes with sweat. That's a combination you want to avoid at all costs!! If you need to control the frizz, try a light hair serum, rubbed between the palms and gently massaged onto the hair strands.
5. Skip Heat Styling
After all that sun, do you really need more heat? In general heat styling by blow drying or using a flat iron or curlers can harm hair in the long run, but doing so during summers doubles the damage. It also increases frizz since the heat from the equipment does not take well to the excess humidity in the air. Leave your hair alone, and let it air dry for the summer months.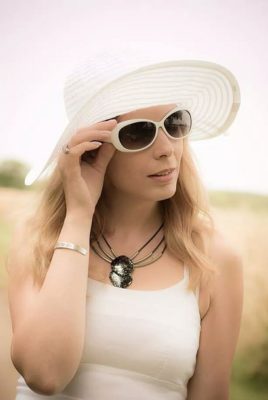 6. Summer hair pack
Since this is a time of potential hair damage, you'll do well to give your hair some extra nourishment in the form of a cooling and moisturizing hair pack. As with everything else, skip the chemicals and make one at home. Blend a ripe banana and mix 2 tablespoons of coconut oil, 1 tbsp honey and a ¼ cup of yogurt (less if your hair is short). Apply all over hair and scalp for 15 minutes and wash off with a mild shampoo.
7. Go Loose
Like we said earlier, summer is the time to let your hair breathe, so stay away from tight, restrictive hair styles that can break your strands. If leaving it loose is inconvenient in hot weather, try a shorter haircut or loose braids. If you need to tie it up, go for fabric covered hair ties, rather than plain elastic which can snag.
8. Protect Color
If you have colored hair, then your hair will need some extra TLC this summer! The sun is particularly harsh on colored hair, which means covering up is essential during the day. Chlorine and salt water can also strip the hair of its color, as can washing using the wrong shampoo. For colored hair, it's worth your while to look for hair shampoos and conditioners with SPF. Also, try to get a touch up done just before summer starts, so that you can hold on to the color for the hot months.
9. Trim Ends
People with dry hair already have to deal with frizzy woes, so split ends can make hair look like it's had an electric shock! The best (and some say only) way to deal with split ends is to get them trimmed. Don't try splitting them further or oiling them excessively; your hair will only turn greasier. Getting the trim done at the start of summer will save you a lot of trouble in the coming months since you have one problem less to deal with!
10. Eat and Drink Healthy
Finally, no amount of external care will do any good if you're stuffing your body with junk! First of all, you need to drink lots of water to combat dryness and then you need to eat hair healthy foods that are rich in B Vitamins, zinc and protein, like beans, citrus fruits, tomatoes, whole grain, eggs and chicken. Remember, what you eat reaches your hair too!
You don't have to let summer whip your hair, if you take care of it! As you can see, it's best if you start planning for your summer hair well in advance, so that you are well prepared once the sun starts shining in full force. Love your hair well, and it will return the favor!