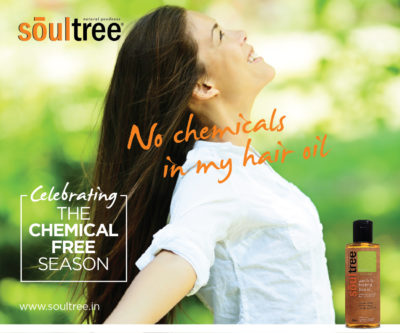 Come summers and its time for my hair to dry and damaged. Not to forget the dandruff caused by the extreme harsh weather. Hair care in summer is important to give your hair the nourishment that it requires. It doesn't matter if you are at the comfort of your home or are spending time outdoors in the harsh sun, your hair is likely to get damaged with the fluctuating weather. What you need is a complete hair care routine.
The Keshava range from SoulTree is perfect for hair care in summer. The selected and handpicked hair care products ensure that you have a fab mane of hair not just in the summers, but all year around. Let's have a quick peek at these products that will ensure the best hair care in summer.
Hair care in summer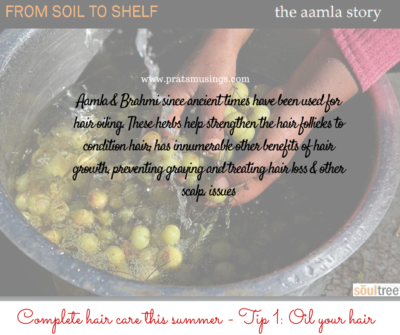 Oil your hair regularly to keep it nourished
Oiling my hair is a routine that I follow at least thrice a week. Nothing is as relaxing as a warm oil massage followed by a hot oil wrap. I completely recommend the Brahmi and Amla hair oil that comes in a naturally fragrant, light, non-sticky base. Its light enough for everyday use. It works wonderfully as an everyday pre-wash massage; but I am more inclined to leaving this overnight. The hair oil promotes hair growth and scalp health with regular use.
Wash your hair to get rid of impurities
A regular hair wash helps to wash away the dirt, grime and the impurities from your hair. Pollution and dust when combined with sweat is not a very good option for your hair. It can result in a lot of hair woes. Wash your hair regularly to hold on that shine and greatness. Choose a mild shampoo that doesn't disturb the natural pH balance of your hair. SoulTree has a wonderful collection of shampoos that are suitable for all hair types.
Condition your hair to nourish it
You can either deep condition your hair or use the moisturising therapy that I follow at least once a month in the summers. Deep conditioning or the moisture therapy helps to protect your hair and to retain it lustre. You can also use a conditioner for the extra nourishment that your hair needs.
Keep yourself hydrated
It is important to drink lots of fluids to keep yourself hydrated this summer. Include lots of fresh fruit juices, green tea, coconut water in your diet to keep yourself hydrated.  Fluids will easily help to replace the lost water from the body and of course, it has benefits for the hair too!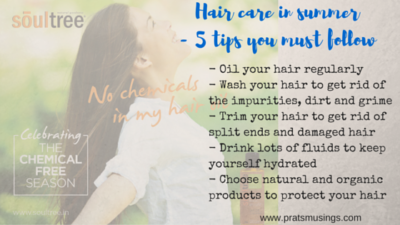 Want to win some goodies for yourself?
Now that I have spoken about hair care in summer, would it not be fun if you could try these products too? Would you like to win a complete customised hair kit for yourself? Go ahead and participate. Follow the steps in the rafflecopter and don't forget the follows and shares in the mentioned social medias. I have two kits to give away, so go ahead and participate and you could be one of the winners to get this awesome customised hair kit for complete summer hair care from SoulTree.
*Contest open to Indian residents only. Ends on 30th April 2016.
Follow Me On…
FACEBOOK | TWITTER | PINTEREST |elephant journal |INSTAGRAM
*All of my reviews are based on my own personal experiences with the brand/products. If it is a sponsored post, it is indicated. Most of the brands and products reviewed are what I have tried and tested and truly recommend! All Photographs are (C) Pratibha unless stated otherwise.*