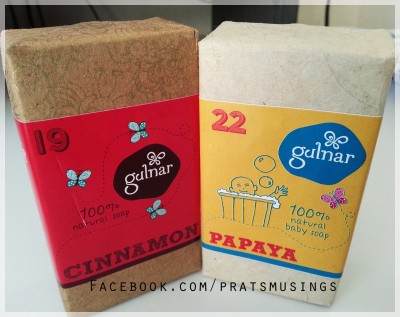 I recently discovered another brand of soaps that is perfect for kids and adults as well! While I do stick to the tried and tested brands, I love it when I find newer options and needless to say the boys are excited too! They notice the wrappers and ask me what the new brand is and if it is organic! So much for a green living!
Gulnar Soaps
I discovered this brand in GreennGood and I picked up the Papaya Soap way back in November last year. I started using and within three days I noticed that the soap had become sticky to the touch and was leaving behind these thick trails of liquid soap. I was not sure why this happened so I just discarded it because I did not want to risk using it. I wrote to them and the team at Gulnar  explained why that happened.  This is what they replied: "Since our soaps do not have any chemical hardeners and a high level of glycerine, it is possible that the soap bar you purchased has absorbed ambient moisture. This in soap making is called sweating. You can read more about it here: http://www.chagrinvalleysoapandsalve.com/idascorner/soapsweat.aspx"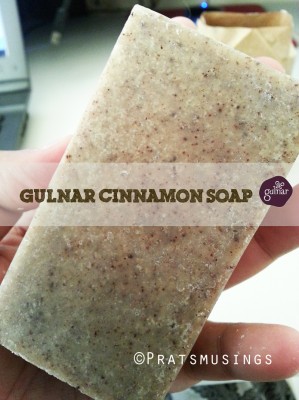 So if you have ever faced that issue, you know the reason behind it! As a gesture they sent across a replacement for the soap along with another variant, the Cinnamon soap. I have used the papaya soap earlier for a few days till it started sweating. I wanted to try the cinnamon variant because cinnamon is one of my most preferred spices. I look for options that can make me add cinnamon to anything and everything. Whether it is cooking or making a scrub or mask at home. I love the fragrance and the warmth it gives to the skin when applied. Get the drift? Needless to say, cinnamon soap was the first one I tried.
Do you see those tiny tiny cinnamon particles in the soap? That makes the soap simply awesome. It acts like a really mild scrub when you use it and it leaves behind a really warm and tingling sensation post a bath. I have not used the cinnamon variant for the boys because I was not sure if it could be used for kids.
I have used the papaya variant for them. And one bar lasts quite a while. One trick to make a soap bar last long is to wet your hands and rub the soap a bit in between your palms. Now use your hands to soap your body, it will lather well and also cleanse the body.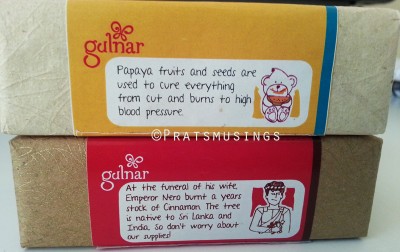 The soap is made from cinnamon oil, saponified vegetable oil and purified water. The fragrance is mild and not overpowering which is a major plus point for me.  Also one bar of soap lasts easily for about a month for me and about a fortnight for the boys.
One thing I liked about the soap was that it did not dry out the skin,especially in the winters. I still use a body butter, but on days that I forgot to apply it, my skin behaved well.
Price and Shelf life
Each of the Gulnar soaps is priced at INR 250 and weighs 125 gms. They have a shelf life of 2 years. You can buy these soaps from Craftsvilla, Amazon India and greenngood.
Apart from soap bars, they also have shampoo bars which looks inviting, but I have not had a very good experience with solid shampoos so I am still in two minds if I should try it. My next buy will be the chocolate and vanilla soap. It looks delicious!


 Find me on…
FACEBOOK | TWITTER | PINTEREST
*Most of the brands and products reviewed are what I have tried and tested and truly recommend! If it is a sponsored post, it is indicated. All Photographs are (C) Pratibha unless stated otherwise.*
If you are interested in promoting your product(s) or your brand, please get in touch with
me
.