As a family we love travelling. Needless to say when you travel, you are unsure of the hygiene that comes with the new surroundings. No matter what types of precautions you take, sometimes you are just not prepared. And as a mum to twin boys,  I need to be extra careful because one small mistake and the next thing I know is that they would be ill. And trust me, having two ill boys is no fun at all!
Sanitizers have always accompanied me wherever I have gone! In fact, I have one on my table, one in the kitchen, the dashboard of the car, my purse, you get the drift right?

Godrej Protekt Hand sanitizer
I came across this hand sanitizer spray at a local supermarket and while we do have their range of handwashes that are a hit at my home, specially the foamy one for my boys, this new hand sanitizer caught my eye. Let me say that I have found my companion to protect my family against the germs and bacteria.
Free from harmful chemicals or irritants, the Godrej Protekt Hand sanitizer  contains naturally derived ingredients that makes it a kid safe sanitizer.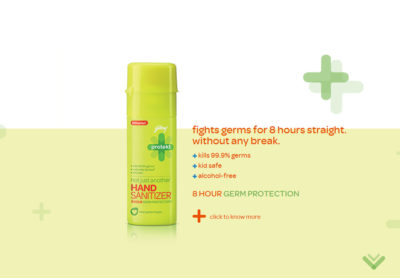 Did you know that the alcohol in an ordinary sanitizer can dry your palm and the triclosan does more bad than good? Godrej Protekt Hand sanitizer can protect your hands from germs for 8 hours and the best part is that it is naturally derived and alcohol free. And that is why I don't want to call it just 'another' hand sanitizer!
This compact bottle can be carried comfortably in your pocket or your purse. You don't need to worry about the sanitizer dripping or pumping out excess sanitizer because this is a spray bottle. Yes, this tiny bottle of alcohol free hand sanitizer gives almost 200 sprays while killing 99.9% of the germs. It is safe for kids and is alcohol free.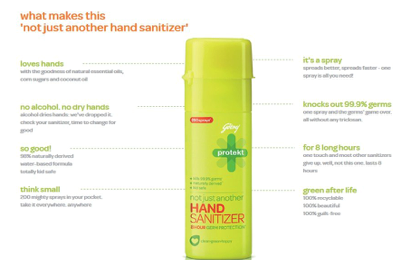 The bottle of the Godrej Protekt Hand Santizer will be green after it has been used. It is 100% recyclable, so I won't need to worry about it causing a landfill or causing litter. That is an added reason why I will choose the Godrej Protekt Hand Santizer over the other sanitizers in the market.
About the Godrej Protekt Hand sanitizer
Godrej Protekt Hand sanitizer is not just another hand sanitizer; it is safe for kids and provides germs protection for 8 long hours. The alcohol in an ordinary sanitizer dries your palms but Godrej's naturally driven hand sanitizer is alcohol free. Buy the best hand sanitizer online which can be taken everywhere, anywhere to kick out 99.9% germs.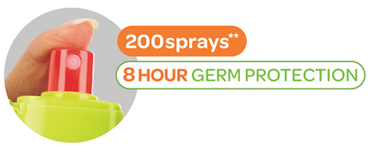 As a parent, I need to think beyond just the safety of my children, I need to educate them and introduce them to products that will not harm them or the planet we stay in. And the earlier you start, the more easy it is for the children to adapt to the greener ways of living. I am choosing the Godrej Protekt Hand Sanitizer for my family. Will you choose it too?
Follow Me On…
FACEBOOK | TWITTER | PINTEREST |elephant journal |INSTAGRAM
*All of my reviews are based on my own personal experiences with the brand/products. If it is a sponsored post, it is indicated. Most of the brands and products reviewed are what I have tried and tested and truly recommend! All Photographs are (C) Pratibha unless stated otherwise.*