It's the monsoon and with the relentless rains, I am least enthusiastic about stepping outside the house. I'd rather settle down on my favourite couch, sipping some coffee and reading a book. So when I did just that, and as I tucked my feet I realised that I was overdue for a pedicure. Errr… the last time I had one must have been last year. And there was no point in wading through those murky waters and getting a pedicure done only to wade back in it. So this is what I did for some awesome looking feet right at home.
Step 1: Wash and soak
Wash you feet thoroughly. I used a soap with a scrub and cleaned my feet really well. Then I took a bucket of hot water ( check the temp and let the water be as hot as you can take it). I dunked in the water a foot fizz and waited for the foot fizz to dissolve completely. Soak your feet in this for as long as you can. A foot fizz has essential relaxing oils that help your feet relax. You can also use foot salts. Don't have either of these? Don't worry, just dump about two handfuls of rock salt in the bucket and a few drops of your favourite essential oil. I would recommend Lavender because it has a wonderful fragrance!
Just a piece of advice: All foot fizzes are designed for a one time use, so do not attempt to cut it in half with the intention to use it later!
Done? Pat dry your feet now. Looking for some foot soaks? Click here.
Step 2: Scrub and Scrub
Use a good quality foot scrub and massage your feet with this for at least 3-4 minutes. I mixed a lemon body scrub and a foot scrub and I used this to massage my feet. Another scrub that you can try the sesame and rice scrub. Soak equal amounts of sesame seeds and rice overnight and grind it into a just about smooth paste in the blender. The rice will exfoliate and the sesame will moisturise your feet leaving it soft.
Once you have scrubbed your feet well, use warm water to clean the scrub and pat dry. Looking for some foot soaks and scrubs? Click here.
Step 3: Massage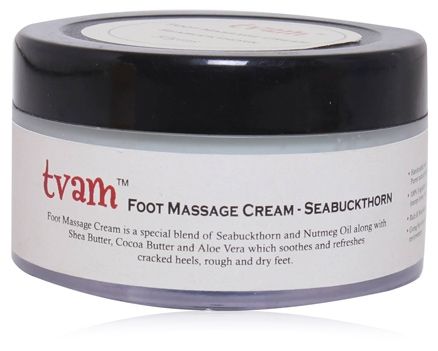 Use a good quality massage cream to massage your feet. Since I saw the start of cracked heels, I mixed a fruity massage cream with the crack healing cream and gave myself a good massage for about 5 minutes on each leg. Use a towel dipped in warm water to wipe off the excess oils and you are done!
If you are missing any of these products, then it would be a good suggestion to buy a pedicure kit. It costs lesser than what you would pay at a parlour. Goodlife has some good pedicure kits that you can try.