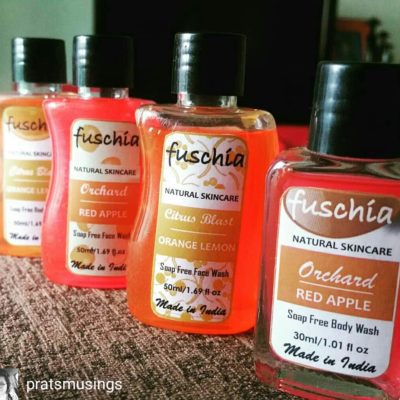 I recently picked up some products from Fuschia to try. Most of these are perfect for summer.  I have been using their products for a while now and I did get a few requests for a Fuschia by Vkare product review posts. So here I am with a super quick review and a giveaway! Do read till the end of the post to know more about the giveaway!
Fuschia by Vkare Product Review + Giveaway
With the summer setting in, you need to use products that are suitable to keep your skin more nourished and hydrated and yes, ensure that the tan is taken care of too! I have used quite a few of the  have used a lot of products from Fuschia by Vkare. Free from SLS, parabens and chemicals, these make a good choice, especially if you are looking at something that is natural. I am sharing with you a list of some of the must-have summer products that you can use by Fuschia
Dare to bare mud-mask

Packed with raw cacao powder, clays and skin- friendly essential oils, you need to mix this mask with a bit of water and apply it on to your face and neck. The raw cacao powder helps to protect your skin from environmental damage while mint soothes the inflammed skin.  Indian Bentonite detoxifies & regenerates skin to make it smooth & glowing. Vitamin E oil reduces fine lines of ageing, regenerates skin, lightens spots & adds radiance to the skin. Frankincense oil tones & regenerates skin & remove fine lines of ageing. Use this once a week to soothe your sun-burnt skin.
Face Washes

Face washes that are packed with citruses are known to lighten the skin complexion and add a glow to it. They have only two variants available for a face wash. The citrus one is more apt for the summer because it can help to keep your skin clear. Most citrus based face washes help to keep the tan at bay too.
[amazon_link asins='B01KVBQ74K,B01N7A2OQM,B01KVB9WNS' template='ProductCarousel' store='pratsm-21′ marketplace='IN' link_id='121424e9-370e-11e8-af21-9fbd0ccdb0b1′]
 Berry Blend & Dazzle Face Mask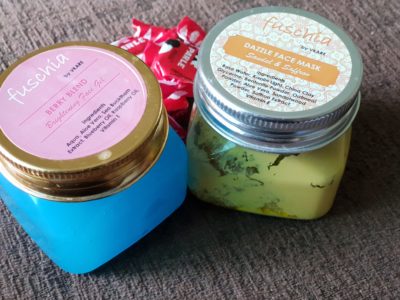 These pre-mixed face masks are a hit with most people I know who have tried it. While my personal favourite will always be the activated charcoal mask, I quite like these two variants as well – Berry Blend for glowing skin and Dazzle Face Mask to reduce the tan and detox your skin. Berry Blend is a gel based mask that you need to apply on the skin and massage for at least 5 minutes. Leave it on for 5 minutes and wash off with cool water. You'll notice a visibly clearer skin. The Dazzle Face Mask is pretty much a conventional face mask that you need to apply on slightly damp skin and wash it just before it dries completely.
Body Washes

I quite love a body wash. It is one of the best ways to end a relaxing shower. Not very high on lather, the body wash has a lovely citrusy fragrance that lingers on for a while after a bath. They have just two variants available right now, so you are not spoilt for choice! My vote is certainly for the citrus blast that is really invigorating for the summer.
So, would you like to win some goodies from Fuschia by VKare? Follow these simple steps and you could be a lucky winner!
Contest Rules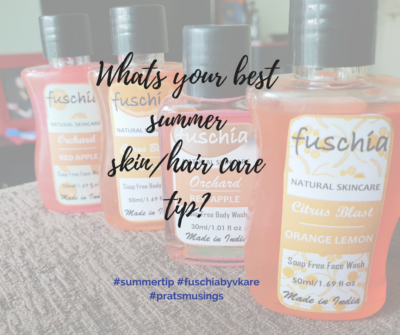 Want to win some goodies from Fuschia? Here is your chance to indulge in some of the best summer care products from them. All that you have to do is follow the rules in Rafflecopter. Go ahead and share your best summer care tips as comments on this blog post. Some of the best will be featured on my social media handles too. Don't copy – paste from other sites! Make your tip genuine and 100% chemical free!
And a few lucky winners will get a goodie bag from Fuschia by Vkare.
* Please do not follow any of these handles to unfollow later! If you cannot view my Instagram account, please message me. Few accounts have been blocked for un-following. 
**When you share from Facebook and re-post on Instagram, tagging our Facebook pages and Instagram handles and pages is mandatory. 
The giveaway ends on 12th April, 2018. The brand will choose the winners and I'll announce the names within 15 days after the contest ends. Please follow my SM pages for the announcements.
Important Note:  Contest open to Indian residents only. Any messages to me or the brand stating that you hope to win will lead to immediate disqualification!