Let me introduce you to two new products that I have tried over the past three weeks. The products were from Thalgo.
The first one was the Freshness Exfoliator and the second was the Deep Cleansing  Absorbent Mask. You can get at least the first product from Goodlife. Here is my review on the products: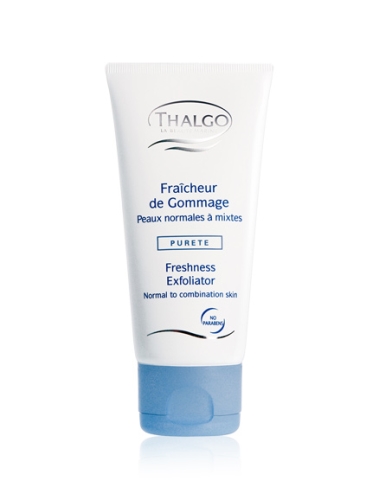 1. Freshness Exfoliator
This scrub is really, really mild but extremely effective. I could notice a visibly clearer and cleaner skin with just one use.
What the site says " This creamy texture exfoliant contains exfoliating micro-spheres to remove dead skin cells and impurities leaving the skin supple, refreshed and invigorated." 
And I must say that I have to agree! I have never felt this squeaky clean in ages! The granules are really tiny. The first time that I applied it, the fragrance was a mix of an antiseptic and mint. Not a very appealing fragrance! As you gently scrub, you may get a tingling sensation. But post washing, my face felt really refreshed.
Price: Rs. 1770 for a 50 ml tube. Yes, it is superbly expensive. But I totally loved the cleansing it did.
Will I recommend this product?: Yes, for someone who has slightly oily skin, this is a really good product. It controls the oil balance and also the acne. You can use this product after checking with your dermatologist, if required.
Where can I buy this? : You can buy this online here.
How to use: Wet your face and neck. Take roughly less than half a teaspoon of the exfoliator. Dab as small circles on the face and neck. Wet your hands and use gentle, circular motions to scrub the face and neck. Wash with lukewarm water. Recommended use is twice a week.
2. Deep Cleansing  Absorbent Mask
I used this mask post the exfoliator. The mask does not have a very strong smell. And you really need a very thin layer for it to cleanse your face. What I did was to wet my face post the use of the exfoliator.
What the site says " Thalgo Deep Cleansing Absorbent Mask is rich in natural clay which gently and effectively lifts away impurities leaving you with a matte, healthy and radiant complexion."
How to use: I squeezed out little bit of it from the tube and applied an even layer all over the face and neck. I washed it off with warm water and the result was a clearer looking skin. If you have an oily skin, you could apply this mask all over the face and neck and for combination skin, you could just use it on the T zone.
Despite the fact that on the days that I used the mask, I did find that my skin was less oily and felt really fresh, I may not invest in this again because a 50 ml tube will not last a very long time! I would stick to some of my tried and tested home made masks, but I would definitely recommend the Freshness Exfoliator!
Price: The price was not mentioned in the sample, but when I googled, it was approximately 25 Euros, which is about Rs. 1700
Ingredients: 
Controlamine > Regulates sebum production & slows hyper-keratinisation
Pam Extract > Astringent
Kaolin > Absorbent properties
About Thalgo
The company was started in 1964 by a pharmacist, Mr. Bouclet and is located in the South West region of France. For over 40 years, Thalgo has been harnessing the riches and extraordinary potential of the ocean to develop its products for the beauty and the well being of its clients. Forerunners of marine scientific research, the Thalgo laboratories have acquired unique expertise in harnessing the effectiveness of marine active ingredients. It is able to offer effective and safe products with exceptional skin tolerance and offers natural products with rare qualities. Today, Thalgo has become an uncontested name in the world of marine beauty. The company manufactures and markets treatments and products in over 85 countries.
Note: The products were sent by the PR for a review. It has not affected my opinion in any way.