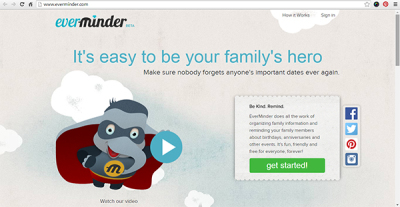 At one point of time, I used to be the first one to wish my friends and family on various occasions, now with the twin boys in my life, I am so exhausted with looking after them that I barely have time to breathe, let alone remember a birthday or an anniversary. When I was selected to review this awesome product, that is a completely free program designed to remind you of important dates and events that include birthdays and anniversaries, I was happy because it meant no more forgetting dates!
What is Everminder?
EverMinder is a free online personal reminder system. All that you need to do is sign up and start adding the names of the people you want in the group. You can add as many people as you want to the group. You can add important dates like birthdays, anniversaries or other event  that you would want to remind people of. Everminder allows you to set your reminders in a weekly or a monthly mode. You can also choose your own reminder time frame.  What I like about Everminder is that it allows you to choose who gets the emails. If there is someone in your group who does not want to get a reminder, a simple unclick will allow you to disable reminders to the person. Each event and all upcoming events can be viewed in the dashboard.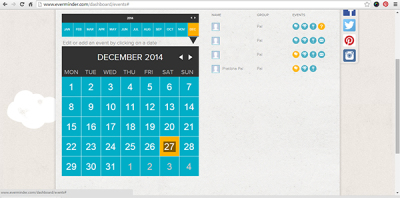 How it works
EverMinder does all the work of organizing family information and reminding your family members about birthdays, anniversaries and other events. One family member (the "admin") starts the family group, entering family members' birthdays, anniversaries and other special days and email addresses. The admin can also easily ask others in the family to add missing details (emails, dates) about themselves or others. From that point on, all family members receive automated personal reminders from the admin, as the days come up on the calendar. In each reminder there's an option to send a free message to that person, or an e‐card or flowers. You can view the list of countries where you can send flowers on the page.
When you set up a group, each family member can access their own EverMinder profile page (without ever signing up or needing a password) to customize their reminder preferences based on when, how, and about whom they would like to receive the reminders. The best part? They can also link to their Amazon wish list, or select an iTunes giftcard as their preferred gift, so that when their "big day" comes along, reminders about them will include their gift preferences for others to see. Isn't that awesome?

About Everminder
EverMinder was founded in 2013 by Ben Wiener, a serial startup entrepreneur who is also the Managing Partner of Jumpspeed Ventures, an early‐stage VC fund. Ben was the "birthday person" in his extended family and created EverMinder after failing to find an adequate, free and effective solution for keeping everybody reminded.
You can learn more about EverMinder by following them on Facebook, Instagram and Pinterest.
Note: This is a review written for EverMinder. All views and opinions are my own. 
Follow Me On…
FACEBOOK | TWITTER | PINTEREST |elephant journal
*All of my reviews are based on my own personal experiences with the brand/products. If it is a sponsored post, it is indicated. Most of the brands and products reviewed are what I have tried and tested and truly recommend! All Photographs are (C) Pratibha unless stated otherwise.*