I have always believed that people walk into your life for a reason. One night, almost a year ago, when I was searching for natural products in India, one link through another, I stumbled across a site and was in love with the range of products almost instantly. Thus began a series of interaction with the person behind it and I picked up loads of products from her. Candles, gels, soaps, relaxing salts, name it and I have used it. I believe she is in my life for a reason, to heal and make my life more beautiful!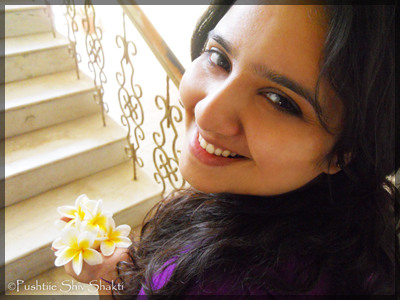 Let me introduce the lady who is the first person to write a guest post on my blog. And I am excited to introduce her!If you are a movie buff and watch television extensively, you have seen her on screen, but as a person, she is more than an actor. She is a healer, a reader, reiki master, writer, soap maker and more. She is a wonderful person to be with, who ushers in loads of happiness and positivity in my life!  There are a lot of things that she loves to dabble in and the list is exhausting! Let me welcome, Pushtiie, with her post for my blog.  She is someone who makes her own concoctions for everything and she would love to make one for you too! Connect with her on Facebook. Here she is with a simple yet effective recipe that can help you battle your acne woes!

Easy to make acne gel 
The summer is getting sweatier and stickier as we speak. Am not totally sure about you, but I just want to be under a shower till the sun goes down. At least I hope that will keep me skin safer. The harsh summer and the sweating also leads to acne! I am prone to getting acne 'A LOT' and my habit of squeezing them dry, loves leaving back scars. But since I have to come out of my watery comfort and face the sun, I came up with something else that sounded like it would help. AND IT DID!
My aroma therapy easy to make acne gel is a simple blend of five essential oils in a basic gel base. This helps to keep acne at bay and you can store it for a long time if handled correctly. The complexity level of this easy to make acne gel is low and the only time consuming thing is getting all the ingredients together!
Ready to make it?
What you need for the easy to make acne gel 
Getting the easy to make acne gel ready 
Put 50 ml of the gel of your choice in a clean and dry glass container. Add the amount of drops one by one according to the quantity specified. For example, add the German Chamomile oil and mix it with the gel. Next add the second EO and mix with the gel. Once you have added all the oils, use a tiny wooden spoon and stir the mixture well. The gel should reach a milky opaque consistency. If you are allergic to camphor, use rosewood oil.  The idea is to have 5 oils in the acne gel.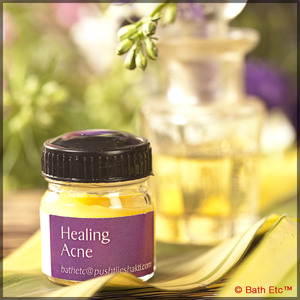 How to use the easy to make acne gel 
Wash your face with a natural facewash and pat it 75% dry. Use the tips of your clean fingers to dip in the acne gel and dab a bit on the affected areas. Use small circles to massage the affected areas. Use just a little bit because using it in excess can make your skin turn oil.  If you feel there is excess gel on the face, use a damp tissue to clean the excess gel.
This gels not just helps heal acne but also helps to cure heat boils that one gets on the body. This easy to make acne gel can be stored in small jars as well and you can carry it in your purse and reapply as required.  If you want to make a mix of this to use as a roll on, then use water as a base and shake it very well before every use. You get better results if you wash your face clean before evry application.
IMPORTANT: Essential Oils have a very strong effect on skin and are not to be used without a base of oil/gel/water. The number of drops to make this gel are very specific as they are used to balance the notes on the face. They are a different count for the body. Please stay safe while making these products.
Follow Me On…
FACEBOOK | TWITTER | PINTEREST |elephant journal
*All of my reviews are based on my own personal experiences with the brand/products. If it is a sponsored post, it is indicated. Most of the brands and products reviewed are what I have tried and tested and truly recommend! All Photographs are (C) Pratibha unless stated otherwise.*